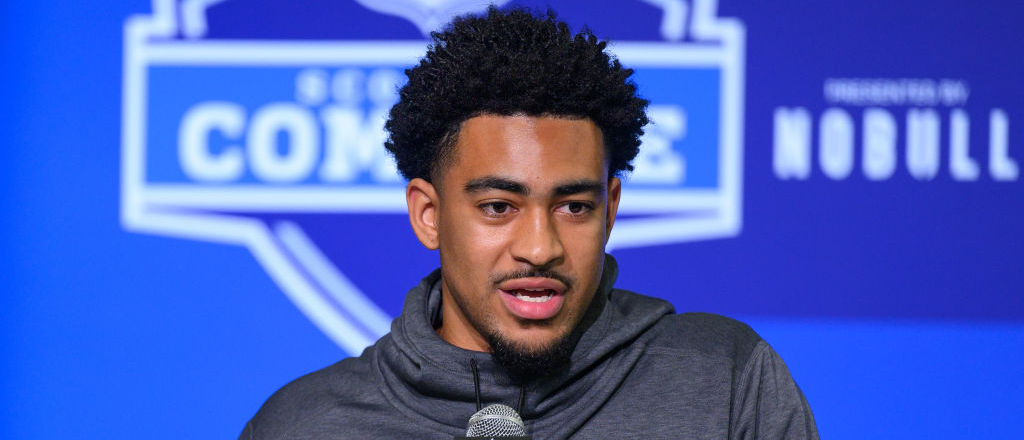 One of the biggest questions at the NFL Draft Combine involves the measurables for the presumed top quarterback prospect in the class of 2023, Alabama's Bryce Young. While Young was the best quarterback in college football over each of the last two years and won a whole lot of games and individual awards, there are questions about whether or not he'll be tall enough to succeed in the NFL.
Alabama's official website listed Young at six feet tall and 194 pounds, and as it turns out, that isn't quite right. While Young did bulk up a little bit, coming in at 204 pounds as he stepped on the scale, the former Heisman Trophy winner came in just a hair over 5'10.
It was noted in the aftermath of Young's measurements that the Crimson Tide star comes in at almost the exact same size as Arizona Cardinals quarterback Kyler Murray, who faced similar concerns about his size despite being a productive Heisman winner coming out of Oklahoma.
.@K1 was the 1st overall pick and won Offensive Rookie of the Year in 2019

Will @_bryce_young follow in his footsteps? pic.twitter.com/rmvpCUDcWv

— NFL Total Access (@NFLTotalAccess) March 4, 2023
A pretty major difference between Young and Murray as they enter the league is that Murray is one of the most electric athletes to ever play quarterback, while Young was nowhere near as big of a threat with his legs, even if he is hardly a statue in the pocket. At the same time, it's not like Young was always playing behind an elite offensive line in Tuscaloosa, and it stands to reason that he's going to look awfully good during the field drills.