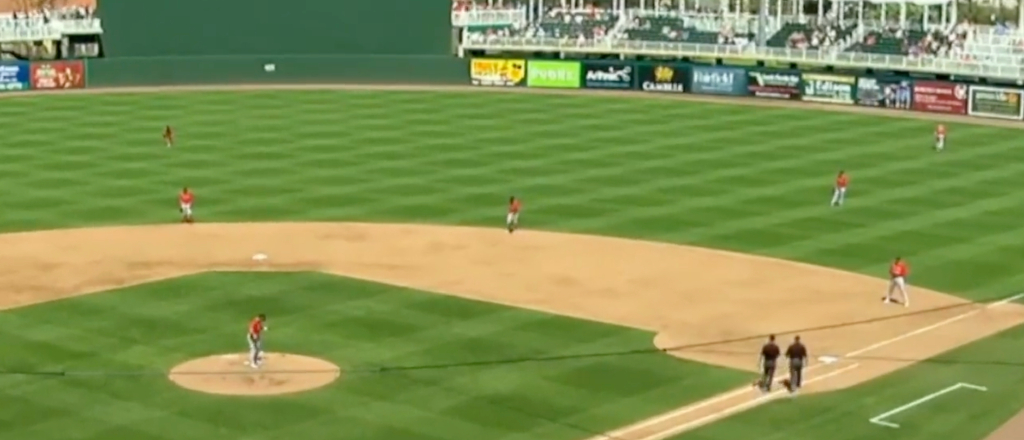 One of Major League Baseball's rule changes designed to get people who never watch the sport to suddenly become interested is abolishing the shift. In recent years, teams have leaned heavily into shifting their infield in an effort to make it harder for hitters to get on base, with left handed hitters in particular struggling when they hit the ball on the ground into the shift.
The new rule indicates that four infielders need to be on the dirt and only two can be on either side of second base — teams can no longer throw an infielder in the shallow part of the outfield in between their first basemen and whomever is lining up at second. This is theoretically good for a guy like Joey Gallo of the Minnesota Twins, a lefty hitter who almost exclusively pulls the ball, but unfortunately for him, the Boston Red Sox figured out a loophole in the rule already.
The Twins and the Red Sox played a spring training game on Friday, and Gallo stepped up to the plate in the bottom of the second inning. While Boston did, indeed, have two infielders on either side of second base and all of them were on the infield dirt, the team's center fielder, Adam Duvall, positioned himself in right field in the spot where a shifting infielder would be in years past. The team's left fielder, Raimel Tapia, went into center, and the Sox just assumed that Gallo wouldn't hit the ball into left.
Red Sox go with a two-man outfield vs. Joey Gallo, playing the third outfielder in short right field where a shifted second basemen might have been previously. pic.twitter.com/U3oDyh29jD

— Aaron Gleeman (@AaronGleeman) March 3, 2023
Defensive shifts have not been banned.
Defensive shifts have been restricted.
Check it out. pic.twitter.com/w99NA7q0po

— Codify (@CodifyBaseball) March 3, 2023
Gallo ended up getting on base via a walk, and the next batter, Kyle Farmer, hit a homer, which is presumably the baseball gods getting back at Boston for this one. Time will tell if the League will try to do something about this, in part because the shift rules have worked out rather well — ESPN noted earlier this week that batting averages were up 13 percentage points compared to this point in spring training last year.