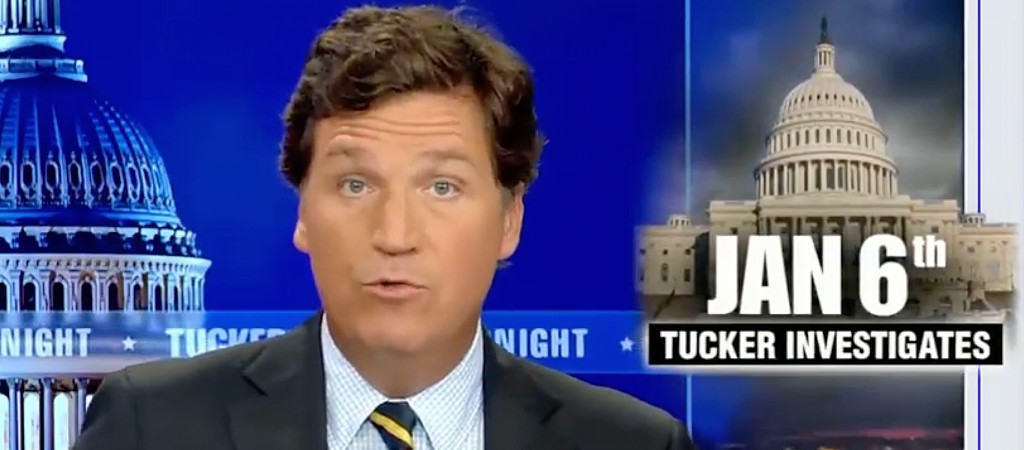 Not too long ago, House Majority Leader Kevin McCarthy made the highly controversial decision to give Tucker Carlson access to January 6 footage. Last night, the Fox News personality attempted to use the tapes to downplay the attack on the Capitol building as just a couple of "sightseers." Who could have seen that coming?
"The footage does not show an insurrection or a riot in progress," Carlson said of the edited footage that he aired Monday night. "Taken as a whole, the video record does not support the claim that Jan. 6 was an insurrection. In fact, it demolishes that claim. And that's exactly why the Democratic Party and its allies in the media prevented you from seeing it."
Hmm. Interesting. Let's see what Republicans in the senate who lived through the little sightseeing tour thought of the report. Via Mediaite:
"I think it's bullsh*t," [North Carolina Senator Thom] Tillis told reporters.

"I was here. I was down there and I saw maybe a few tourists, a few people who got caught up in things. But when you see police barricades breached, when you see police officers assaulted, all of that … if you were just a tourist you should've probably lined up at the visitors' center and came in on an orderly basis," Tillis added.
Senator Mike Rounds from South Dakota also had words for Carlson. "I thought it was an insurrection at that time. I still think it was an insurrection today," Rounds told reporters.
Mitt Romney was not a fan either and called out Carlson's blatant selective editing of the attack footage.
"The American people saw what happened on Jan. 6," Romney said. "They've seen the people that got injured, they saw the damage to the building. You can't hide the truth by selectively picking a few minutes out of tapes and saying this is what went on. It's so absurd. It's nonsense."
Senate Minority Whip John Thune and Iowa Senator Chuck Grassley were also among the growing chorus of Republicans who were not thrilled with Carlson's shenanigans. So… whoops?
(Via Mediaite)