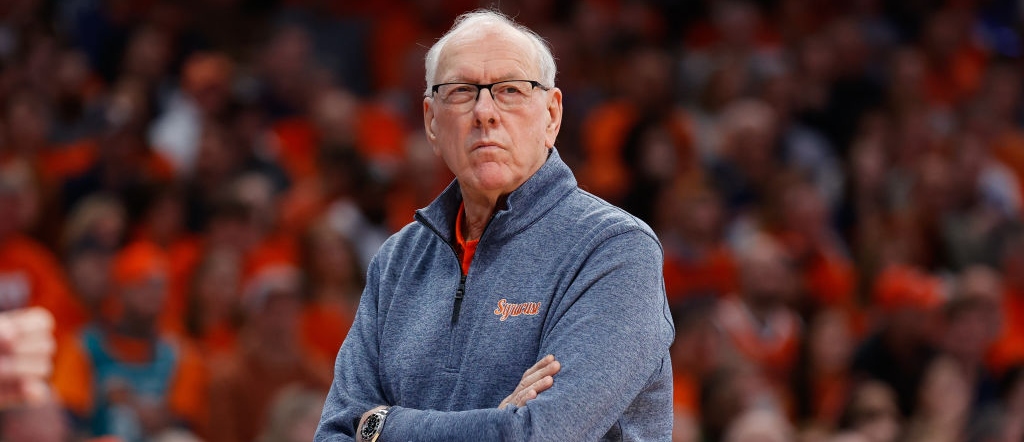 Jim Boeheim's tenure as the head basketball coach at Syracuse University has come to an end. In a statement released by the program on Wednesday afternoon on the heels of an ACC Tournament loss to Wake Forest that almost assuredly ended the team's season, Syracuse announced that Boeheim will no longer lead the team, which he has done for each of the last 47 seasons.
Boeheim will be replaced by Adrian Autry, a Syracuse alumnus who has been an assistant since 2011 and became Boeheim's associate head coach in 2016. In the statement, Autry was quoted as saying, "There have been very few stronger influential forces in my life than Syracuse University and Jim Boeheim. They have both played such important roles and without either of them, I am certain I would not have this incredible opportunity before me. I have spent much of my time in the game of basketball learning from Jim and am so grateful to him for preparing me to carry on the winning tradition that is Orange Basketball. It's hard to imagine a world without him on the bench, but together with our coaches, student-athletes and fans, we will build on decades of success as a winning program."
The Orange lost on a buzzer beater to Wake Forest in the opening round of the ACC Tournament on Wednesday, and in the aftermath, the 78-year-old Boeheim danced around questions regarding his future, saying the decision would be up to the school.
Jim Boeheim: "I've been very lucky to coach this long. I think everyone missed my retirement speech last week. Nobody picked up on it… it's up to the University" pic.twitter.com/XbnTV1Zsuj

— The Field of 68 (@TheFieldOf68) March 8, 2023
Boeheim was inducted to the Basketball Hall of Fame in 2005, two years after he won the only national championship of his decorated career. After spending his undergraduate career with the Orange, Boeheim was hired as an assistant in 1969 and got promoted to head coach in 1976. For his career, Boeheim accrued a 1,015-440 record with a 432-275 mark in conference play.