Deciding which Irish whiskey to buy over the next few weeks is going to be tough. There's a fair amount of cheap but good Irish whiskey on the shelf. Still, two names absolutely dominate that conversation — Jameson Irish Whiskey and Tullamore D.E.W. Irish Whiskey. Which begs the question, which is better and worth spending hard-earned cash on?
To be fair — these whiskeys are very similar.
They're both "triple distilled" Irish whiskey blends (though not exactly the same, which I'll address below). They have the same proof/ABV. They both cost less than $30 and can be found on pretty much every single liquor store shelf from coast to coast. Tully is made in central Ireland. Jameson is made at Midleton in County Cork, deep in Ireland's south. Both are marketed as mixing whiskeys. Tullamore has a huge ad campaign for Tully & Tonic. Jameson is hawked as a base for ginger ale whiskey highballs with a twist of lime.
To decide this battle of Irish whiskeys, I did a blind tasting of neat pours in a Glencairn glass. That means I had my wife pour and pass me a glass without me knowing which one it was. I even closed my eyes so I couldn't see the color. Why? These look almost identical but Tullamore is a tad more amber-hued.
So which one is better? Jameson or Tullamore D.E.W.? Let's find out.
Also Read: The Top 5 UPROXX Irish Whiskey Posts Of The Last Six Months
Part 1: The Irish Whiskey Tasting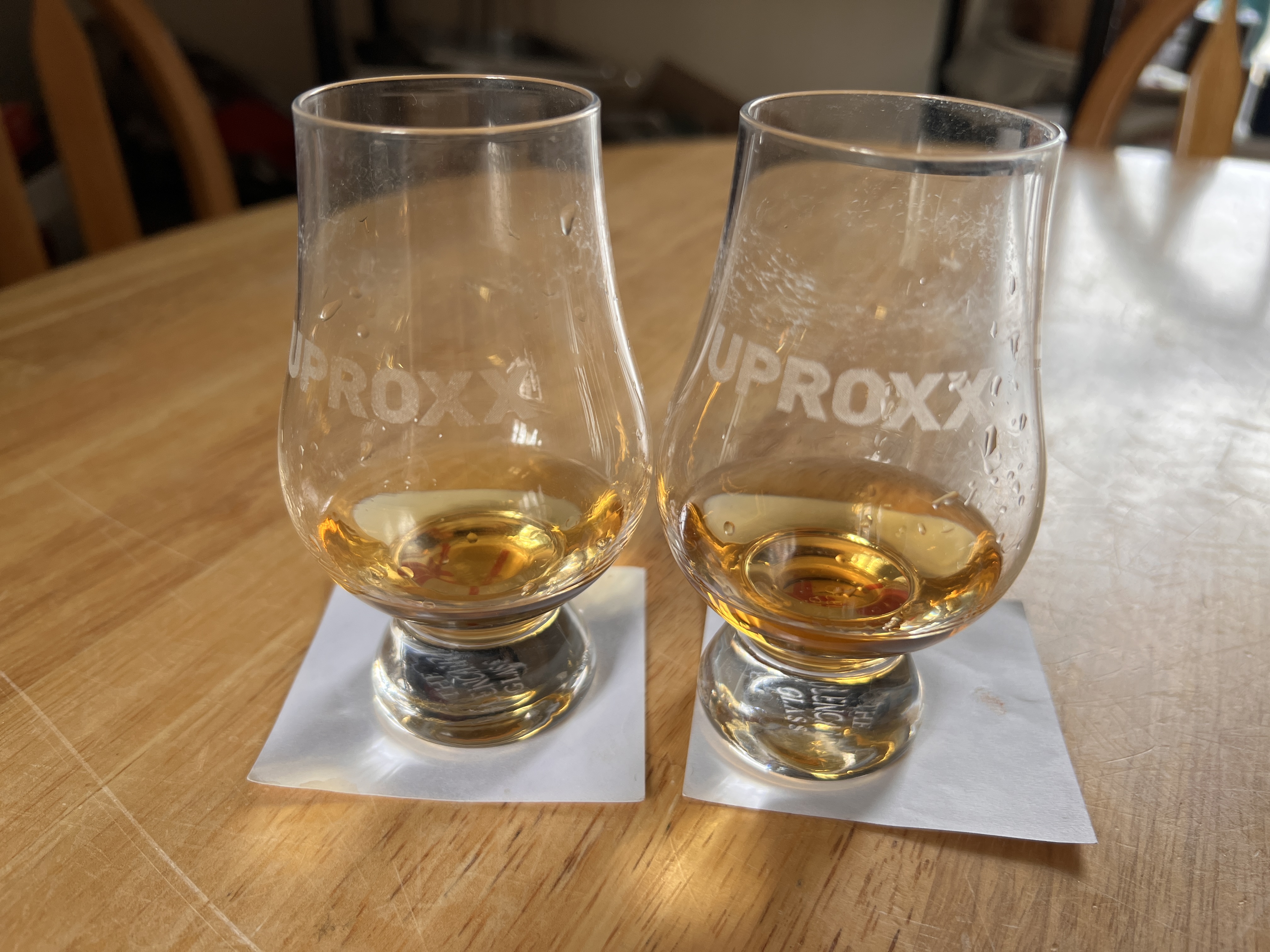 Taste 1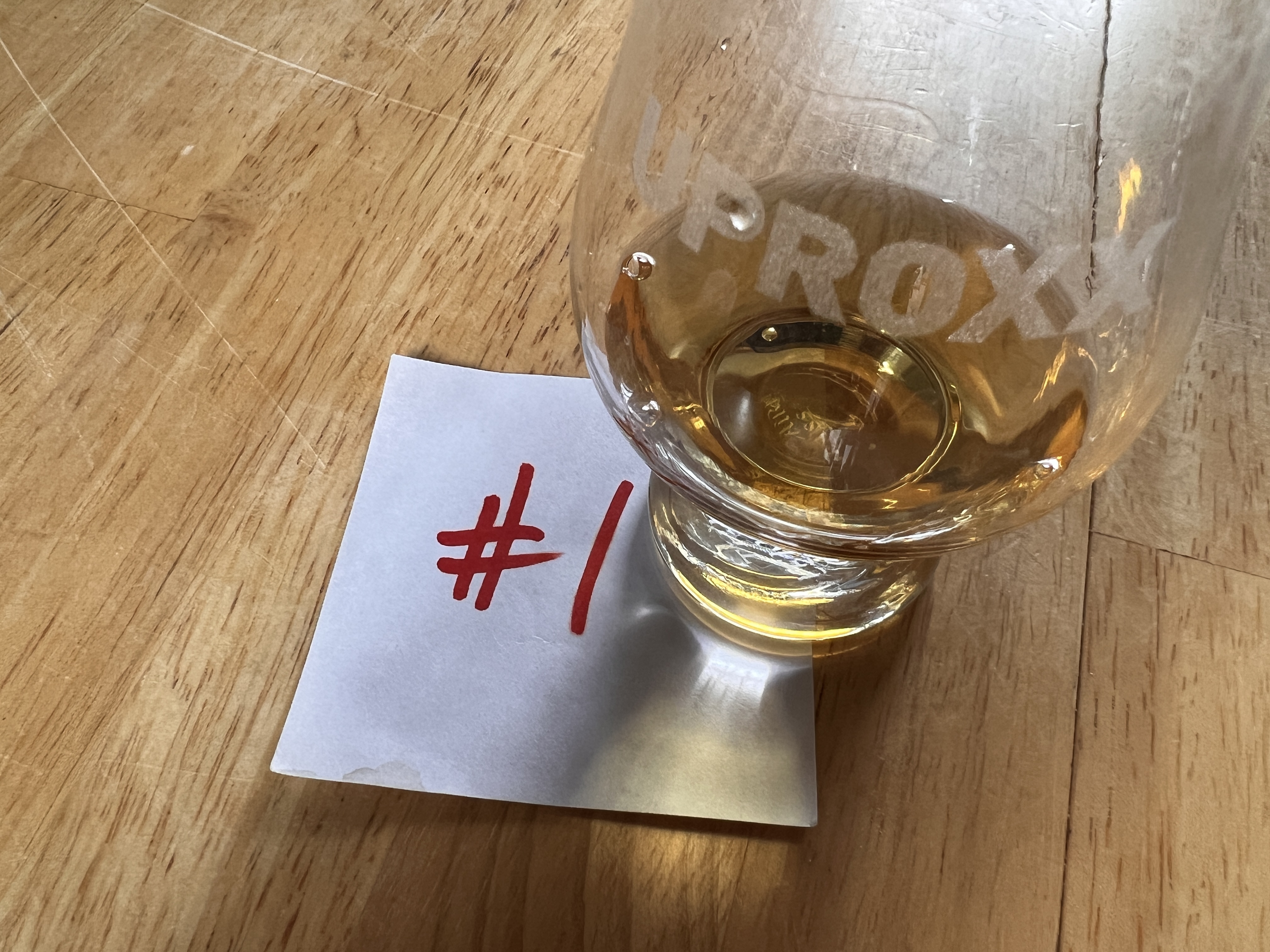 Tasting Notes:
Nose: Light green chili pepper is accented by lemon candy, soft maltiness, a hint of sweetgrass, and honey-dipped almonds on the nose.
Palate: The palate opens with a hint of chocolate malt with a dash of vanilla next to creamy honey, nutty cakes, and a whisper of woody spice barks with a touch more of that dry sweet grass.
Finish: The proofing water comes through on the end but doesn't overly mute the honeyed nuts and soft grassy maltiness.
Initial Thoughts:
The lemon on the nose means this has to be Jameson. That aside, this was nice overall. There were layers that felt simpatico and built toward something.
Taste 2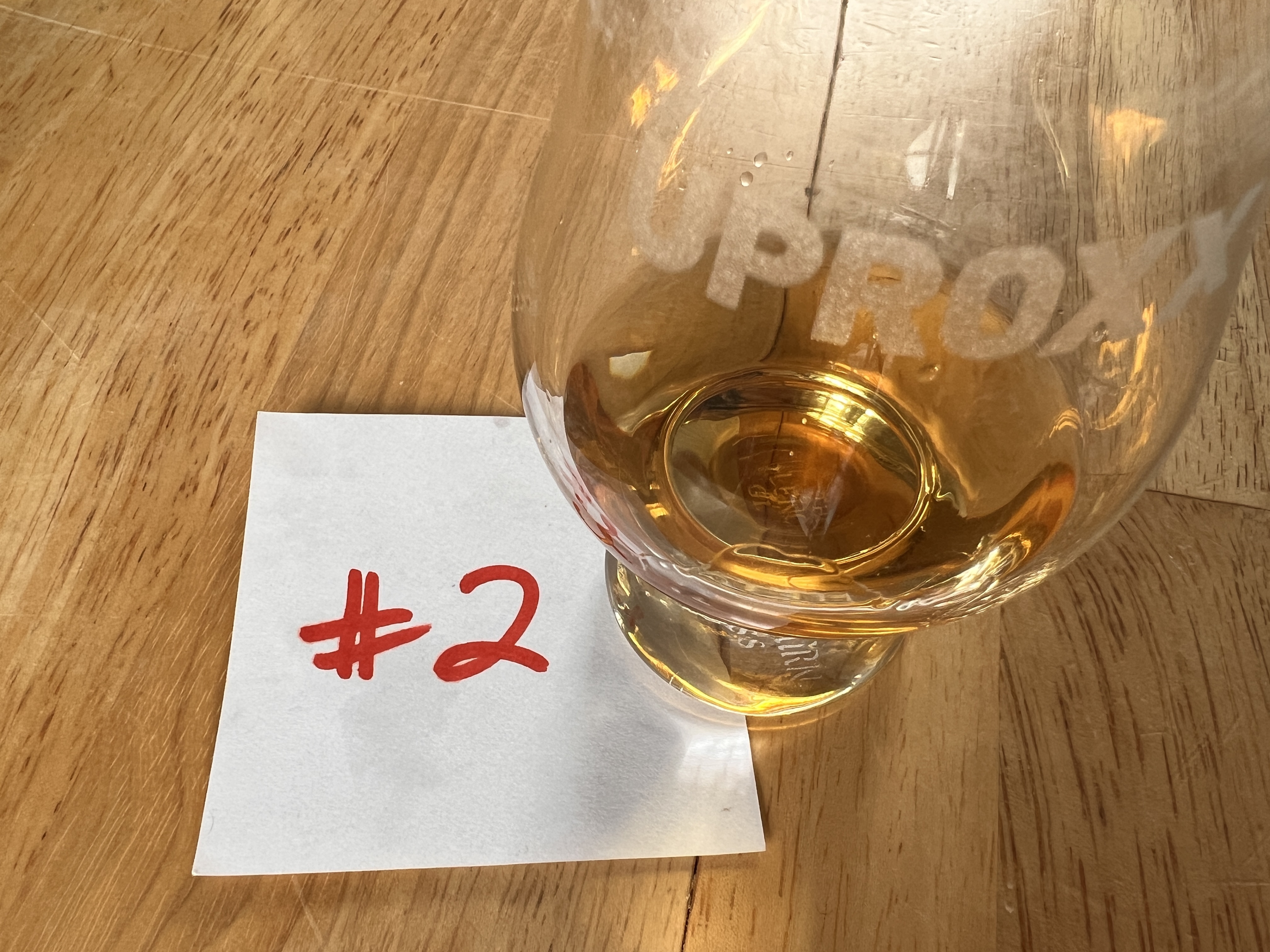 Tasting Notes:
Nose: Sweet malted cookies and bright orchard fruit dominate the nose with a sense of fresh pear, green grassy, and fall leaves with a hint of black pepper.
Palate: Butterscotch and sweet honey malt drive the taste toward more fresh pear cut with orange oils and a hint of nuttiness.
Finish: There's a hint of spiced oak and soft malt on the finish with a whisper of vanilla but it all kind of fades into watery nothingness pretty quickly.
Initial Thoughts:
This starts off so strong but then just kind of… disappears.
Part 2: Ranking Jameson and Tullamore D.E.W.
2. Tullamore D.E.W. Irish Whiskey Triple Distilled — Taste 2
ABV: 40%
Average Price: $24
The Whisky:
Tullamore's entry-point whiskey is a blend of triple distilled single grain, single malt, and single pot (malt and unmalted barley mash) whiskeys. Those spirits are then aged in a combination of refill whiskey barrels, ex-bourbon, and ex-sherry casks before blending, proofing, and bottling.
Bottom Line:
This started off far stronger than the Jameson did but just couldn't stick the landing. It washes out on the finish pretty dramatically and quickly, leaving you with little on the palate. That's a shame as this is the more complex whiskey with single malt and an extra barrel in play in the blend.
1. Jameson Triple Distilled Irish Whiskey — Taste 1
ABV: 40%
Average Price: $29
The Whiskey:
The whiskey is a blend of single pot still (made from malted and unmalted barley) and single grain whiskeys. Those whiskeys age in ex-bourbon barrels and ex-sherry casks until they hit that classic sweet spot that makes Jameson Jameson. Those barrels are then blended, proofed, and bottled.
Bottom Line:
This was more well-rounded and had a little bit more depth. It was still light, don't get me wrong. It's clearly a whiskey you're going to want to mix into a highball, but there was just more here to play with.
Part 3: Final Thoughts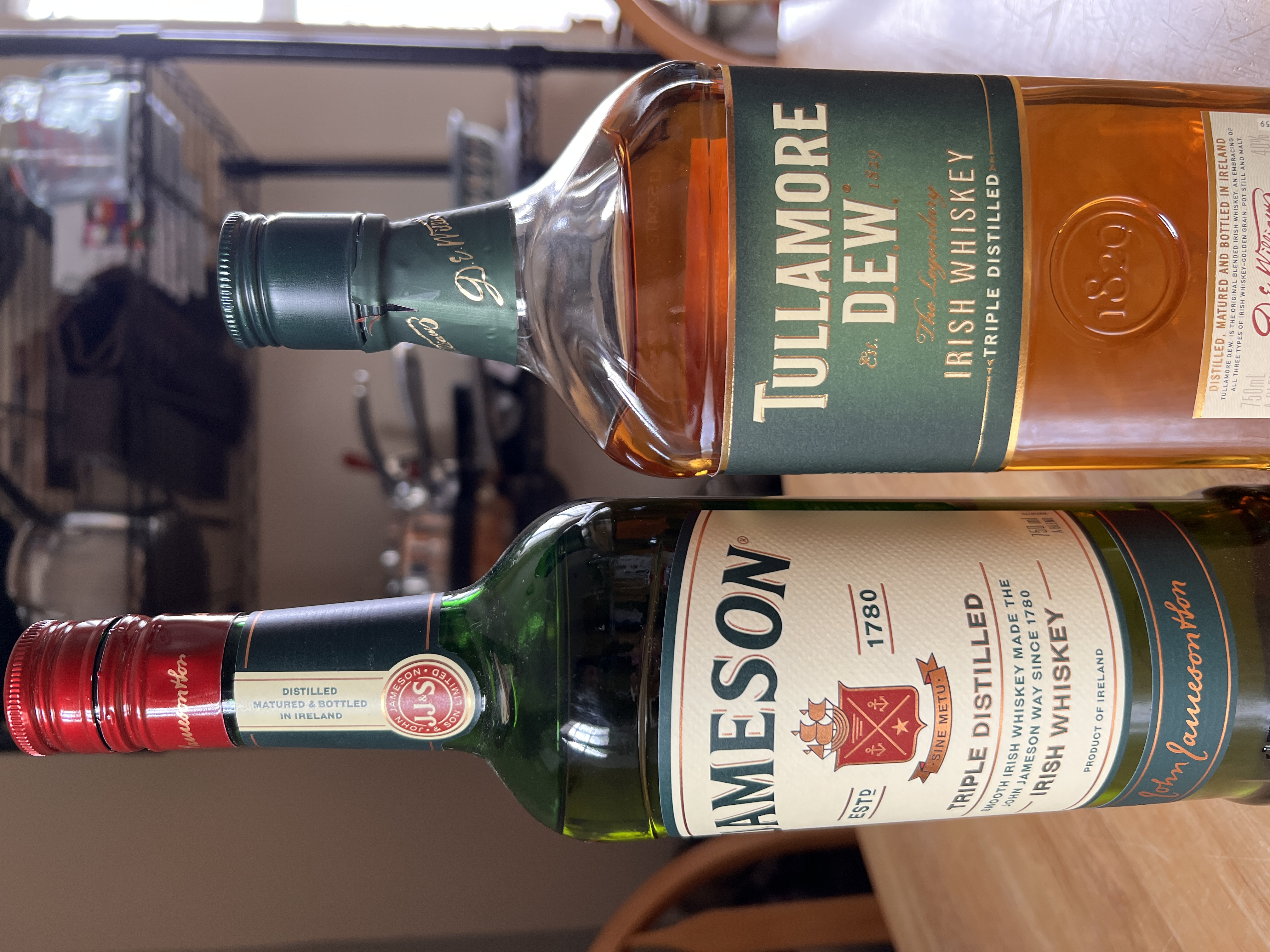 Look, these are both mixing whiskeys. They're built that way in Ireland and marketed that way. No one is pretending that these are some mind-blowingly complex whiskeys that are going to change your whiskey-drinking life.
These are perfectly fine standard mixing whiskeys for highballs. That means they're made for mixing with fizzy water and drinks like ginger ale or tonic. I wouldn't bother using them for cocktails. There's not enough going on in either of these whiskeys for that application.
That all said, Jameson is the clear winner. It just has more depth and a much better finish.