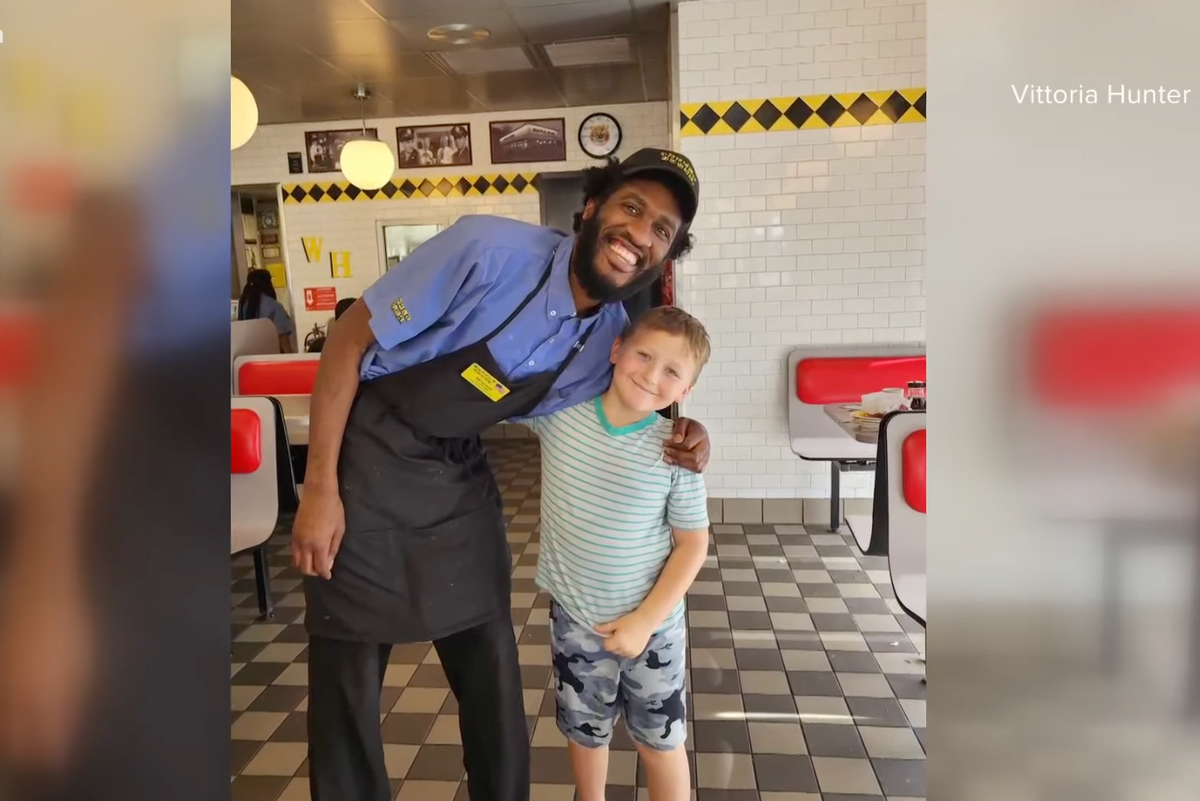 Everyone has their favorite place to eat, and if you visit enough, you get to know the regular servers and sometimes even form a bit of a friendship with them. When 8-year-old Kayzen Hunter started going to a local Waffle House in Arkansas with his parents and sometimes grandpa, he became familiar with his server, Devonte Gardner. Actually, Gardner became Kayzen's favorite server, giving him high fives and letting Kayzen tell him jokes.
The relationship between Gardner and Kayzen's family continued to develop, which led to the little boy noticing Gardner was often dropped off for work because he didn't have a car. Eventually, the Hunter family found out Gardner had a wife and two daughters who were living in a hotel because of issues in their previous home.
"We wanted to find something affordable, so we moved into a low-income area," Gardner told Today.com "We just got tired of infestations with rats and roaches and all this black mold. My daughters were getting sick. No heat and things like that. When it was cold outside, we had to bundle up with like four or five blankets in order to stay warm."
---
Garner had been living in a hotel with his wife and two daughters, who are 2 and 3 years old, for the past eight months. I'm sure most people have spent a night or two in a hotel, and unless it's a penthouse suite, the space is crowded with more than two people in a room. It serves the purpose for a vacation, but living in a standard hotel room would likely begin to take a toll on your mental health as well as your finances. But when your options are limited, it's an understandable best option.
Of course, after learning this information about his Waffle House best bud, Kayzen wanted to do something to help. That's when he came up with the idea to start a GoFundMe to help Gardner get a car to help him get back and forth to work. Kayzen's mom took a bit of convincing to get on board, but since 8-year-olds can't open an account on their own, his mom had to sign off.
Originally, the goal for the fundraiser was set at $500 to help Gardner get back and forth to work, but as it started to gain more traction, it blew past the original goal and continued to climb. People were moved by the GoFundMe page written by Kayzen and his mom.
"Devonte is one of the most joyous and positive people you've ever met!! He always greets us with the biggest smile," Kayzen wrote on the GoFundMe. "I hope your heart is as BIG as mine and you will help me spread kindness in the world. Any amount helps!!"
Gardner has big plans for the money raised by Kayzen, but his first step is moving into a brand new apartment. The father of two told Today.com that he recently signed the lease on a two-bedroom apartment. As for the rest of the money? Well, the donations keep pouring in. It's currently up to $108,000, and Garner isn't planning on spending it frivolously.
"I'm gonna save the rest because I want to put my daughters in a good school, I want them to be in a good environment," Gardner explained to Today.com. "Everything I'm getting is going mostly towards my daughters to make sure they have a great, great life. Make sure we won't have to struggle anymore."
And yes, he still works at Waffle House and greets Kayzen and his family just like always, high five and all.