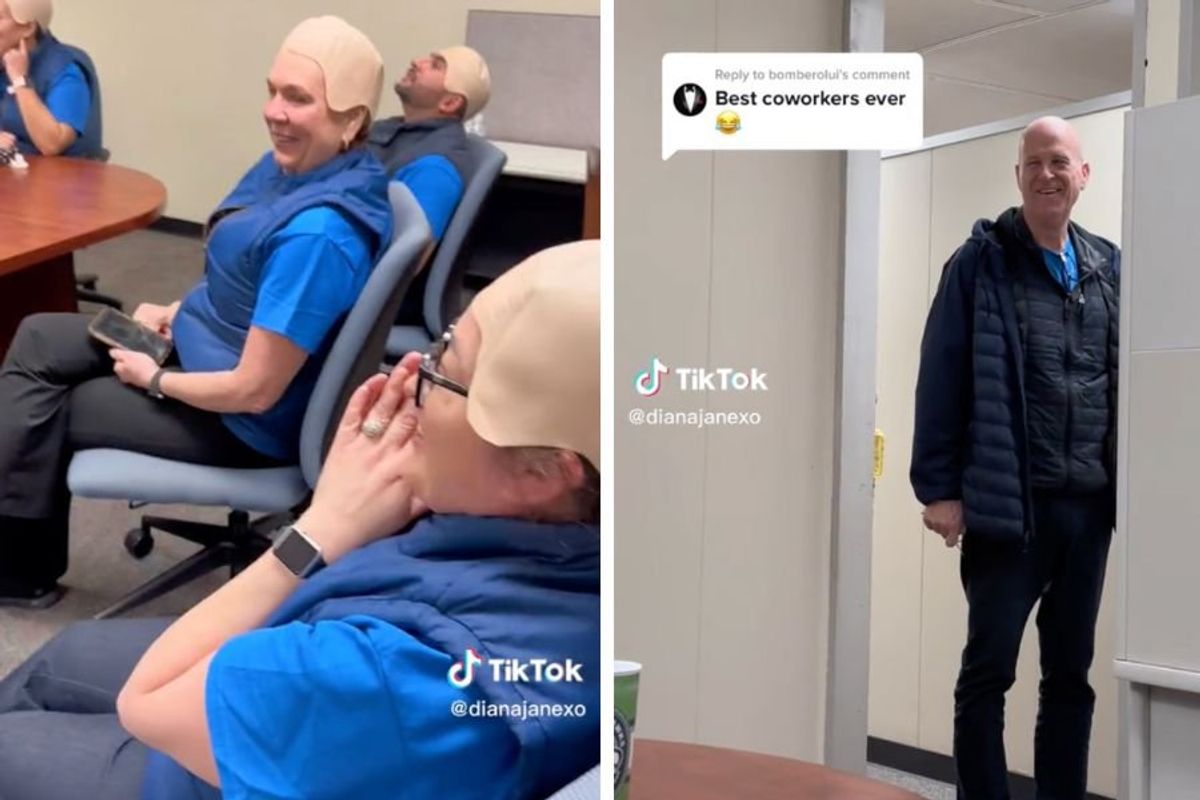 Well, well, well, if it isn't one of the cutest pranks I've ever seen pulled off. (I know I started that off like I was going to say something negative, but sometimes you've gotta mix it up a little.)
Usually, when you see pranks being pulled, there's a line that can get blurred fairly quickly. Pranks can quickly go from harmless fun to questioning if the prankee is actually being hazed and we are being forced to witness it. But this prank is probably one of the most wholesome pranks ever committed. Kevin Christian was retiring and his co-workers weren't going to let him go quietly into the night.
On his last day at work at Monterey County Probation Department in California, Christian's co-workers decided the best way to send him off was to dress exactly like him—complete with a bald cap, in case he wasn't quite sure who they were all supposed to be, I'm sure. Then they uploaded their shenanigans to TikTok, where the video got over 4 million views.
---
"People wanted to know how we knew he was going to wear that day. We just banked on it. We had been planning this for weeks," Diana Manuel shared in a video update.
The co-worker then showed a clip of Christian on his birthday wearing the same outfit, so it's probably safe to assume he wears that outfit a lot, putting the odds in their favor. The original TikTok video is set to the "Mission Impossible" theme song and you get to see how they worked together behind the scenes buying a ridiculous number of blue shirts.
Christian appears to be shocked by seeing himself multiplied before clocking out one last time.
"What is wrong with you people?" the new retiree repeated.
Obviously, nothing's wrong. They're all getting to retire too. Their names are all Kevin Christian, can't you tell? It looks like Christian will be missed and his co-workers are a blast. Surly there wasn't a dull day around there too often.
See his reaction below:
@dianajanexo

Replying to @bomberolui Nothing is wrong with us 😂