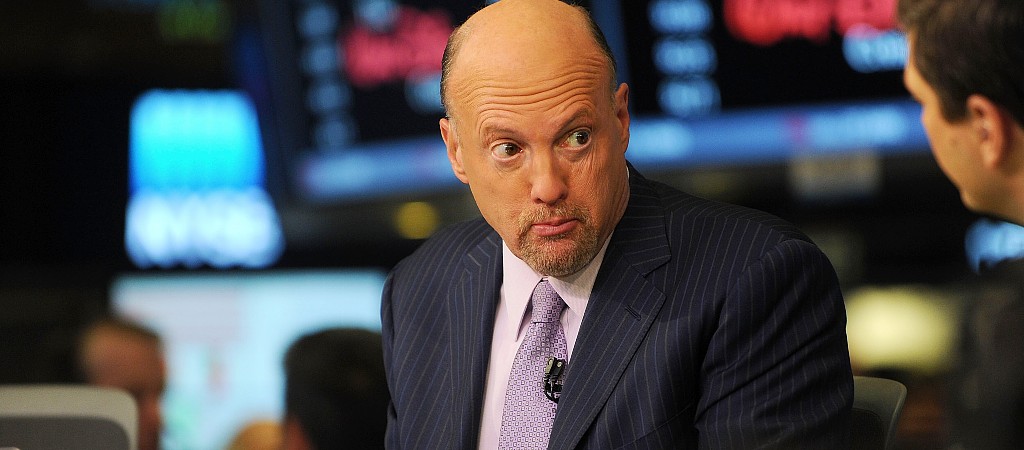 During a February 8 episode of MSBNC's Mad Money, host Jim Cramer instructed viewers to buy stock in Silicon Valley Bank. Just a month later, that advice is coming back to haunt the perpetually wrong Cramer, who John Oliver once called a "garbage can full of cocaine." On Friday, federal regulators shut down SVB in one of the biggest financial sector collapses since 2008, which has sparked fears of a similar banking crash.
Via NBC News:
The shutdown came after a tumultuous morning for SVB, during which trading of its shares was halted after they fell by double-digits before markets opened. That downslide came on the heels of a more than 60% decline Thursday. Worries over a run at SVB led Wall Street investors to dump other bank stocks as well. Shares of other prominent West Coast lenders took sharp nosedives Friday, including First Republic Bank, PacWest Bancorp and Western Alliance Bancorporation.

In view of the tumult, Treasury Secretary Janet Yellen told House lawmakers Friday morning, "There are recent developments that concern a few banks that I'm monitoring very carefully, and when banks experience financial loss it is and should be a matter of concern."
A potentially massive financial calamity aside, Twitter users immediately began dragging Jim Cramer for encouraging people to buy SVB stock just last month. According to the New York Post, Cramer told viewers that SVB was ""less dependent upon private equity and venture capital offerings," which made it worth buying because "being a banker to these immense pools of capital has always been a very good business."
You can see how well that advice turned out, and so did lots of people on Twitter who pounced on Cramer for making yet another wildly wrong prediction, as he so often does:
One month ago, Jim Cramer urged investors to buy Silicon Valley Bank stock $SIVB.

Today, the bank was closed by California regulators, making it the 2nd largest banking failure in US history. pic.twitter.com/5jgjqTGxld

— Watcher.Guru (@WatcherGuru) March 10, 2023
What are the odds that the guy who told you "Bear Sterns is fine" before it went bankrupt in 2008

Would say "Silicon Valley Bank is a buy" before its stock drops -60% in one day due to fears of a bankrun?

Jim Cramer, ladies & gentlemen pic.twitter.com/EJ7vp15Mcu

— Alexei Arora (@AlexeiArora) March 10, 2023
CNBC's Jim Cramer should never be taken serious in regards to financial decisions… He is nothing more than a paid entertainer.

— Gunther Eagleman (@GuntherEagleman) March 10, 2023
Bill Simmons Jim Cramer

People I've made money off of betting against their takes https://t.co/NcZ95Upuz6

— Barnabas Quimby (@hairybusiness) March 10, 2023
Three things you can count on in life:

1. Death
2. Taxes
3. Dog shit stock picks from Jim Cramer

Jim maintaining his status as the ultimate contrarian indicator. https://t.co/yQtquWPrJn

— Saylor Go Brrr (Parody) (@saylor_go_brrr) March 10, 2023
And if all of this is confusing to you (join the club), this thread explains what went down here.
Silicon Valley Bank is imploding before our eyes

here is how SVB threw 50 years of goodwill and $80 billion down the drain in just 30 hours

— Morning Brew Daily (@mbdailyshow) March 10, 2023
(Via NBC News, New York Post)