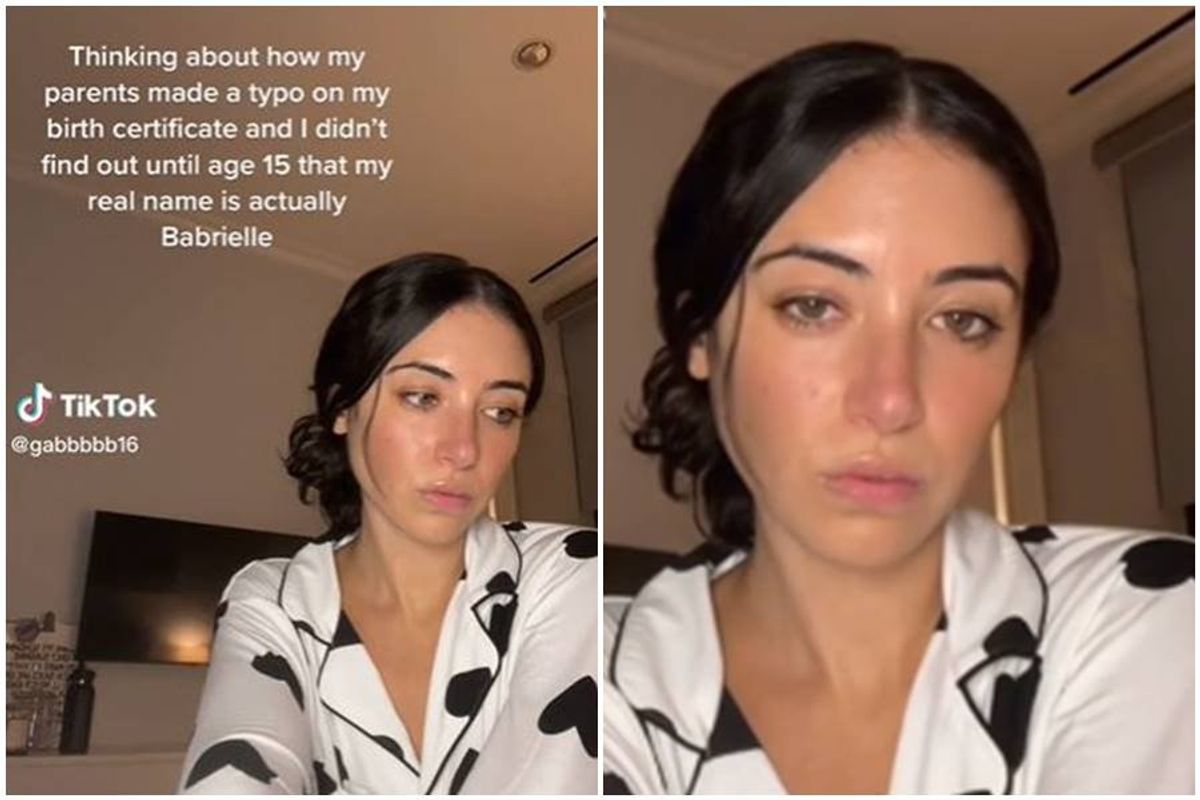 Gabrielle Mayor, 24, has gone viral on TikTok after posting a video where she recounts the time when she realized that she was living a lie. In the video, Gabrielle shares that she didn't know that her legal name was "Babrielle" until she went to get her driver's permit at the age of 15.
The video of her giving a deadpan look at the story written in white text has received over 3.4 million views.
"Thinking about how my parents made a typo on my birth certificate, and I didn't find out until age 15 that my real name is actually Babrielle," the video reads. It's incredible that the people at the hospital didn't notice the mistake because Babrielle isn't exactly a common name.
---
Nine years later, she told the whole story to Today.com. "My mom and I were at the DMV picking up my learner's permit. I can't even explain how excited I was to be able to drive."
🙄
But when Gabrielle gave her social security number to the DMV employee, there was a bit of a problem. "The guy asks for my social security number and I give it to him. He puts it in the computer, and he's like, 'I'm not seeing a Gabrielle Mayor,'" she recalled.
She shared her information again, and it still didn't come up. "Then he goes, 'I do have a Babrielle Mayor,'" she said, to which her mother, Ellyn, exclaimed, "Oh, no!"
"Long story short, I did not learn how to drive that day, rather, I learned that I've been living a lie for the past 15 years," she told The New York Post. Gabrielle's mother later explained that her daughter's name was misspelled because she was on a lot of medication after giving birth and couldn't write correctly.
"I was shaking so badly that my G must have looked like a B," Ellyn told Today.com. "After I got the birth certificate in the mail, I immediately fixed it, but for some reason, I didn't think about the social security card…until I took Gabby for her learner's permit."
Eventually, the mistake would become a term of endearment for Gabrielle.
"To this day, all my friends call me 'Babby' or 'Babs'—even strangers who have heard this story will just immediately start referring to me as Babs," she explained. "Needless to say, I never struggle to come up with a fun fact!"
The video inspired countless others to come forward with the same problem.
"Happened to me, my name is Vanessa but BC said Banesa," Vanessa said.
"Try registering for COLLEGE and finding out that your LEGAL first name is Baby and your middle name is Girl, big whoops on my parents!" kovervold added.
"One girl I know is called Angel but it was misspelled Angle on her birth certificate!" Car123 commented.
"My name was aslhey instead of ashley for 20 years," Ashley admitted.
In September, another woman racked up nearly 900,000 views on TikTiok for admitting that her father's screw-up left her with a legal name that sounded a bit dirty. A user name Chloe said that her dad accidentally spelled her name "Chole" on her birth certificate.
"Yes way my name is C-hole, coal, chole — however you want to pronounce it," she admitted in the clip.
@cholebhole

Replying to @Rory fun fact about me #truestory