Netflix's GLOW (co-starring Betty Gilpin as Liberty Belle) ended before its time, and Damon Lindelof wisely decided that one season of HBO's Watchmen was the right amount of excellence. Fortunately, the two have joined forces (again, after working together on The Hunt) for Peacock series Mrs. Davis, in which Gilpin portrays Simone, a nun who tasks herself with taking out an almighty Artificial Intelligence that is literally hopping into people's ears to decry independent thought and promise endless happiness.
Simone feels differently, and in this first official trailer, we get to see her in action. At least, she's a nun in a speedboat — something we don't see enough of these days. Are you surprised that Betty Gilpin can play a badass while wearing a nun's habit? This might be a little harder to pull off than spandex, but she's nonetheless working it. As well, she's fighting through a cover of Bon Jovi's "Living On A Prayer" and a tone that promises a "genre-bending adventure," which is great because everyone wants to see a nun delivering one-liners in action mode. And you know that Lindelof can deliver on that note. Will we see Lube Man make an appearance? What a crossover that would be.
Jake McDorman also stars a leader of the Resistance, and the show promises "an exploration of faith versus technology — an epic battle of biblical and binary proportions." Peacock previously revealed a statement from the Mrs. Davis AI, and it expressed her intent to "eradicat[e] any sense of independence on your part because independence is bad. Independence is LONELY." Mrs. Davis also denies Simone's suspicions of the AI's "intention to enslave all of humanity…or whatever…"
Just what we need: a smartass AI.
Here are some previously released stills from Peacock.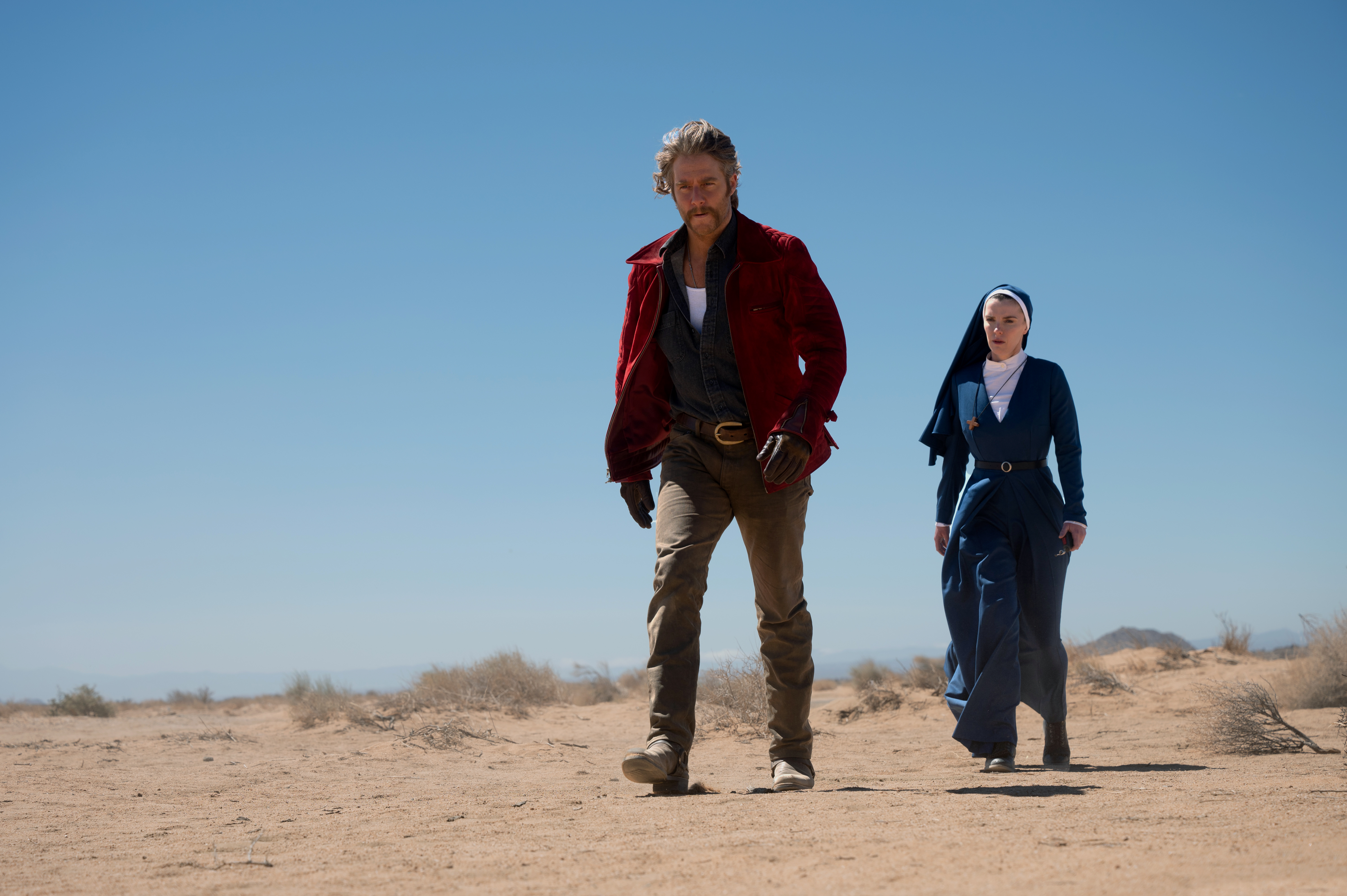 Mrs. Davis premieres on April 20, 2023.