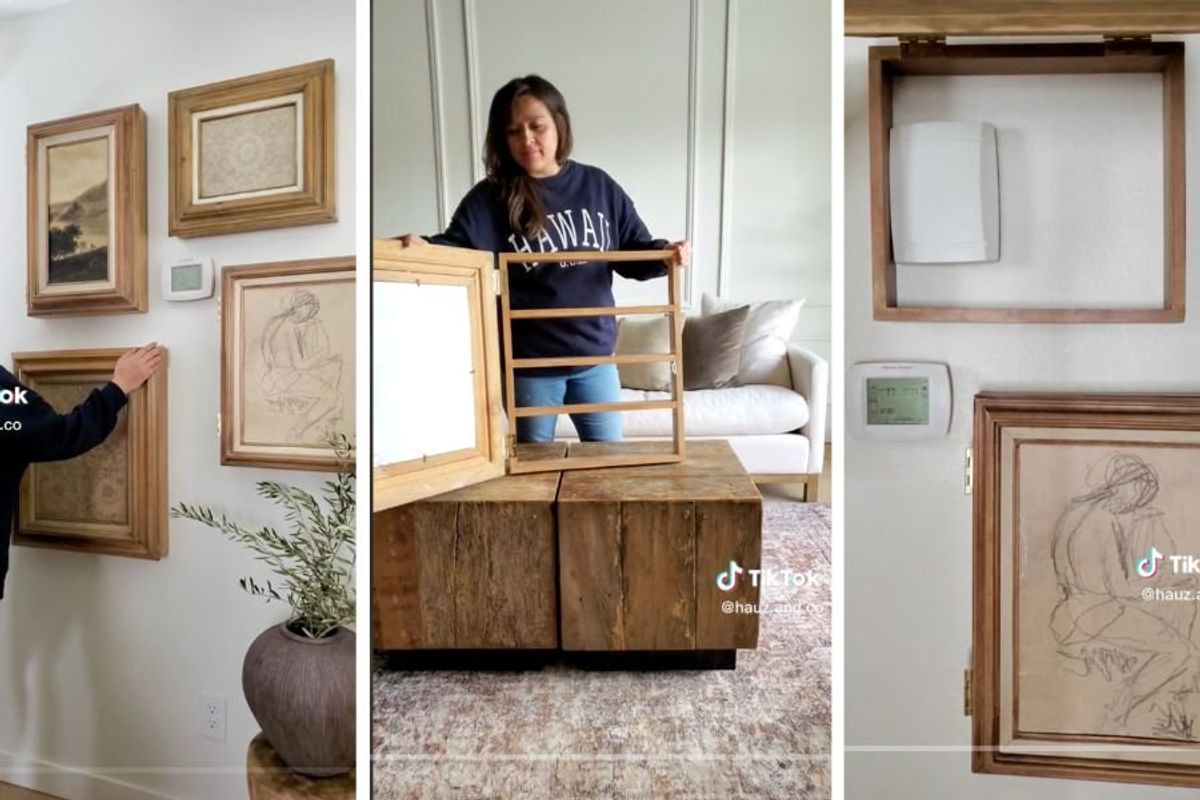 Sure, TikTok might be known best for its viral dances, but the platform displays all kinds of quirky, unique creativity. In the mood for stunning fashion finds? Animal mash-up drawings? Music featuring weird cat sounds? TikTok has it—and more.
That goes for inexpensive DIY home projects as well. TikTok has endless numbers of people sharing clever hacks for sprucing up a place using very little money, making the seriously fun hobby all the more accessible.
Back in August of 2022, digital creator and home decor enthusiast Sarahli Wilcox shared what TikTok users hailed as a "genius" storage hack—building small shelves and hiding them behind mounted art frames.
---
The process is fairly simple. As explained in an interview with Insider, Wilcox uses frames that are either upcycled from around her house or found at Goodwill. She'll then remove any paint or varnish, fill any holes and then restain it (though she does say that repainting is an easier option). Next, Wilcox creates the backless cabinet and shelves using a brad nailer and some wood glue. The cabinet and frame are then put together with small hinges.
This video below also breaks it all down:
Bada bing, bada boom: dual-purpose storage cabinets that are literally a work of art. And all for around $30, Wilcox told Insider.
In a follow-up video posted in January 2023, Wilcox shared that she mainly used her cabinets to store medicine, essential oils and hide her doorbell box.
However, her creation has inspired several other lovely ideas for uses.
"SECRET SPICE CABINET," someone wrote in all caps.
Another added, "This would be an amazing memorial idea. You could keep mementos behind a picture of the one you love."
"This would make an amazing secret altar for witches in the broom closet," commented another.
One parent wrote, "This is SUCH a great idea. I'm going to build these and put my kids' art supplies inside."
Another person even posted a video on their own whimsical take on the idea, making it into what they called a "little fairy door."
This is TikTok at its best—a weird and wonderful pocket of the internet where creativity begets more creativity.
As you can probably expect, Wilcox has even more amazing hacks, which you can find by giving her a follow here.