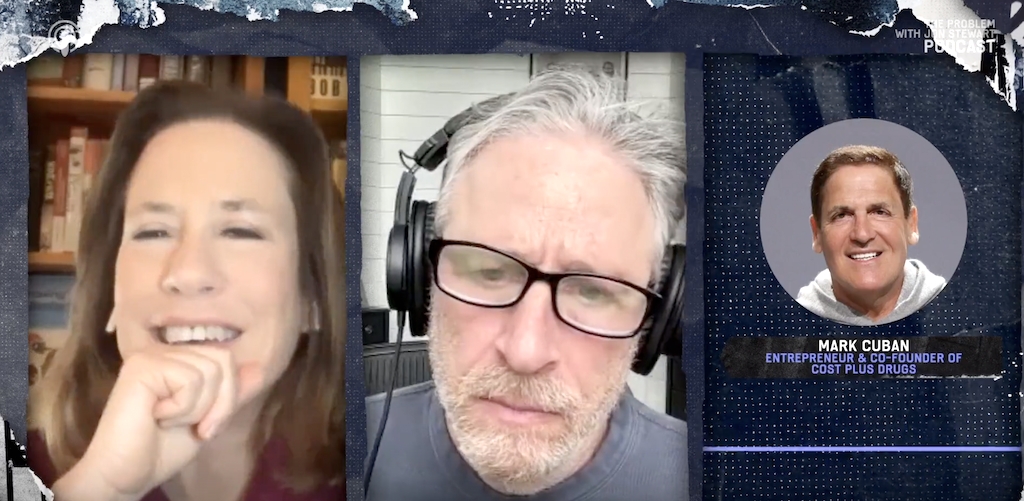 The collapse of Silicon Valley Bank last week sent the country into a tizzy. If a moderate-sized bank like that can fail, is that a bad omen for the entire country? To make matters worse, during a discussion with super-businessman and Shark Tank "shark" Mark Cuban on The Problem with Jon Stewart, the former's connection cut out at the most awkward and ominous time.
Stewart and Cuban were joined by FDIC chair Sheila Bair, who, like Stewart, was not happy that SVB's rich stockholders are being bailed out. Cuban argued they were in fact losing big. Stewart didn't like that.
"The shareholders have taken a haircut of a loss and they are last in line," said Stewart.
"They're not even in line," Cuban pushed back. "It's not like there was this big saving where we bailed out and the shareholders and all the tech bros came out okay. They got crushed, they got crushed."
Stewart interrupted him, saying, "Well, I think that's a little misleading because these are not average depositors so for the people that are going to be getting their money back because it's not fully guaranteed by the United States, there are people there who had hundreds of millions of dollars. I mean you've got Roku that had, I don't know, $500 million in there. These are not mom and pop investors."
That's when something foreboding happened. Cuban was in the middle of saying something about "the entire banking system of the world" when his connection abruptly dropped. That left Stewart and Bair on edge.
"Oh, did we lose him? Son of a bitch," Stewart joked. "He just said 'the entire banking system of the world' and then we lost him! Holy sh*t! Now what do we do? Mark Cuban just created a bank run! The entire banking system of the world…"
"I'm sure he was going to say that it's perfectly safe and sound," Bair chimed in.
Cuban, who was doing the chat from his plane, did return to blame the collapse on regulatory failure, only to have his call dropped again.
When news of SVB's collapse was revealed last week, a lot of people freaked out. Some took their anger out on Jim Cramer, the frequently wrong Mad Money soothsayer who, of course, advised people to buy stock in the bank only last month. There were worse places to direct it, for sure.
(Via Mediaite)