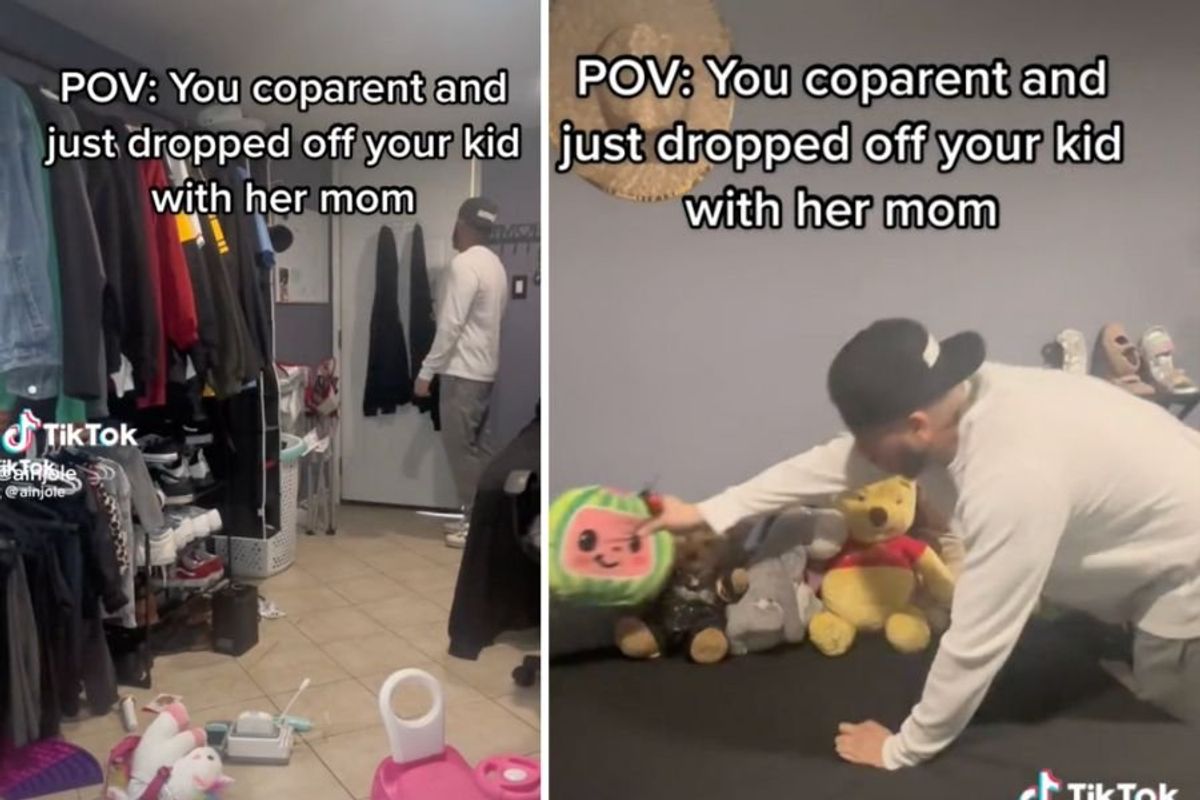 Very often, the right choice isn't easy. Co-parenting is a prime example of this—no matter how amicable a break-up is, single parents inevitably lose time with their children after a divorce and must deal with the resulting loneliness that happens once the child leaves to spend time with the other parent. Knowing that you've made the right decision doesn't necessarily take away the pain.
That's why one dad's video sharing his own experience of his child's empty room is resonating with other single parents over on TikTok.
The dad, whose name appears to be Angel but goes by @ainjole on the platform, confessed in his video's caption, "I think the hardest part of coparenting (for me) is dropping my daughter off with her mom and coming home to silence."
---
He continued, "Of course when she's rowdy and loud, I wish for peace and quiet, as does every parent when they're overwhelmed. But then I hate it when I have it."
The video itself shows Angel closing the door after his daughter, Penny, leaves to be with her mom. He is left behind with a mess of toys scattered on the floor—remnants of the fun they shared together.
As heartfelt piano music from Pixar's "Up" plays, Angel picks up the toys, sweeps and dusts, makes the bed…removing any traces of the past few days.
The video ends with Angel lying alone on the bed, surrounded by carefully arranged stuffed animals, just before he turns off the light.
The father later wrote in the comments, "Now I cherish every scream, every dirty hand print, and every spill."
The touching video struck a chord in single parents. Angel is clearly not the only one to experience deep sadness during that first silence after a child leaves.
"Damn that's so accurate. Tired. Sad. Relieved. It's a weird feeling," one person wrote.
"Dam bro I do that every Monday don't have the heart to clean Sunday night after I drop them off," another added. "The mess reminds me of them."
One wrote "I miss my daughter everyday till I have her again.I always snuggle with her favorite teddybear till she comes back."
Several shared how it's a feeling that never completely goes away.
"I still cry to this day when my kids leave with their dad and it's been 2 years. It's something you never get used to," confessed one parent.
Another added, "Been doing it for 16 years. It's always rough. I've done the lay in their bed in the dark countless times."
Several others tried to encourage Angel by reminding him that he's still making the right decision.
"I've been doing it for 10 years now and it doesn't get any easier, but just know 2 happy homes is better than 1 toxic home," one person shared. "Proud of you."
Despite feeling sad, Angel seems to be taking things in stride, writing in the comments that "it's painful to see them go but even more special when they come back."
Kudos to Angel for sharing this vulnerable moment. This is something that many single parents go through, and while nothing replaces time spent with loved ones, maybe through open conversation there can be a little less loneliness surrounding the subject.