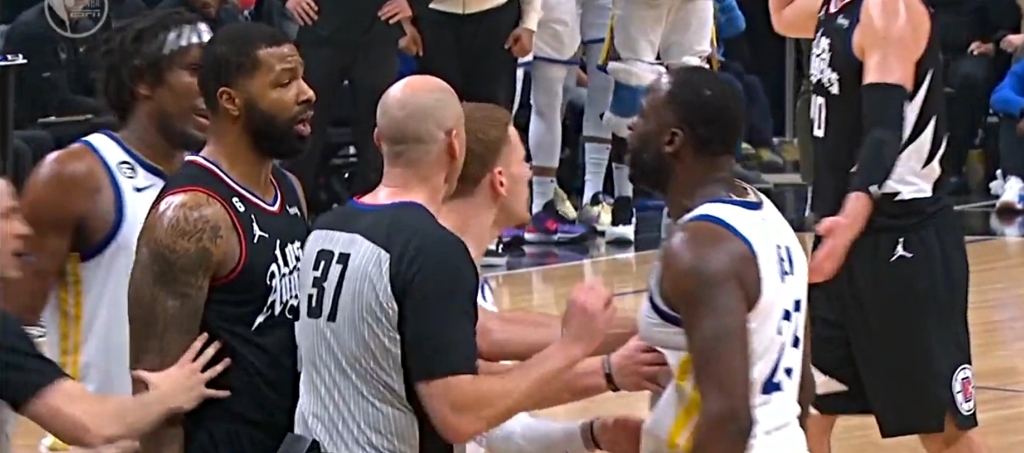 The second quarter between the Warriors and Clippers in Los Angeles got a bit feisty, and it involved the two players on those teams you would expect to get into it, as Draymond Green and Marcus Morris both earned some time off in the span of one minute.
First, it was Green picking up his 16th technical foul of the season after he threw the ball off of Russell Westbrook seemingly in frustration after Westbrook crashed into him boxing out.
Green then lit into the refs for calling it, but it seems unlikely that will get taken away and he will have to miss the Warriors next game against the Hawks to serve the mandatory one-game suspension for reaching 16 Ts in a season.
On the very next possession, Green and Morris got tangled up boxing out, with Morris swinging his left arm at Green and hitting him in the head, knocking Green to the ground. That led to a bit of a kerfuffle and a review to see if the foul needed to be upgraded to a flagrant.
Morris' wind-up and the fact that he hit Green in the head led the officials to not only bump it up to a flagrant, but to hand him a flagrant 2, meaning his night was over. The initial look didn't seem as dramatic as a flagrant 2, but he certainly winds up and because he hits Green in the head, that is a focal point for officials in recent years and earned him an ejection — Morris' history probably didn't help him either in terms of trying to determine intent.