It's back! Michter's Single Barrel 10-Year Bourbon Whiskey is starting to hit shelves around the country right now after a one-year hiatus in 2022. Master Distiller Dan McKee and Master of Maturation Andrea Wilson held the release back last year as the barrels just weren't quite there yet. This year, the whiskey was ready and after a bottling run, Michter's 10-Year Bourbon is back on (some) shelves.
To celebrate the single-barrel 10-year-old bourbon release, I'm going to break down what's in the bottle below. Spoiler alert — this is a great whiskey. It's one of the most classic and quintessential bourbons on the shelf in the United States.
There's a reason for that (though it's a tad esoteric) — the care that both McKee and Wilson put into these expressions is apparent in the actual whiskey in the bottle. There's a depth that goes beyond a well-built flavor profile into a ~ sense of something better and deeper ~ that just sings more on the senses and elicits a deep sense of feeling. From the first nose to the echo of the finish, you sense that there's just more to this whiskey than your average one. And that's what makes whiskeys like this so much more sought-after and, well, expensive.
Okay, that's enough preamble. Let's get to what's actually in this new bottle of Michter's.
Also Read: The Top 5 UPROXX Bourbon Posts Of The Last Six Months
Michter's Single Barrel Kentucky Straight Bourbon Whiskey 10 Years Old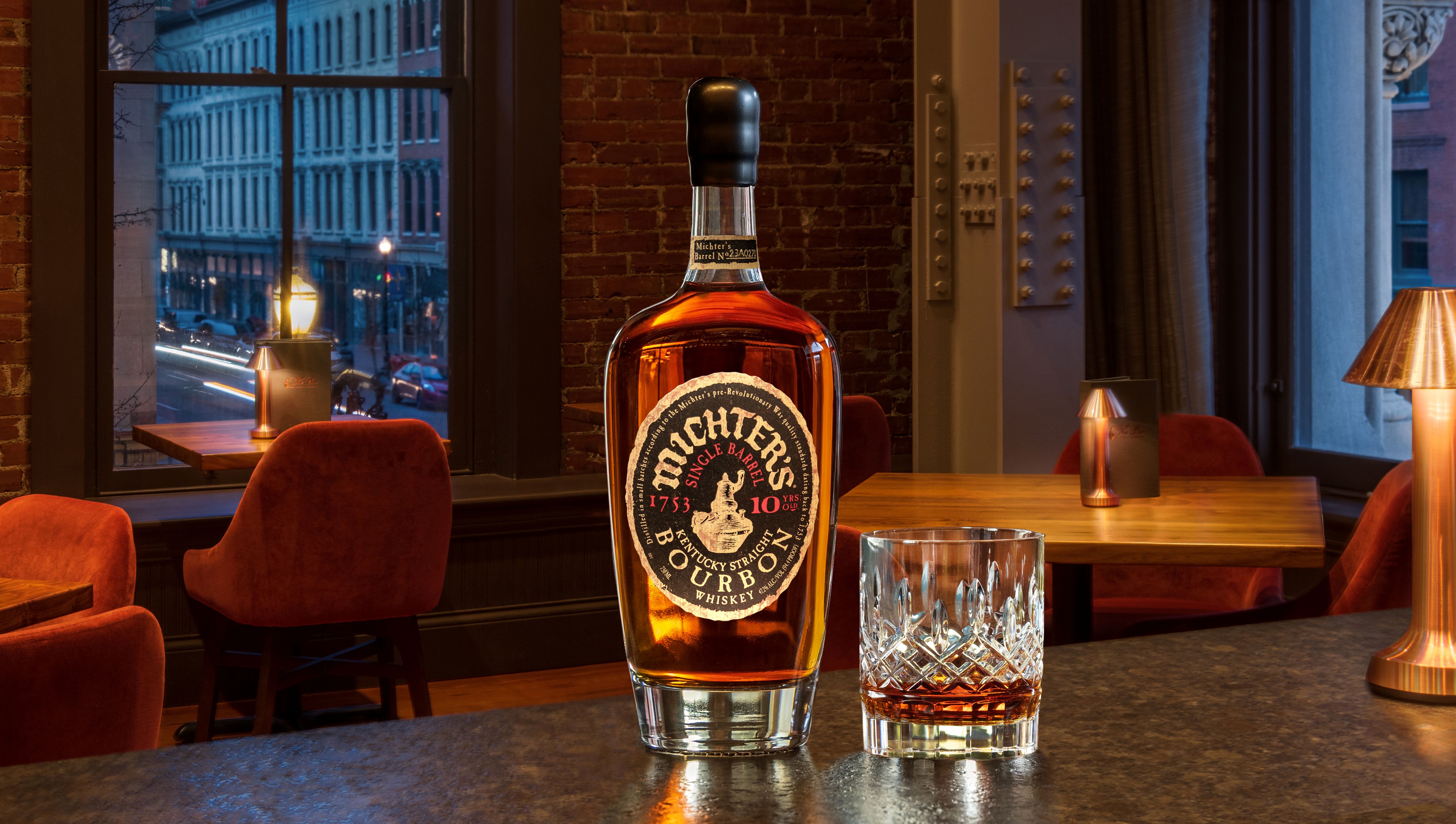 ABV: 47.2%
Average Price: $185 (MSRP)
The Whiskey:
The whiskey barrels sourced for these single-barrel expressions tend to be at least 10 years old with some rumored to be closer to 15 years old (depending on the barrel's quality, naturally). Either way, the whiskey goes through Michter's bespoke filtration process before a touch of Kentucky's iconic soft limestone water is added, bringing the bourbon down to a very crushable 94.4 proof.
The Bottle:
Michter's large-format bottle for their 10, 20, and 25-year releases is hefty and iconic for the brand. They stand out on shelves and feel like bottles that you keep around after all the liquid is gone as a decanter or rose vase. Moreover, they are waxed dipped — adding some serious class.*
*Thankfully, the team at Michter's has the good sense to add a useable pull tab in the wax for easy opening. This is not a universal truth in whiskey bottle wax dipping. As someone who has to open bottles constantly, I really appreciate this small touch.
Tasting Notes:
Nose: There's a peppery sense of cedar bark and burnt orange next to salted caramel and tart red berries with a moist and spicy sticky toffee pudding with some brandy butter dancing on the nose.
Palate: The palate blends vanilla tobacco with salted dark chocolate-covered marzipan while espresso cream leads to new porch wicker and black peppercorns.
Finish: The end has a pecan waffle vibe with chocolate chips, maple syrup, blackberry jam, and minced meat pies next to old tobacco and cedar with a sweet yet toasted marshmallow on the very end.
Bottom Line:
Yup, delicious. This is a stellar sipper neat, blooms nicely with a little water (it takes on a creamy sense of dark chocolate and marshmallow with almonds almost like a scoop of really well-made rocky road ice cream filtered through spicy bourbon), and absolutely kills in an old fashioned.
How To Buy:
This is an allocated bottle. That means that high-end bars and restaurants are going to be the best bet to drink this in the real world. Nottles will be on shelves at liquor stores behind glass or behind the cash register but very fleetingly so. It won't be impossible to find, but you'll have to put in the legwork in your region to find it.
There is a pretty big aftermarket for this online and at high-end whiskey shops. Expect to pay three to four times the MSRP though.
Ranking:
91/100 — This is excellent bourbon. It's versatile and deep. That all said, it's obviously not Michter's 20-Year Bourbon — that bottle offers pure whiskey transcendence. Still, this is much more approachable as a stone-cold classic bourbon that's just essential.