Today, real estate feels like the separator between the haves and the have-nots. Someone saving up for a down payment could easily be disheartened to hear their degree, buddy Otto is now a professional landlord influencer who leverages debt to buy twelve townhouses for passive, cash flow positive, uber-wünder-wealth. Because everyone wants one, houses are expensive (even s**** ones), and this can be attributed to simple supply and demand economics — much demand, little supply.
To at least some degree, that could all change with new technology. ICON, a Texas based robotics, software, and material company is on a mission to house 1.6 billion people lacking adequate housing. They plan to accomplish this through revolutionary 3D printing technology.
HOW IT WORKS:
ICON has developed the best 3D printing machine to date, "The Vulcan." Using concrete material known as "Lavacrete" the Vulcan basically operates like a carnival crane, except instead of futilely snatching build-a-bears, it's meticulously shooting Lavacrete like cake frosting, constructing the walls of a home layer by layer. And instead of an angry guy failing to impress his dream date, this machine's being piloted by advanced, error-proof software.
Check it out:
Feed the machine any sort of architectural design and it will build it; twice as fast, for half the cost, and double the quality. In a 2022 SXSW Talk, titled "It's Time to Build," ICON CEO Jason Ballard stated, "If you want a house in the shape of a Fibonacci spiral, we can print you one, and if you want a house in the shape of a square, you're boring, but we can still build it for you."
While the walling (the most labor-intensive part of construction) is automated, the flooring, finishing, windows, and roofing are all manually crafted.
CAN YOU LIVE IN ONE?
Sadly, because the technology is quite new, 3D-printed homes are not widely available (yet!). But it's possible. ICON is in the process of proving that they can scale this sort of home construction by building the first 3D-printed neighborhood in history, The Genesis Collection at Wolf Ranch, Texas. This 100-home community could be a sneak peek at what's to come. The neighborhood is a mixture of eight distinct floor plans classified as The Genesis Collection.
Here are just a few of the models so you can get a feel for what it would be like to live in a 3D-printed house:
Genesis 02 [Cato]: (1,781 Sq Feet) 3 Bedroom 2 Bathroom
Genesis 06 [Rune]: (2,010 Sq Feet) 3 Bedroom 2 Bathroom
Genesis 08 [Klay]: (2,112 Sq Feet) 4 Bedroom 3 Bathroom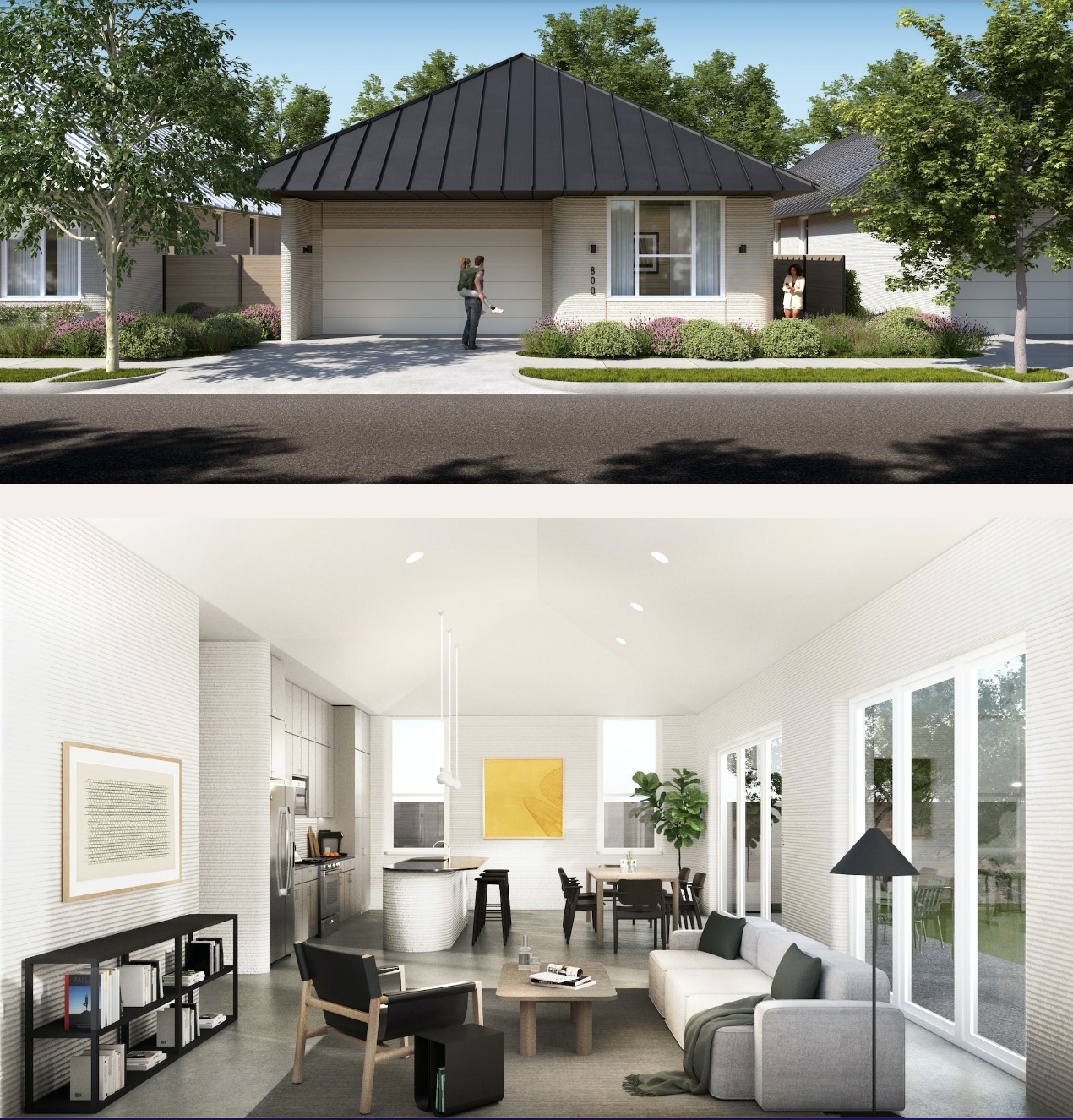 Some might be skeptical about buying a house made by robots, thinking they're settling for an inhuman, dystopian, concrete cell. But oddly enough, visitors of Icon's earlier projects have confessed that they actually feel very human. According to CNBC, prices for one of these homes start in the mid $400,000 range.
THE PATH TO QUALITY, SUSTAINABLE, AFFORDABLE HOUSING
Ultimately, before prices go down, supply must go up, and the efforts to rapidly raise supply by conventional home building are causing problems. Ballard says, "[In America] we presently have 5 million fewer homes than we need, and we're building 2 million fewer than we need every year." He goes on to state, "As we try to dig out of this hole, we resort to less skilled sources of labor, and lesser quality of materials. We try to cut corners."
And even when corners are cut, conventional housing construction is still more expensive, labor-intensive, and inefficient. It's also a large contributor to landfill waste, water consumption and carbon emissions. If there was a way to build more houses and leave a smaller carbon footprint, most would prefer that method. But it's not just a matter of preference. It's a matter of necessity.
Ballard puts the mission of housing 1.6 billion people in perspective, "Lennar, the largest home builder in America, builds 70,000 homes a year. If they could build a million a year, it would still take 1000 years. Only robots can do this. There are not enough humans who know how to build things to get us out of the problem that we're in."
BOTTOM LINE:
3D printed homes are coming: the money and the expertise don't lie. Valued at just $1.9 million in 2019, the 3D printing market is now projected to be worth $76 billion by 2030. And if you thought "The Vulcan" sounded very scientific and Star Trek-y, you're not wrong, because ICON recently partnered with NASA. NASA doesn't just believe 3D Printing will be the best way to build houses in the world, they think it will be the future of interplanetary construction. Ideally, if 3D-printed homes scale to the capacity that experts hope, houses will become more affordable, and the chances of sticking it to Otto the landlord will be promising.
Heck, maybe you'll own a house on another planet.