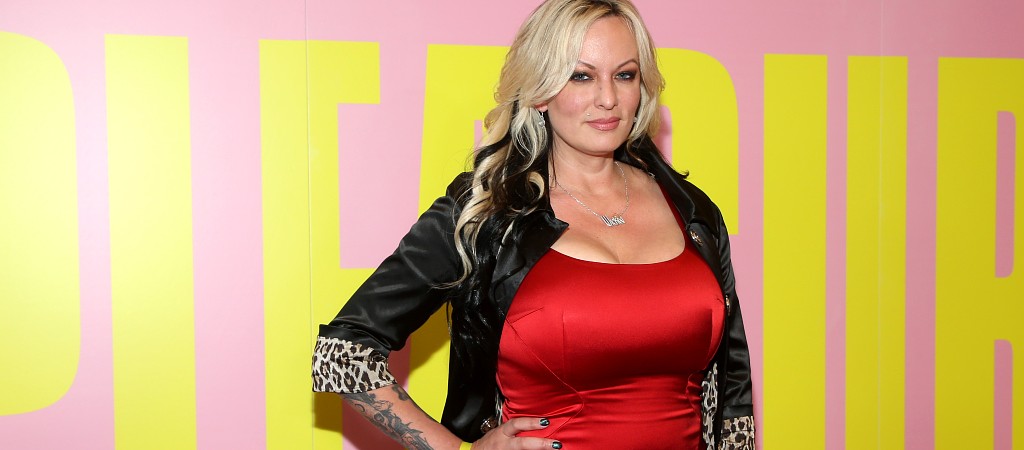 Donald Trump diehards have a bizarre habit of concocting — and believing — the most implausible scenarios if it means protecting the long-sullied reputation of their hero. As the world waits to see whether the former president's statement that he will be indicted today does indeed come true, some MAGAs are busy pushing a ridiculous new conspiracy theory: that former adult film star Stormy Daniels accepted that now-infamous $130,000 from Trump… in order to frame him?
On Tuesday morning, Newsweek reports, Daniels — whose real name is Stephanie Clifford — stirred the MAGA pot when she tweeted about the weather and asked if anything exciting was happening today:
Wow! It's a beautiful morning. It's always been my dream to sip coffee on my farm porch and watch my gorgeous horse graze. Anything exciting going on today?

— Stormy Daniels (@StormyDaniels) March 21, 2023
While the tweet quickly amassed more than 25,000 likes (and counting), it also triggered some of Trump's biggest supporters — who may or may not be bots — to pledge their undying support to their p***y-grabbing president. But Daniels was ready for them:
Sooo…tiny paid me to frame himself? You sound even dumber than he does during his illiterate ramblings. And I won't walk, I'll dance down the street when he is "selected" to go to jail. https://t.co/yVmLr858VH

— Stormy Daniels (@StormyDaniels) March 21, 2023
You realize that tagging me in a tweet is not how you fix this problem. Here. Let me show you how Twitter work. https://t.co/WfOQKkw6mn

— Stormy Daniels (@StormyDaniels) March 21, 2023
Good idea! My husband when we go live tonight on my https://t.co/8TlxibQhb7 so thanks for helping me promote https://t.co/Xw1qYAf12B

— Stormy Daniels (@StormyDaniels) March 21, 2023
While it was Trump himself who stated that today would be Indictment Day in the life of the former — and wannabe future — POTUS, Newsweek reports that the grand jury is reportedly not set to vote on an indictment until Wednesday. Until whatever happens, expect to see Stormy Daniels and #IndictmentWatch trending on your Twitter timeline.
(Via Newsweek)