I'm not going to judge you if you take a spit-take at the idea of spending $300 on a single bottle of whiskey. It's a ludicrous prospect … in most cases. For one, (and I've said this again and again) there are plenty of great bourbons for about $50. Seriously, there's a ton. So why then bother to spend three bills on one bottle?
Look, if you don't want to, don't — no one is forcing your hand here. But American whiskey at this price point does tend to veer from "very good" to transcendent. At the end of the day, you're paying for more than just some oak-flavored corn-spirit. You're paying for the years of meticulous fussing over barrels by people who spent decades mastering whiskey, to the point that it's damn near magical. That's worth paying for.
To that end, I'm calling out 12 bottles of bourbon whiskey that fit the "transcendent" bill. This is the stuff that is simply better in every way than those $50 bottles of bourbon. In my opinion, they're worth the price tag to help expand your palate (and your collection too, I suppose).
I did rank these bottles. They all slap but the top half of this list (numbers six through one) are just on another level. Still, go through and read my professional tasting notes and find the bottle that sparks your interest. Then hit that price link and see if you can find the bottle you want in your neck of the woods. Be warned: Bourbon at this price point is extremely allocated and therefore inflated price-wise outside of a few tiny circumstances. Prices will vary depending on location and which vintage of these expressions you come across. Let's dive in!
Also Read: The Top 5 UPROXX Bourbon Posts Of The Last Six Months
12. Weller The Original Wheated Bourbon Aged 12 Years Kentucky Straight Bourbon Whiskey
ABV: 45%
Average Price: $299
The Whiskey:
This is the main age-statement whiskey from Weller. The barrels spend at least 12 years mellowing (some say the barrels can reach into the 20-year range) before they're vatted, proofed down, and bottled as-is.
Tasting Notes:
Nose: The nose opens with soft orchard fruits — think old peaches and bruised pears — that lead to a spun wool, vanilla-heavy pancake batter, and really good marzipan with an echo of rose water and orange oils next to soft and worn wicker canes wrapped in old leather sheets.
Palate: The taste is a perfect balance of cherry wood, dried cranberry, buttery Southern biscuits, salted toffee candy, and Christmas spices (clove and nutmeg heavy).
Finish: The end lets those sharp spices shine but isn't hot by any stretch alongside moist angel food cake, apple-cider-soaked cinnamon sticks, and orange-infused marzipan with a hint of dark chocolate coating and a mild sense of old (damn near musty) cherry tobacco leaves.
Bottom Line:
This is an iconic whiskey at an extremely approachable ABV. It's just an easy AF sipper without water or ice. Adding some, and you'll get this silky and luxurious pour of Weller that's damn near second to none.
11. Yellowstone Limited Edition 2022 Kentucky Straight Bourbon Whiskey
ABV: 50.5%
Average Price: $294
The Whiskey:
2022's Yellowstone Limited Edition is a masterstroke of blending by Master Distiller Stephen Beam. The whiskey in the bottle is a mix of seven, 15, and 16-year barrels finished in Sicilian Marsala Superiore casks (a drier sherry-like Sicilian fortified dessert wine). Once batched, the whiskey is just touched with water to bring it down to 101 proof, which yielded about 30,000 bottles for this limited run.
Tasting Notes:
Nose: This opens soft with an almost meaty dried apricot dipped in pine-laced honey with a line of cinnamon-spiced tobacco sharpening the nose.
Palate: The palate has a mild sticky toffee pudding vibe with plenty of cinnamon and nutmeg next to meaty dates, rum-raisin, and a hint of walnut cake with a twinge of butteriness.
Finish: The end leans into those sweet dates with a hint of black tea and a dash of wet brown sugar before raisins packed in vanilla tobacco leaves round things out.
Bottom Line:
If you buy one bottle of Yellowstone, make it this one. This is the brand's mountaintop.
10. John J. Bowman Virginia Straight Bourbon Whiskey Single Barrel
ABV: 50%
Average Price: $299
The Whiskey:
A. Smith Bowman Distillery — a sibling distillery to Buffalo Trace in Virginia — is renowned for bottling some of the boldest bourbons in the game. This release is a no-age-statement and undisclosed mash bill of Virginia whiskey that's around 10 years old. The whiskey is just proofed to 100 proof with local spring water before bottling as-is.
Tasting Notes:
Nose: Pain au chocolate leads the way on the nose with chewy toffee candies, Granny Smith apple skins, rich vanilla pods, and a hint of sweet cedar planks rubbed with apple-cinnamon tobacco leaves.
Palate: The palate is sweet and classic as dark Karo syrup leads toward heavy doses of vanilla in a crispy pecan waffle with a side of chocolate milkshake, dark fruit leather, figs, dates, and a hint of marzipan.
Finish: The mid-palate amps up the leathery dark fruit sweetness then tumbles toward an almond-chocolate-toffee vibe on the end with a hint of oak, old leather, and figgy tobacco on the finish.
Bottom Line:
This is some good damn whiskey. It's also far more approachable than the barrel-proof releases from the distillery, making this a must-have if you're looking to get into the Virginia juice.
9. Elmer T. Lee Single Barrel Kentucky Straight Bourbon Whiskey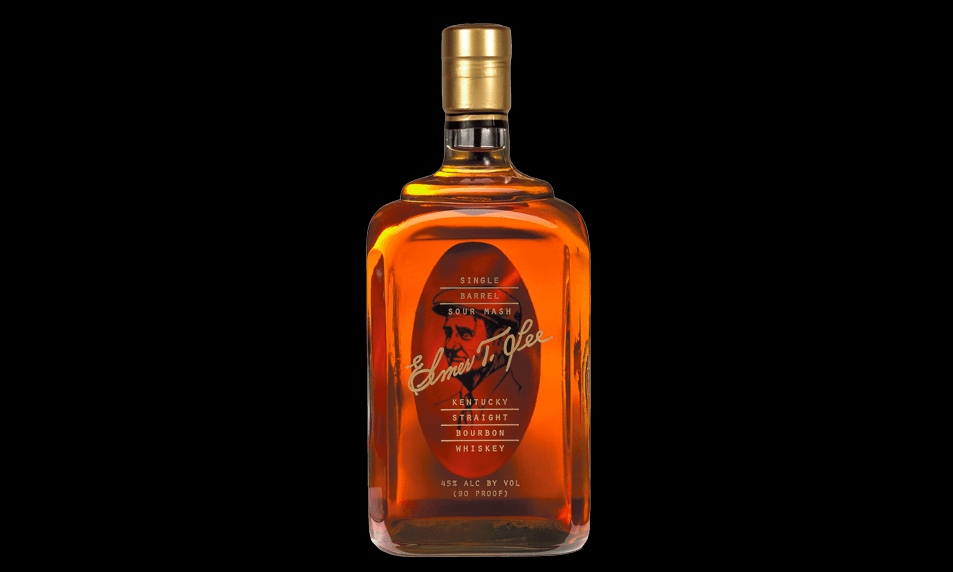 ABV: 45%
Average Price: $299
The Whiskey:
Elmer T. Lee is another hugely popular release from Buffalo Trace that's very limited (and sought after). The mash bill has a higher rye content and the barrels are kept in a special location. It's said that the barrels for Elmer T. Lee are stored where the master distiller himself used to store the barrels he kept for his own stash.
Tasting Notes:
Nose: The nose on this is like a decadent breakfast of pancakes smothered in cinnamon butter, dripping with the best maple syrup, and topped with a hand-made scoop of vanilla ice cream.
Palate: The palate holds onto the vanilla and spice but settles into more of a floral honeyed sweetness with touches of cedar, old library book leather, and a hint of tobacco buzz.
Finish: The end lingers for a while and leaves you with a dry pear tobacco warmth next to a cinnamon heat and maple bar sweetness.
Bottom Line:
This is a really good single-barrel product though very fleeting. I'd argue it's worth buying closer to its $40 MSRP instead of its inflated aftermarket price (you can sometimes find these for closer to $100 in Kentucky for instance). Still, it's a good pour for slow sipping, especially over a rock or two, or mixing into a phenomenal Manhattan.
8. Boondocks Straight Bourbon Whiskey Cask Strength Aged 18 Years
ABV: 52.7%
Average Price: $279
The Whiskey:
This limited edition release is all about who's making the whiskey. Legendary Master Distiller David Scheurich is behind this blend. For those not in the know, he came up the ranks working at Seagram (now MGP), Wild Turkey, and Brown-Forman before starting his own shingle. Scheurich selected very rare barrels that were at least 18 years old for this release and ended up with a mere 1,620 bottles.
Tasting Notes:
Nose: Salted toffee dipped in ground winter spice opens the nose toward pecans rolled in maple syrup, dark cherry bark, and a sense of dry spice barks and buds next to this faint flutter of dried mimosa blooms.
Palate: Rich vanilla pods mingle with that salted toffee on the front of the palate as dark chocolate-covered coffee beans lead to a dark and sweet cherry syrup, old oak staves, and a rush of orchard fruit and bark.
Finish: The end is lush and full of soft vanilla and cherry notes that fold into a spiced tobacco leaf and old cedar box.
Bottom Line:
This is another rare whiskey that you simply may never see again. The price is steep, but the whiskey is delicious. It's a good combination. If you're looking for something special to add to your collection this spring, this is a very good option.
7. Bardstown Bourbon Company Collaborative Series Plantation Rum Finish Straight Bourbon Whiskey
ABV: 55%
Average Price: $250
The Whiskey:
Bardstown Bourbon Company cannot miss with their special oak barrel finish collaborations. This whiskey is made from a 10-year-old Tennessee bourbon with a high-corn mash bill of 84% corn, 8% rye, and 8% malted barley. After just over eight years in new oak, the whiskey is transferred to Plantation rum barrels for another 22 months of resting.
Tasting Notes:
Nose: Spiced orange cake with caramel and burnt sugar frosting drive the nose toward gingersnaps and warm tiki cocktails with a dry cherry vanilla powder underbelly.
Palate: Apple cobbler and nutty banana bread are pronounced on the lush taste with a sense of walnut paste, dried apricot, and mulled wine spices next to brown sugar syrup cut with chili and pecan.
Finish: The end has a silken sense of vanilla syrup cut with burnt orange, rum raisin mincemeat pies, and buttermilk biscuits with marmalade and woody winter spice.
Bottom Line:
This is a great sipper that delivers deep rummy notes with a nice bourbon-y underbelly. Add a little water to this and it gets super creamy, almost like a bespoke orange creamsicle dipped in nutty dark spiced syrup. It's fabulous.
6. Blanton's Gold Edition Single Barrel Kentucky Straight Bourbon Whiskey
ABV: 51.5%
Average Price: $299
The Whiskey:
This single-barrel masterpiece was made for the international market but is now available widely in the U.S., albeit for a heftier price. The juice is all about the refinement of the single barrel aging process, with masterful finishing to bring this down to a very drinkable 102-proof (regular Blanton's is 93-proof).
Tasting Notes:
Nose: There's a big greeting on the nose with notes of spicy tobacco leaves next to honey, dark berries, and orange oils.
Palate: The palate carries those notes forward while leaning into the tobacco and amping up the rye pepperiness then balancing it with a bit more honey and caramel.
Finish: The finish takes its time fading out as notes of vanilla, spice, and oak linger — with a final billow of pipe tobacco popping at the very end.
Bottom Line:
This is so goddamn soft and refined while still holding onto big notes that make it "Blanton's." That citrus, honey, berries, tobacco, spice … everything just works, making this an amazingly easy-going slow sipping whiskey.
5. Woodford Reserve Historic Barrel Entry Kentucky Straight Bourbon Whiskey
ABV: 45.2%
Average Price: $299
The Whiskey:
This 2022 Master's Collection (that was just released in February 2023) experiments with entry proof. Master Distillers Chris Morris and Elizabeth McCall loaded this whiskey into barrels at a low 100-proof and let it do its thing (125 proof is the industry standard though that varies wildly these days). Once the whiskey in those barrels hit the best flavor profile, it was bottled completely as-is.
Tasting Notes:
Nose: The nose draws you in with real vanilla pods layers into apple-cinnamon coffee cake, spice-rich eggnog, hazelnut cream, black cherry pie filling, and a flutter of fresh and sharp spearmint dipped in creamy dark chocolate and then hit with a flake of smoked salt.
Palate: The coffee cake leans toward banana bread with walnuts on the palate as huckleberry jam leans into an almost sour creamy espresso with a shot of mint chocolate syrup.
Finish: Burnt orange arrives late to cut through the sweetness and adds more bitterness as old oak and dry tobacco round things out.
Bottom Line:
Woodford Master Collection releases are always worth adding to your home collection. This one rises above with an amazingly nuanced profile that starts on the deep nose and finishes so luxuriously that you'll want to go back and buy a case of this stuff.
4. Booker's Small Batch 2022-02 "The Lumberyard Batch" Kentucky Straight Bourbon Whiskey
ABV: 62.4%
Average Price: $250
The Whiskey:
The second Booker's release of 2022 is a masterful blend of barrels from seven locations around Jim Beam's rickhouses. Those barrels are mostly from the seventh floor of those rickhouses, with one coming from the ninth floor. All of them averaged out to this whiskey being seven years, one month, and seven days old before it was batched and bottled as-is.
Tasting Notes:
Nose: This opens with a rush of dry nutshells next to old cellar beams, soft old boot leather, salted caramel sauce, sweet black cherries, and dry tobacco leaves and cedar bark braided together.
Palate: The palate has a creamy and lush vanilla underbelly that supports a hint of chocolate chip cookie next to fresh broom bristles, caramel apple from the state fair, and a whisper of freshly cracked black peppercorn with a dash of dried ancho underneath it all.
Finish: The end is all about salted peanuts covered in dark yet creamy chocolate with beautiful lush vanilla tobacco chewiness wrapped in that old leather and cedar.
Bottom Line:
This is another whiskey that's just hard to beat. Overall, I like the heat of this one neat, but you might need a rock to calm it down a tad and help the deeper flavors express themselves. Either way, you'll be in for the best of the best from the Beam team.
3. Very Olde St. Nick Antique Barrel Kentucky Bourbon Whiskey Aged 12 Years
ABV: 45.1%
Average Price: $299
The Whiskey:
This is a brand with a long story that stretches back to Julian Van Winkle, III, and the legendary Stitzel-Weller distillery. The barrels were from leftover whiskey from the same warehouses that aged old-school Pappy until it ran out. Then Diageo got into the mix and they started sourcing barrels from Kentucky Bourbon Distillers (which makes Willett). Today, the whiskey is craft-made in Kentucky but still relies heavily on sourced whiskey from some of the best stocks in Kentucky.
Tasting Notes:
Nose: There's a subtle note of salted caramels on the nose with a hint of dried roses, oily vanilla pods, and a warm spicy mix of cinnamon, nutmeg, and clove with a cherry Coke edge.
Palate: The palate is like a rum-soaked Christmas cake with fatty almonds, candied fruits, dried fruits, and a lot of nutmeg, allspice, and clove with a light touch of silky softness.
Finish: The finish leans into the fattiness of the nuts while the spice gets chewy with a tobacco edge as it very slowly fades away, leaving you with a note of dried fruit.
Bottom Line:
This is going to vary in price drastically, depending on what vintage you actually find. If you come across an old Stitzel-Weller version, it'll probably be a lot (astronomically more expensive) at an auction and you will be outbid. The new stuff remains very collectible because it's a very small release of bottles that rarely pop up outside of Kentucky.
Brasstacks, this is collectible whiskey that also tastes amazing. It's definitely going to cost you but it'll always deliver excellence.
2. Wild Turkey Master's Keep One Kentucky Straight Bourbon Whiskey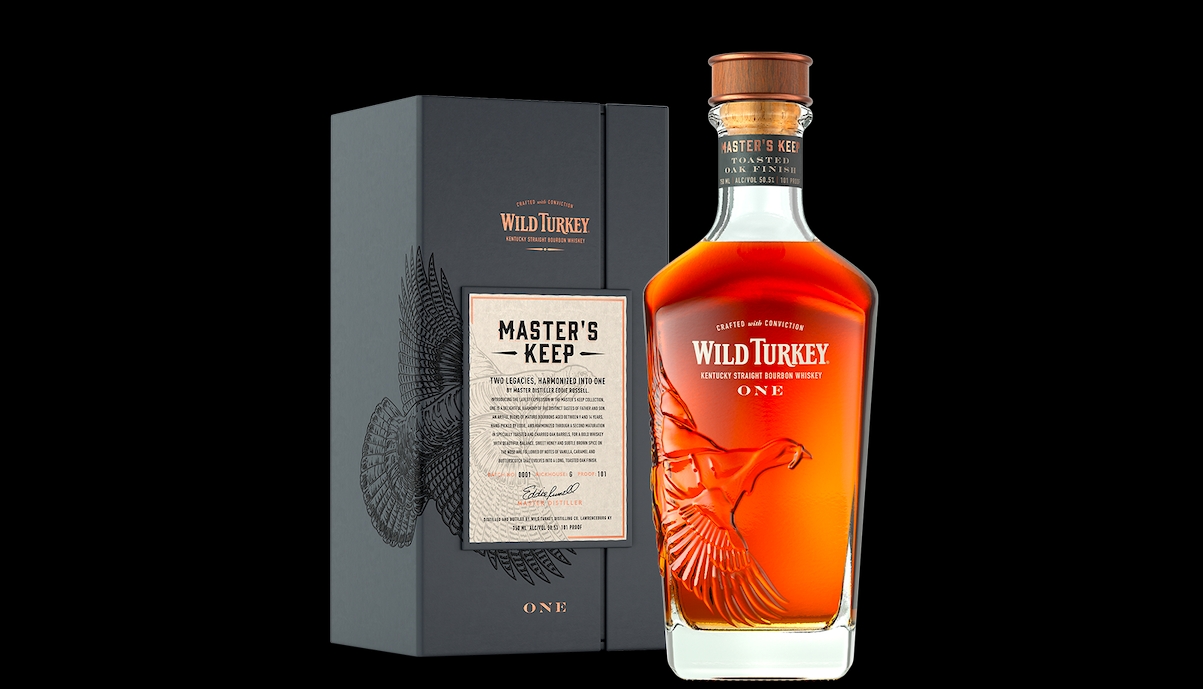 ABV: 50.5%
Average Price: $299
The Whiskey:
This whiskey is a blend of Jimmy and Eddie Russells' favorite barrels. Jimmy chose nine to 10-year-old barrels and Eddie added in 14-year-old barrels of their classic bourbon. Once batched, the father and son team re-barrels the whiskey into new oak with a special toast and char level and then stores those barrels in a timber rickhouse called Tyrone G until they're just right.
Tasting Notes:
Nose: Cinnamon-infused caramel candies mingle with creamed honey and old slices of vanilla cake with an orange-clove-chocolate frosting next to old tobacco leaves and a touch of dried chili pepper flakes on the nose.
Palate: The palate opens with a creamy and lush vanilla foundation that leads to salted caramel over apple cake with a cutting ginger and cinnamon spiciness next to a light touch of dried nasturtiums.
Finish: The end starts sweet and spiced with a mouthful of Hot Tamales before old cherry-choco tobacco folds into an old pine box with a hint of singed cinnamon bark and cherry wood mellow with old boot leather and broken-down lawn furniture.
Bottom Line:
This is a masterpiece.
1. E. H. Taylor, Jr. Single Barrel Kentucky Straight Bourbon Whiskey Bottled In Bond
ABV: 50%
Average Price: $299
The Whiskey:
This whiskey is aged in the famed Warehouse C at Buffalo Trace from their Mash Bill No. 1. In this case, single barrels are picked for their perfect Taylor flavor profile and bottled one at a time with a slight touch of water to bring them down to bottled-in-bond proof.
Tasting Notes:
Nose: Dried dark fruits and a hint of vanilla wafers mingle with fig fruit leather, a touch of orchard wood, and a deep caramel on the nose.
Palate: The palate holds onto those notes while layering in dark berry tobacco with sharp winter spices, new leather, and a singed cotton candy next to a cedar box filled with that tobacco.
Finish: The finish lingers on your senses for a while and leaves the spice behind for that dark, almost savory fruit note with an echo of blackberry Hostess pies next to soft leather pouches that have held chewy tobacco for decades and a final hint of old porch wicker in the middle of summer.
Bottom Line:
This is really, really good bourbon. In fact, it's one of my favorite bourbons from Kentucky. If you're looking for a phenomenal single-barrel product to add to your shelf, this is a must-have.
And yes, this is a $40 MSRP bottle of whiskey. And if you're in the right spot at the right moment, you might be able to get it for that price once a year. Otherwise, this is 100% worth paying above retail for. It's that good.