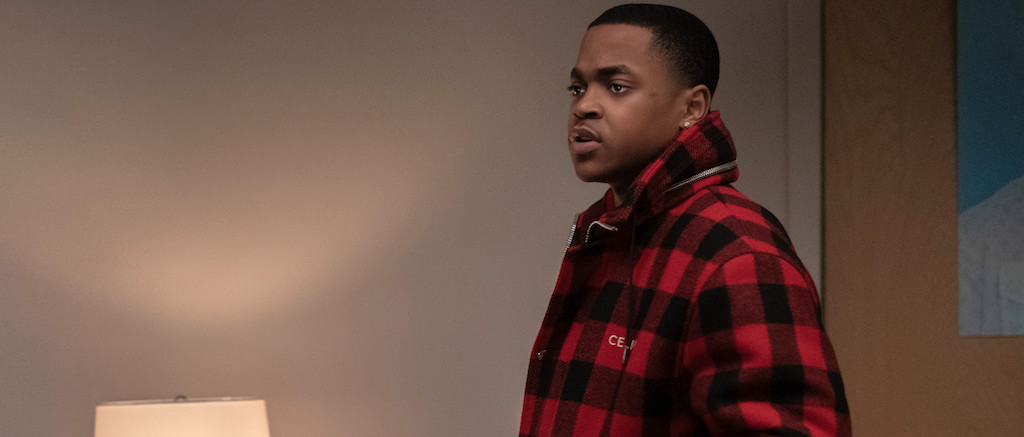 (WARNING: Spoilers for this week's Power Book II: Ghost episode will be found below.)
The latest episode of Power Book II: Ghost, episode four titled "The Land Of Opportunity," was filled with shocking twists and turns. A huge moment came when Monet devised a plan, with help from Diana, to take down Detective Whitman. Elsewhere, Cane and Lorenzo found themselves in a shootout that almost killed Cane, but lucky for him, Lorenzo pushed him out of a bullet's way. Monet also received an update about Zeke's murder investigation, and she's not sure what to do with the new info. However, what if I told you none of those were the biggest moments that occurred on this week's episode of Power Book II: Ghost? Yup, that moment goes to… Tariq and his brand new car.
Look, we've watched Tariq St. Patrick travel on foot to all parts of New York to make drug deals, take out enemies, arrive on time for court hearings, and make it back to Stansfield in time not to miss class. There was even a time that Monet wouldn't offer him a ride back to the other side of town for school despite knowing that he didn't have a car. Thankfully, with the drug business booming thanks to help from Brayden, Effie, and the Tejadas, Tariq now has some money to call his own. He used that cash to buy himself a sweet blue Porsche which he debuted in this week's episode. You can see that in the video below:
Tariq finally has a car!!! Black Man Walking as BMW took me flat out #PowerBook2 #PowerGhost #PowerBookIIGhost pic.twitter.com/zqz8HMJw2g

— wanda (@Glovywanda) April 7, 2023
A proud Tariq steps out of the car and celebrates going from a BMW (Black Man Walking) to a Porsche, and as fans, there's no way you don't love this moment. After watching this week's episode, Power Book II: Ghost took to social media to share their happiness for Tariq and his new car. This includes Michael Rainey Jr., the actor who plays Tariq, who shared a post on his Instagram page to commemorate the moment.
You can check out the fan reactions below.
are my eye deceiving me or did Tariq finally get a car?? chile business really booming #PowerBookII pic.twitter.com/CGnblvFGhP

— kiki (@realshadyqueen) April 7, 2023
Tariq got a car #PowerBookII pic.twitter.com/8SsCi01HQ9

— axel. (@axelaweyy) April 7, 2023
"Went from a BMW (Black Man Walking) to Porsche"
Tariq St Patrick

Tariq finally bought a car pic.twitter.com/UvP5QTHCrA

— Ooouuu! (@djtenover10) April 7, 2023
Breaking news everyone Tariq has a car #powerghost pic.twitter.com/115mylWHhw

— Zacfatima (@Zacxfatima) April 7, 2023
New episodes of 'Power Book II: Ghost' are available on the STARZ app on Fridays at 12:00 am EST and on the STARZ TV channel at 8:00 pm EST.