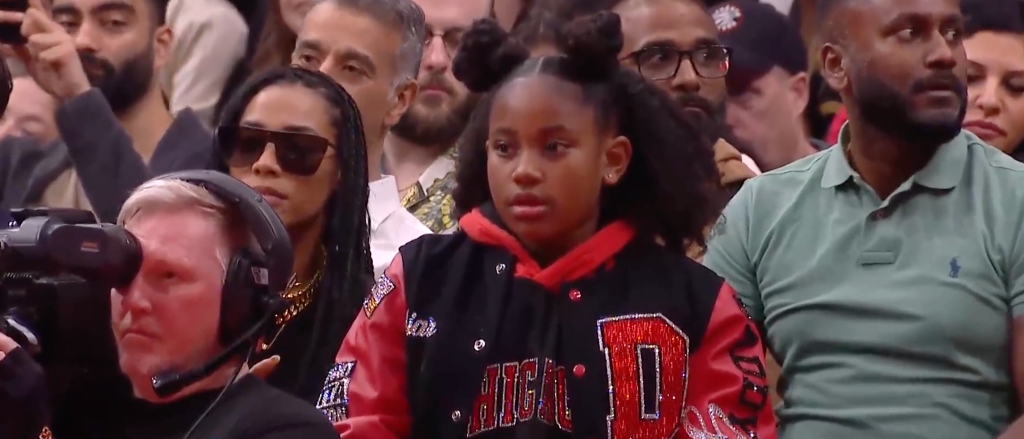 The MVP of the Chicago Bulls' 109-105 win over the Toronto Raptors on Wednesday night in the 9-10 play-in game was not Zach LaVine, DeMar DeRozan, or anyone else who took the floor for Chicago. Instead, that distinction went to Diar DeRozan, the daughter of the Bulls star who joined the team and played a role in the Raptors going 18-for-36 from the free throw line. Diar was frequently heard screaming in an otherwise very quiet Scotiabank Arena when Toronto's players would head to the charity stripe, to the point that she got her own highlight reel after the game.
Diar DeRozan deserved her own highlight reel tonight pic.twitter.com/nUMNKrGtVQ

— Bleacher Report (@BleacherReport) April 13, 2023
DeMar was, unsurprisingly, asked about all of this after the game, and explained that she wanted to join him in Toronto because she remembered going to games there when he was on the Raptors. And while he did not want her to miss school, he eventually relented.
"I said you can miss one day of school and come to a game… I'm glad I did."

Diar DeRozan's free throw distraction came up clutch for the Bulls tonight pic.twitter.com/Z1EZvORC10

— NBA (@NBA) April 13, 2023
"I almost said no because she in school back home," DeMar said. "She kept asking. She was adamant about coming to support and I just said that you can miss one day of school and come to a game. I'm glad I did. I owe her money from school."
Now, the Bulls will head to Miami to play the Heat with the 8-seed in the Eastern Conference on the line. That spot goes to the winner of the game, while the loser's season will end. And if the Bulls do end up winning, it'll happen without their biggest fan in attendance.
"Nah," DeRozan said when asked if Diar will make the trip down to South Beach. "She gotta go back to school."
Chicago and Miami will square off on Friday night at 7 p.m. EST on TNT. The winner will play the Milwaukee Bucks in the 1-8 series in the Eastern Conference.