It's that time of the year again; hundreds of thousands of people flock to the California desert to show out in their best outfits, sample some amazing eats, and, of course, see a line-up of incredible artists at Coachella. Now that he dust has (literally) settled on the grounds, let's look back on the highlights of Coachella 2023 Day One, which highlighted era-defining artists Blondie and Blink-182 while bringing together some of the current innovators like Bad Bunny and Metro Boomin.
Bad Bunny closed out the night with a bang, and I'm not just about the fireworks during his main stage set. The Puerto Rican rapper drew the largest crowd of the night, and for good reason. While the moment was historic — Bad Bunny is the first Latin solo artist to ever headline the festival — he made sure to highlight the roots of Reggaeton music and credit the artists who made his success possible like Celia Cruz, El General, and Tego Calderón. On top of that, his show-stopping stage design cleverly nodded to the viral concert he performed on top of a gas station late last year. Bad Bunny performed all the hits during his set, like "Moscow Mule," "Yo Perreo Sola," and "Después De La Playa." He even brought out Post Malone for an acoustic set, but technical difficulties made it nearly impossible to hear him.
Bad Bunny is far from the only artist who brought out surprise guests on stage. One thing about Coachella is always true: if an artist has a collaboration, they're going to use their Coachella set as an excuse to bring that artist out to perform. Metro Boomin's closing set at the Sahara stage is perhaps the biggest example of that. A massive stage floated down from the ceiling that housed Metro's main DJ equipment, with Metro himself dressed as a superhero (cape included). John Legend appeared below, kicking the set off with their Heroes & Villains track "On Time." From there, Future joined Metro for several tracks like "Superhero," "Serve The Bass," and "Thought It Was Drought." Don Toliver was next, delivering "Too Many Nights" with Future. 21 Savage also took the stage for a couple tracks like "10 Freaky Girls" and some highlights from Savage Mode 2, while also giving Metro his flowers by naming him the "greatest producer of our generation." Finally, after teasing his appearance on Twitter, The Weeknd pulled up and the crowd went wild. He delivered his After Hours track "Heartless" and gave us a taste of upcoming music with an unreleased track. Finally, The Weeknd closed out the set with fan-favorite "Creepin," where Diddy made a brief and unexpected cameo.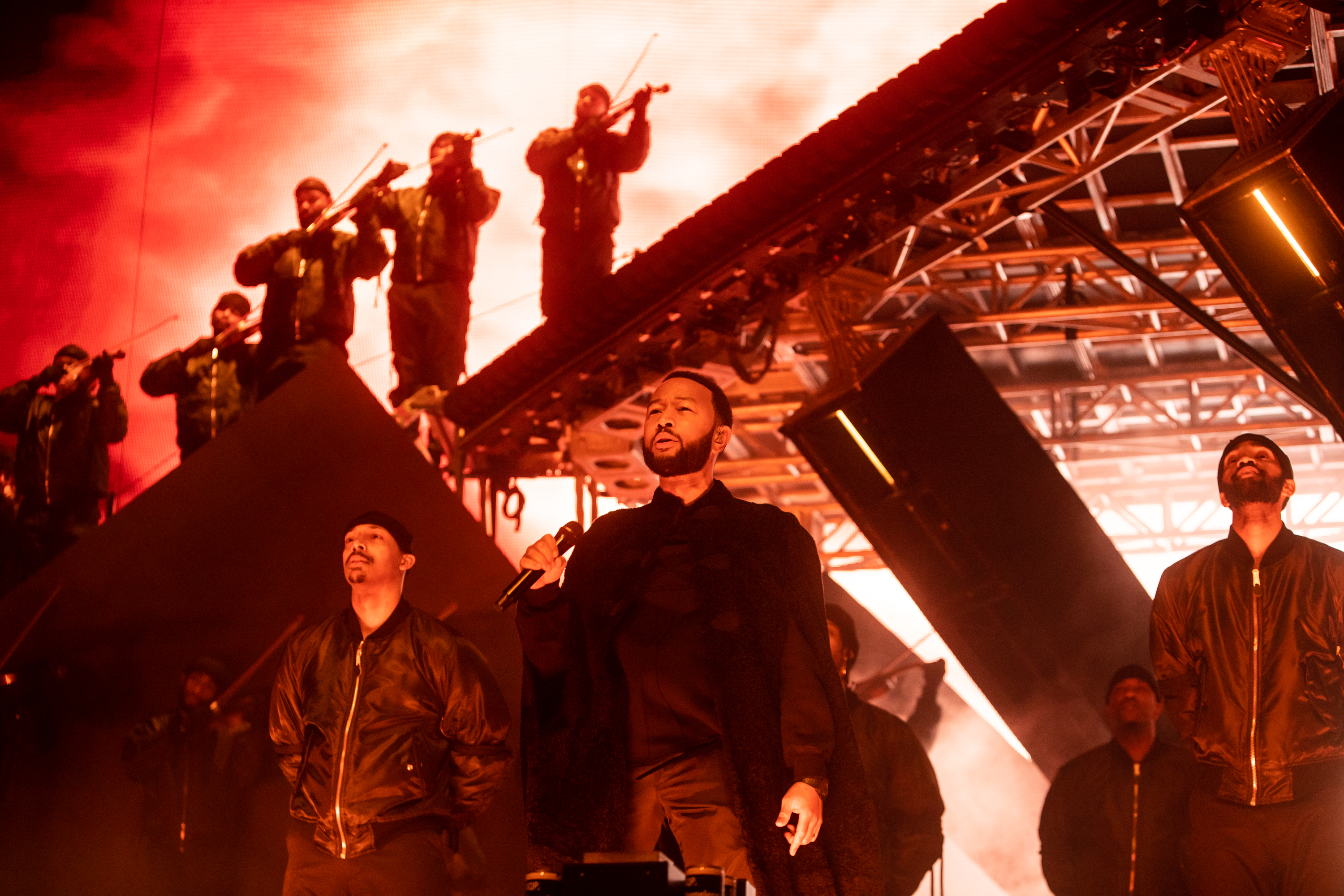 Blink-182 was another major highlight from Coachella day one, and perhaps the only major artist who didn't bring out any surprise guests. Instead, they themselves were the surprise guests. Blink-182 was announced as part of the lineup just a few days ago, reuniting on the stage with their original lineup of Tom Delonge, Mark Hoppus, and Travis Barker for the first time in nine years. And in the years since, each three members have come a long way; Mark Hoppus beat cancer, Tom Delonge discovered aliens (kinda), and Travis Barker married a Kardashian. Joining together on stage, though, it felt like no time had passed. Mark and Tom were continually cracking "your mom" jokes like it was still the '90s. To their credit, their set did feel like it transported the crowd back to their 1999 inception, playing all the early tracks like "The Rock Show" and "What's My Age Again." They closed out their set with three back-to-back greatest hits, "I Miss You," "All The Small Things," and "Dammit."
Countless other artists on Coachella 2023's day one lineup made their memorable mark on the weekend. Gorillaz, who recently dropped the album Cracker Island, used their stage time to highlight collaborators. They invited Thundercat to the stage to perform their recent album's title track, Del The Funkee Homosapien for their iconic hit "Clint Eastwood," and UK rapper Slowthai for "Momentary Bliss." Artists who couldn't make it to the stage were replaced massive holograms, like Tame Impala singing his part on "New Gold" and Snoop Dogg firing off his verse in "Hollywood." Indie-pop trio MUNA was also a highlight of the day. The group dedicated their set to their young queer and trans fans while performing a soon-to-be released song and bringing out the members of Boygenius to sing "Silk Chiffon." Top Dawg Entertainment rapper Doechii brought the heat to the already sweltering day with an impeccably choreographed set. New Zealand breakout songwriter Benee drew a massive crowd for a mid-day performance where she brought out Gus Dapperton for their quarantine-era viral hit "Supalonely." Finally, Philly band Soul Glo made good on their hard-core genre label by opening up a mosh pit and delivering a riotous and riveting set.
Follow along with Uproxx's Coachella 2023 coverage here. Check out a few more photos from Friday below.
Some of the artists mentioned here are Warner Music artists. Uproxx is an independent subsidiary of Warner Music Group.
Bad Bunny
Blink-182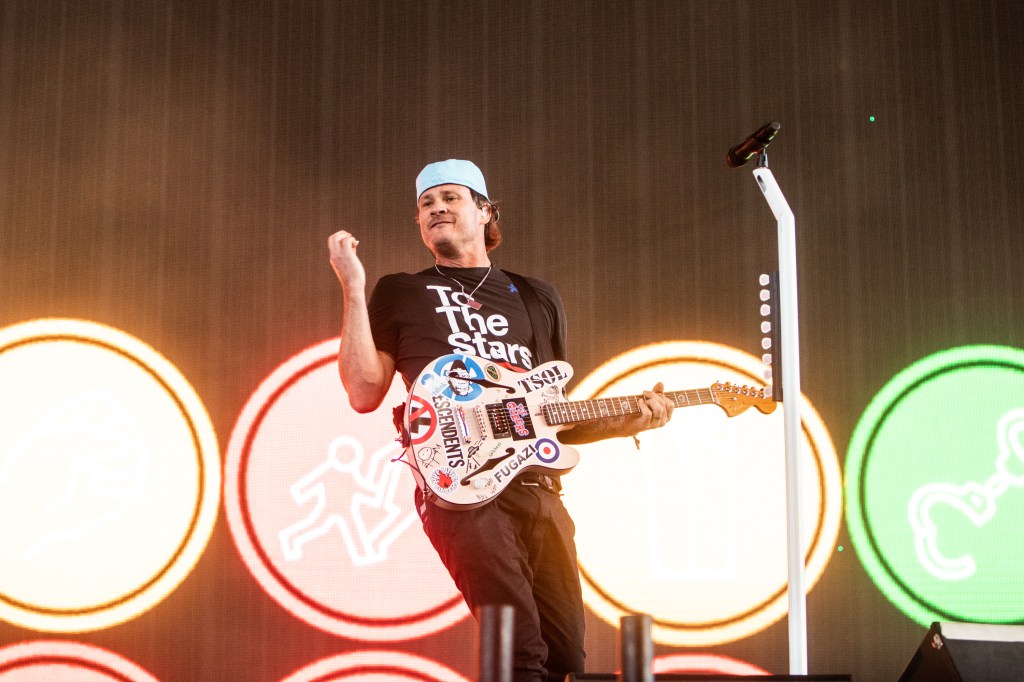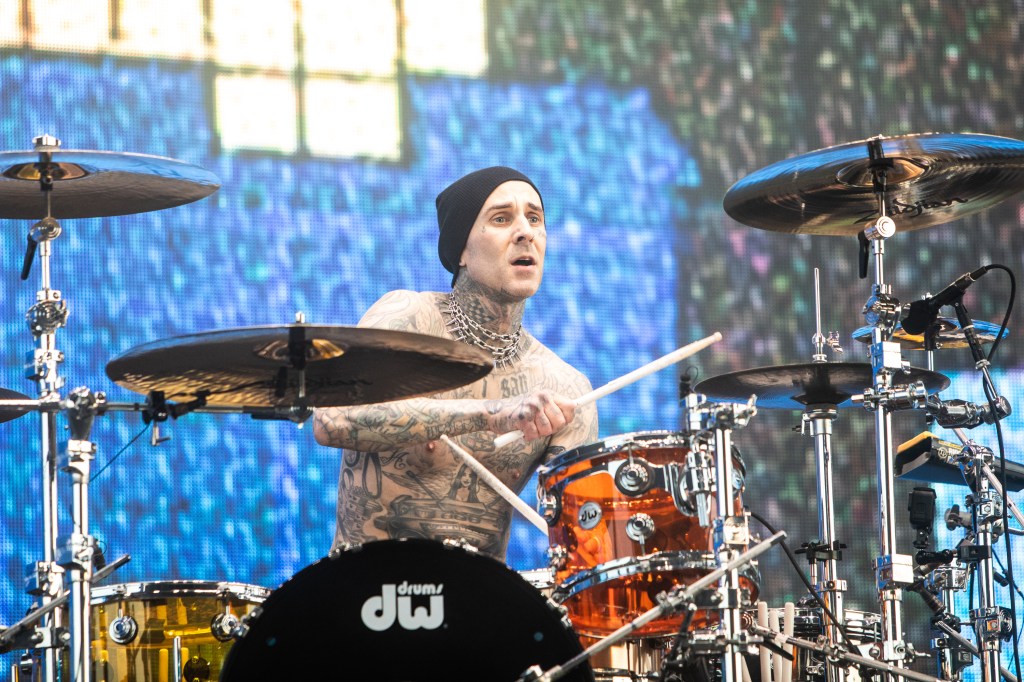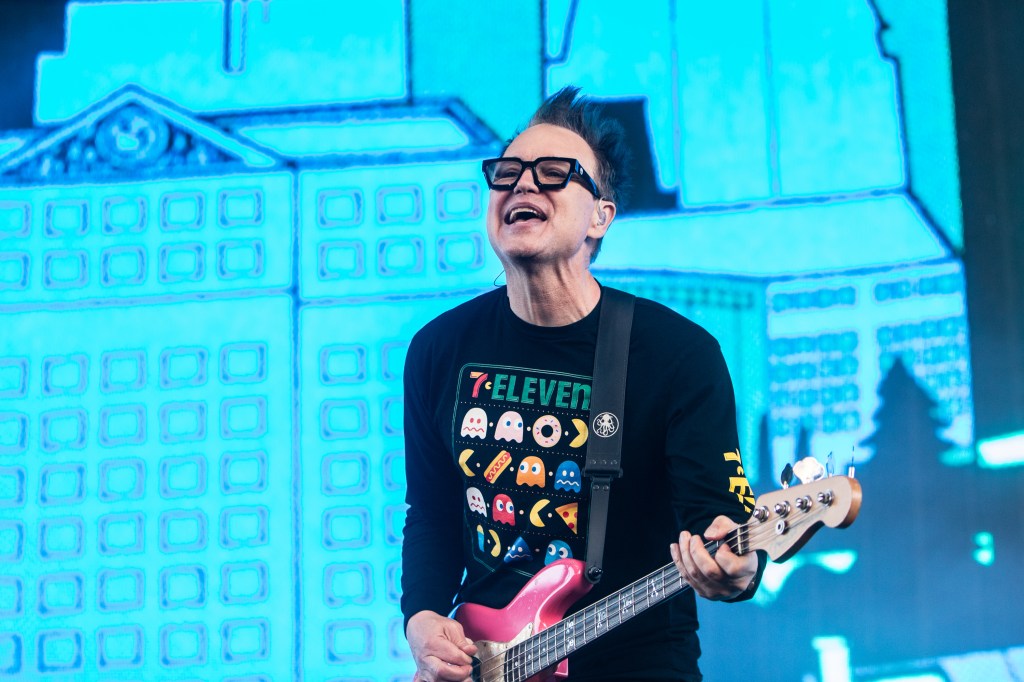 The Chemical Brothers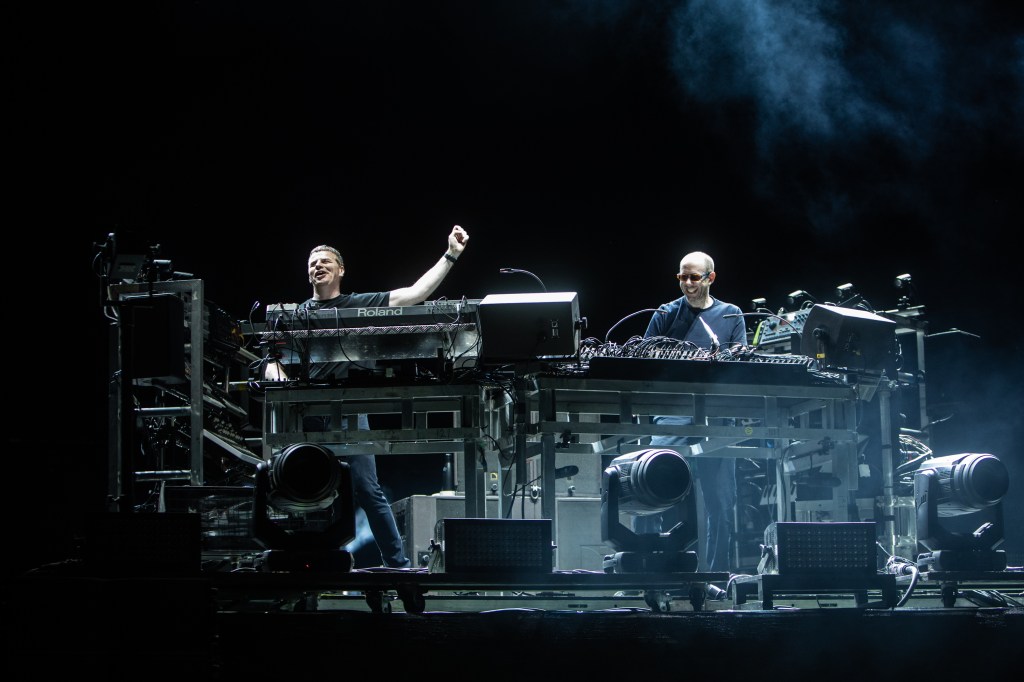 Gorillaz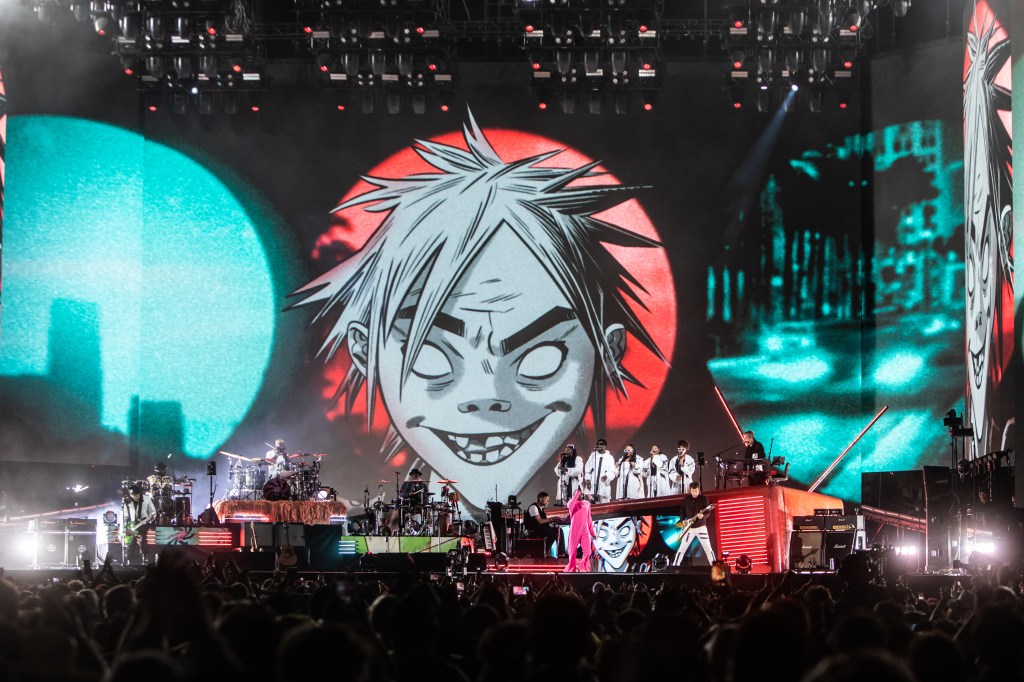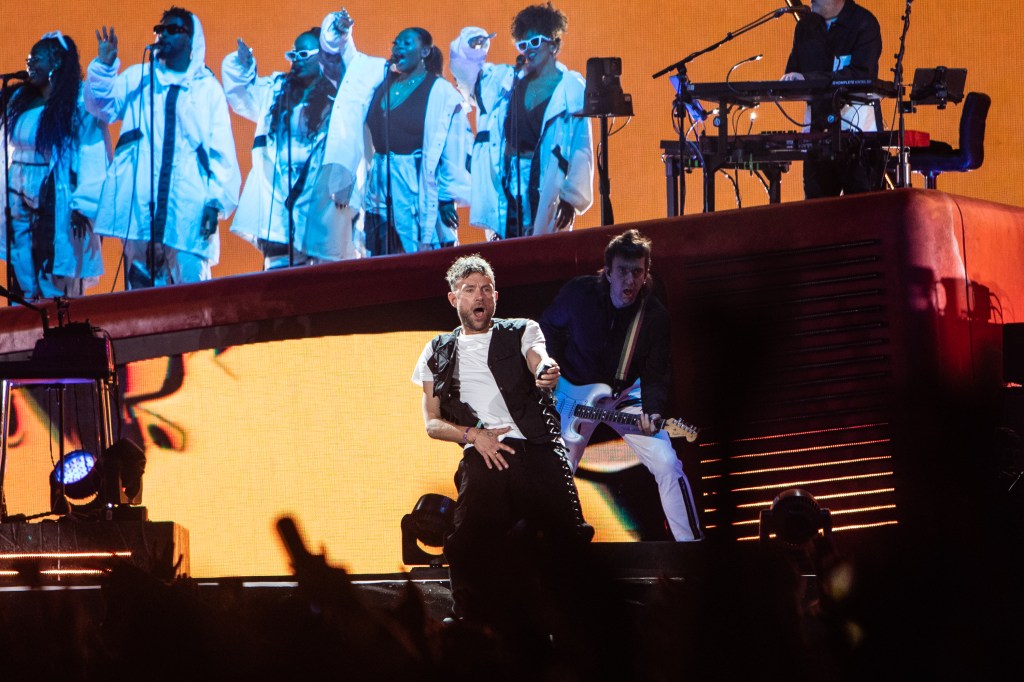 Soul Glo
Doechii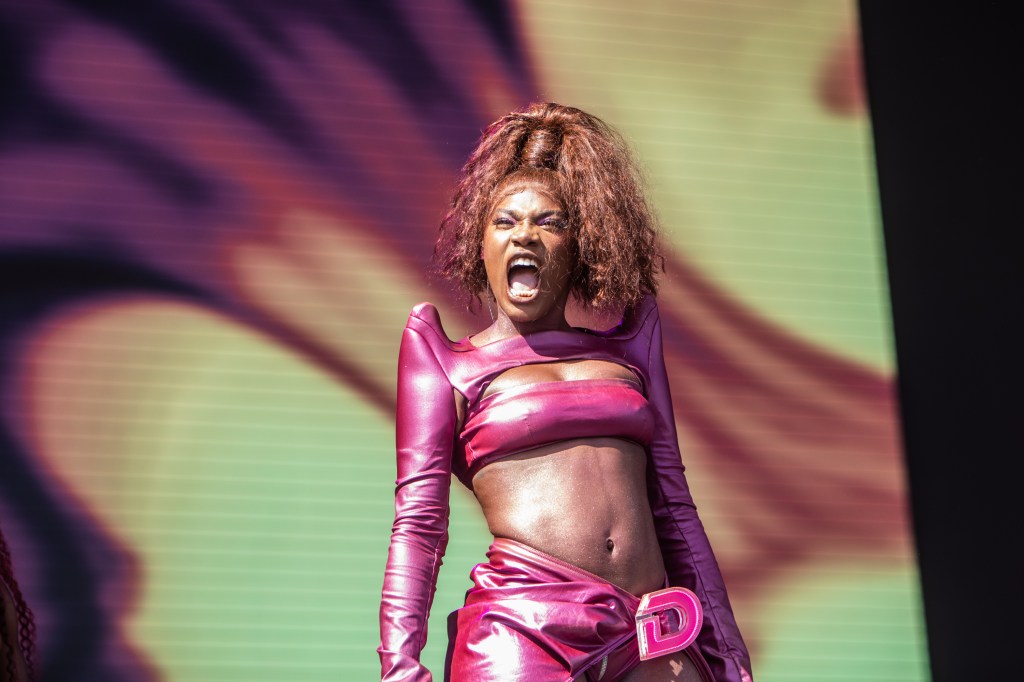 Muna