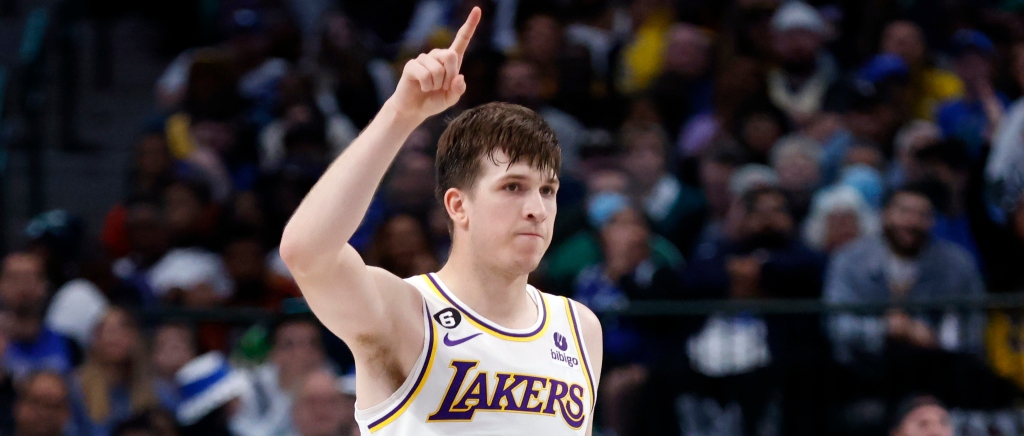 The Los Angeles Lakers took Game 1 on the road in Memphis on Sunday afternoon in come from behind fashion, as they got a second half takeover from two rather unlikely sources. While Anthony Davis dominated early (and survived a shoulder injury scare), it was Rui Hachimura and Austin Reaves who carried the Lakers to the win in the second half.
Hachimura was terrific all game, but particularly in the second half, when he took full advantage of Jaren Jackson Jr. helping off of him to try and send doubles at Davis and James. In his first postseason experience, Hachimura went 11-of-14 from the field and 5-of-6 from three-point range to drop 29 points off the bench for L.A., leading the Lakers in scoring in the win.
RUI HACHIMURA IS RED HOT.

He's got 20 PTS on 7/9 FG

: Live on ABC | Game 1 pic.twitter.com/CXBhQ866L2

— NBA (@NBA) April 16, 2023
RUI AGAIN https://t.co/uXoB2z8Tot pic.twitter.com/izOo3laedy

— NBA (@NBA) April 16, 2023
In the fourth quarter, Reaves and Hachimura each assisted each other on huge threes, with the highlight of the night coming on a Reaves behind-the-back feed to Rui for a three that put L.A. back up eight with three minutes to play.
REAVES TO RUI. SHOWTIME.

Lakers lead with 3:00 to go

: Live on ABC | Game 1 pic.twitter.com/dClToHKTlR

— NBA (@NBA) April 16, 2023
In the final quarter, the duo scored 23 of the Lakers' 32 points as they ran away from Memphis en route to a 128-112 win, including a 15-0 close to the game after Ja Morant went out with an injury.
The Lakers closed out their Game 1 win on a 15-0 run

Dominant. That's #PLAYOFFMODE pic.twitter.com/h3Td78hYIc

— NBA (@NBA) April 16, 2023
Reaves accounted for 14 of those points, pouring in bucket after bucket down the stretch as he became the primary creator for the Lakers, with LeBron seemingly happy to take a backseat. After his pull-up jumper to put the Lakers up eight with 90 seconds to play, a mic'd up Reaves declared "I'M HIM!" to the delight of D'Angelo Russell and the Lakers bench.
"I'M HIM" pic.twitter.com/Cu0cwofhJD

— NBA TV (@NBATV) April 16, 2023
Given how reliant the Lakers have so often been on James and Davis to carry the load, particularly down the stretch, it's hard to overstate the importance of them being able to get a game in this series where those two almost get to rest a fourth quarter (even while playing) and let Reaves and Hachimura get it done. No one expects those two to combine for 52 points most nights, but it will certainly build their confidence they can knock down shots when they find themselves open in the postseason and even stealing one game on the backs of the "others" tilts the scales in the Lakers favor.