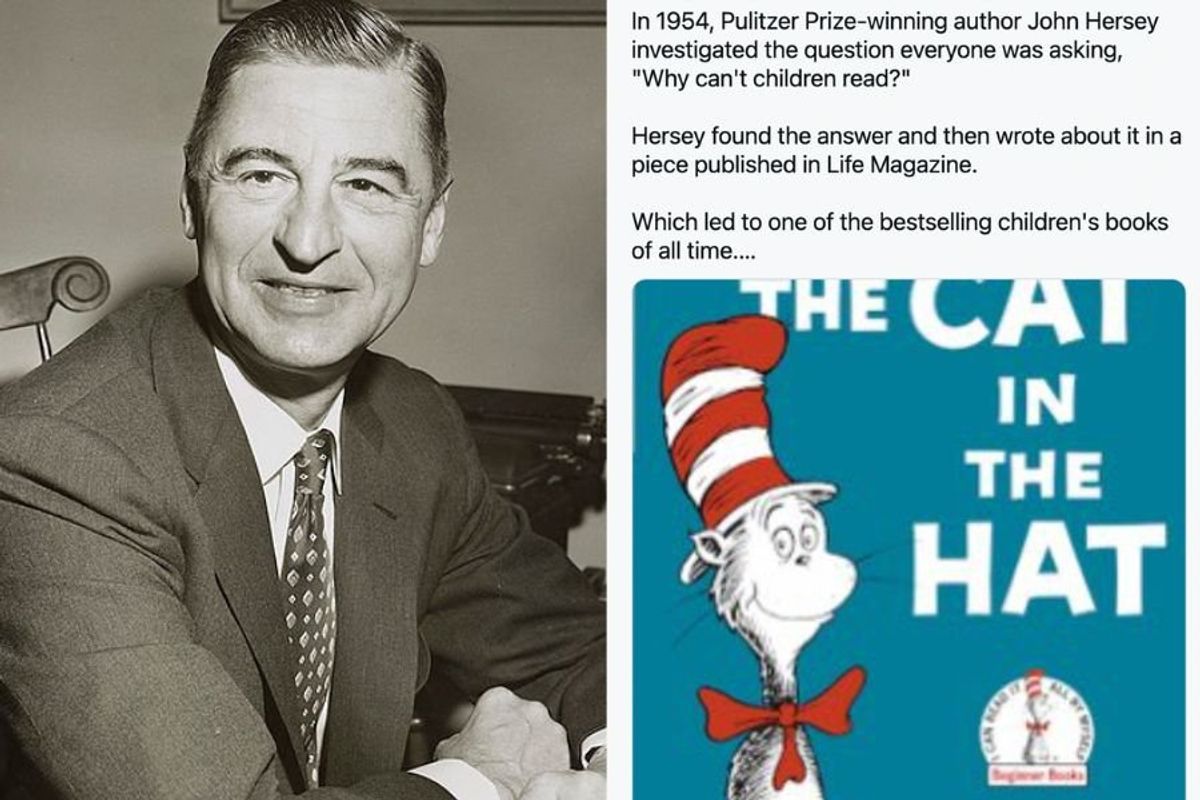 Dr. Seuss is one of the most enduring and endearing children's books writers of all time. His work has been around for over sixty years, and while certain titles certainly fall short of today's standards, kids continue to enjoy the unique use of wordplay, illustration style and abounding optimism of his beloved classics.
But how exactly did Dr. Seuss came up with such an impactful idea in the first place? That's a story unto itself, and one that, much like his fictional works, still feels relevant today.
As explained in a Twitter thread by writer and research assistant Billy Oppenheimer, it all began when another award winning author, John Hershey, started investigating the looming question of 1954: "Why can't children read?"
---
After two years of reading children's books, meeting with experts and observing how reading was taught in schools, Hershey ultimately came to a rather simple conclusion—children didn't want to read, because children's books were boring.
Even in an age pre-TikTok and Snapchat, reading had to "compete for the interest of children with television, radio, movies, comic books, magazines, and sports," and children's books by and large just weren't entertaining enough to hold short attention spans in comparison to their instantly stimulating counterparts.
In 1954, Pulitzer Prize-winning author John Hersey investigated the question everyone was asking, "Why can't children read?"

Hersey found the answer and then wrote about it in a piece published in Life Magazine.

Which led to one of the bestselling children's books of all time.… pic.twitter.com/SZmTw88b3j

— Billy Oppenheimer (@bpoppenheimer) April 16, 2023
Henry would end up publishing his findings in an issue of "LIFE" Magazine, along with the call to action for writers to create something more compelling than what the current market provided. The article would be read by an editor at Houghton Mifflin, who would then challenge an illustrator friend of his to "write me a story that first graders can't put down."
That illustrator was, you guessed it, Theodor Seuss Geisel.
Seuss has the added obstacle of only being able to write a story using a vocabulary list of 300 "accepted" words. So his strategy, as is with many brilliant creatives, was to just play around, combining different rhyming words until something resonated. Eventually the words "cat" and "hat" caught his attention…
…And in 1957, we'd have "The Cat in the Hat," a blockbuster of a book that used 236 unique words, which Hershey himself hailed as "masterpiece" and a "gift to the art of reading." It would also remain the book that Suess was proudest of, "because [it] proved to a number of million kids that reading is not a disagreeable task."
A lack of interest in reading, particularly reading for pleasure, is still a widely discussed topic among parents and educators. And much like in Dr. Seuss' time, an overwhelming amount of competing tech-media is largely to blame. A 2021 survey from Common Sense Media revealed that in just two years after the pandemic (between 2019 and 2021) kids ages 8 to 18 increased their time on social media 17 percent, amounting to somewhere between a little more than five and half hours to just over eight and half hours a day.
We might not be able to grab even shorter attention spans with rhyming tales of Whoville, but we can still take a page from Dr. Seuss' book by making reading seem more "interesting." Perhaps it entails a wider selection of book titles, or joining forces with the power of social media to form communities like #BookTok to make reading still feel fresh and modern—these are two strategies that have already proven successful. Or perhaps it'll be something altogether different.
The solution might not be completely solidified, but like Dr. Seuss, we have to maintain a curious spirit and incorporate a sense of play in our approach. Keeping something fun is akin to keeping something alive more often than not. Take it from the guy who brought us Grinches and Loraxes and Whovians that still lift our spirits today.
Speaking of reading, if you care to check out Seuss' biography, which Oppenhemier cited in his thread, you can find it here.