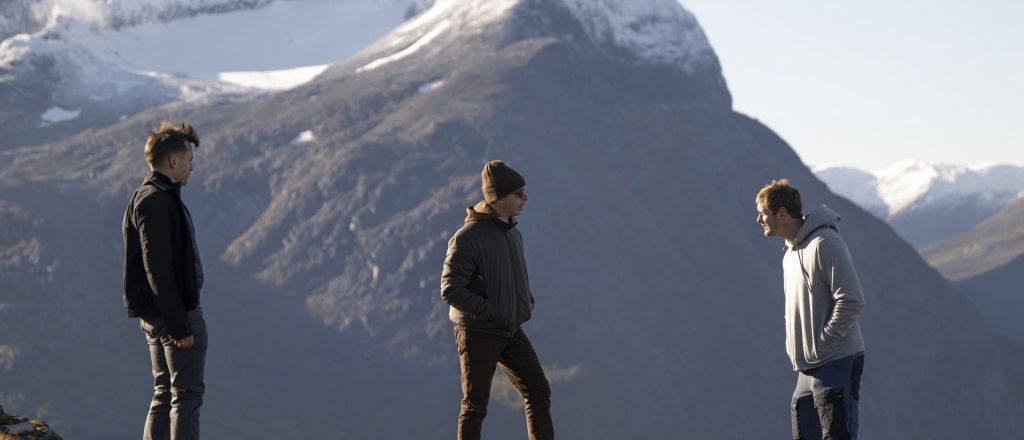 Pack your ludicrously capacious handbags and pull out your most expensive spelunking puffer coats because Succession has landed in Norway.
The fifth episode of season four sees Roy siblings Kendall, Roman, and Shiv jet-setting with some of the Waystar-Royco old guard to a private Scandinavian retreat hosted by prospective buyer Lukas Matsson (Alexander Skarsgård). They're not there to visit the Guggenheim, but to see which former Logan Roy apostates are headed for the lime pit so, yeah, not the grief-cation anyone was hoping for. Still, the scenery on display in "Kill List" makes this stealth-wealth purgatory with sprawling vistas and pig spits an instant bucket list destination. So, if you want to relive Cousin Greg's "Hapsburg" roast, or tell a billionaire to f*ck off on the top of a mountain, read on.
Where In Norway Was Succession Episode 5 Filmed?
The show filmed the entire episode in Møre og Romsdal county which sits on the west coast of Norway. It's a popular tourist destination thanks to the mountain Nesaksla and the fjords and forests that surround it. Like the Roy siblings ascending the mount to negotiate with Matsson, everyday ants can also reach Nesaksla's peak by way of The Romsdals Gondola — that fancy-looking lift Kendall and Roman spent so much time in during the episode. There's a restaurant open to the public on the top of the mountain too.
Meanwhile, most of the basecamp scenes like the ones where Tom Wambsgam and the rest of the herd are fattening themselves up for the impending slaughter were filmed at the famous Juvet Landscape Hotel. If some of the floor-to-ceiling glass landscapes and austere wood paneling look familiar it's because the Juvet is the same location where Alex Garland's 2015 sci-fi thriller Ex-Machina was filmed.
The hotel rents out cabins with some incredible views which is where Matsson stuck Kendall and Roman before making his high-altitude power play. The Gudbrandsjuvet Gorge (where the company men and women practiced archery and sweated things out in a sauna together), the Atlantic Ocean Road, and the nine hairpin turns of the Trollstigen Road are also featured in the episode.
Brb, just booking our private jets to Jesse Armstrong's gorgeous Norwegian hellscape now.