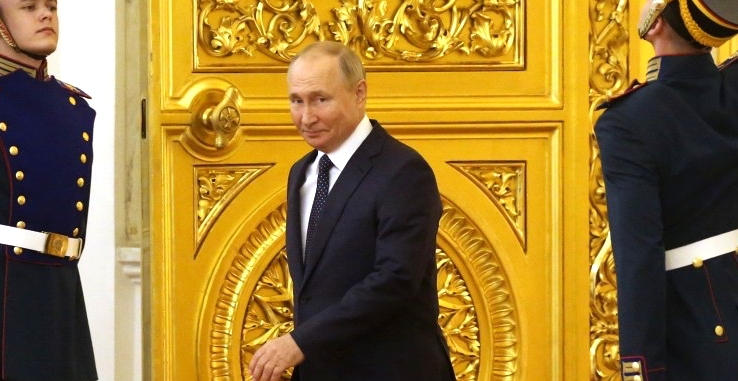 Vladimir Putin has a secret network of train tunnels that run to his various Russian luxury hideouts, so as to avoid detection. One of these homes, a compound near Sochi, is said to be stocked to the brim with pickles as well as a missile defense system and a spa. This sounds like Putin paradise. Still, he would apparently love to travel abroad, an act that isn't so feasible when one has an arrest warrant out from the International Criminal Court.
Of course, there are some countries who will not enforce the warrant, if Putin would like to limit travel to, say, Iran and China. That's not the desired case, according to the Moscow Times, which is reporting that the Kremlin is steamed after the warrant tossed a wrench into an August summit in South Africa that Putin had planned to attend. As for any discussion of the warrant, the Kremlin declared that "[t]hese discussions naturally displease the Kremlin" while adding, "It would like them to end." One official spoke to the publication on an anonymous basis, but he didn't hold back:
A senior Russian government official who wished to remain anonymous told The Moscow Times that the arrest warrant was "stupid."

"When the war is over, how will they talk to Putin? The complete lack of logic in the West's actions is somewhat discouraging," he said. "Or I don't understand it."
A parliamentary deputy is further quoted as sounding alarmed: "This is essentially a call to overthrow the government in Russia."
Well, an arrest warrant was bound to happen after Putin not only invaded Ukraine but also allegedly abducted children and deported them to Russia. That's something that the ICC doesn't take too lightly.
There's no word on whether Putin will grow publicly frustrated about not being able to attend the next G20 summit, which will go down in India, where Putin does not have automatic protection against the warrant. There's been plenty of speculation on whether Prime Minister Narendra Modi would actually have Putin arrested, but it says a lot that the Kremlin has yet to confirm or deny Putin's attendance for the September event.
(Via Moscow Times, Reuters & CNN)