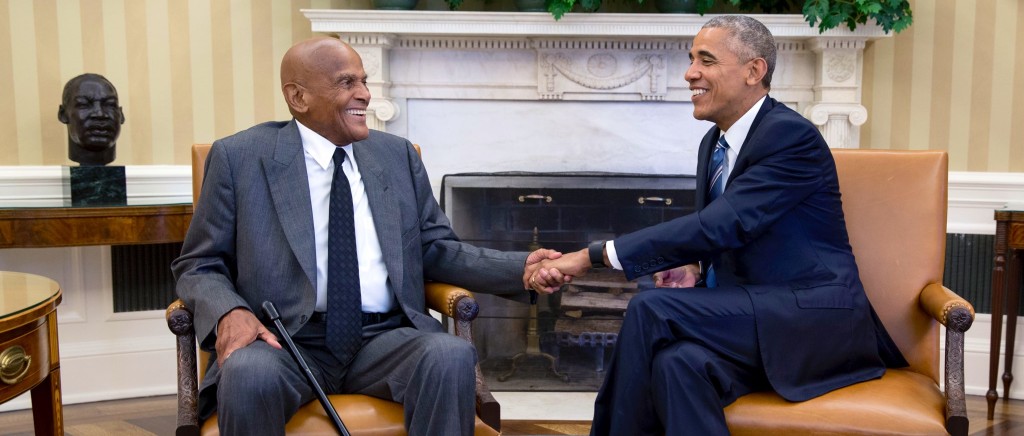 Several artists and public figures have taken to social media to express their sadness over the loss of Harry Belafonte. Yesterday (April 25), the singer died of congestive heart failure at 96 years old, while in his Manhattan home.
Belafonte was known for popularizing calypso music with songs like "Day-O (The Banana Boat Song)," "Jump In The Line (Shake, Señora)," and "Jamaican Farewell." He was also an outspoken advocate for racial equality and worked closely with Martin Luther King Jr., and was an open critic of George W. Bush's policies as well.
Yesterday, beloved former President Barack Obama took to Twitter to honor Belafonte and share condolences to his loved ones.
"Harry Belafonte was a barrier-breaking legend who used his platform to lift others up," said Obama. "He lived a good life — transforming the arts while also standing up for civil rights. And he did it all with his signature smile and style. Michelle and I send our love to his wife, kids, and fans."
Harry Belafonte was a barrier-breaking legend who used his platform to lift others up. He lived a good life – transforming the arts while also standing up for civil rights. And he did it all with his signature smile and style. Michelle and I send our love to his wife, kids, and… pic.twitter.com/g77XCr9U5b

— Barack Obama (@BarackObama) April 25, 2023
President Joe Biden also reflected on Belafonte's legacy, saying, "Jill and I are saddened by the passing of a groundbreaking American who used his talent and voice to help redeem the soul of our nation. Harry Belafonte's accomplishments are legendary and his legacy of outspoken advocacy, compassion, and respect for dignity will endure forever."
Jill and I are saddened by the passing of a groundbreaking American who used his talent and voice to help redeem the soul of our nation.

Harry Belafonte's accomplishments are legendary and his legacy of outspoken advocacy, compassion, and respect for dignity will endure forever.

— President Biden (@POTUS) April 25, 2023