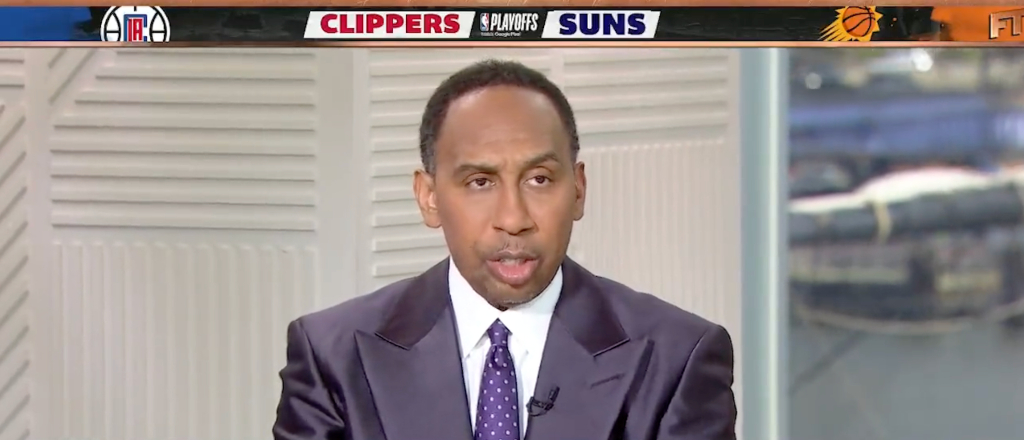 The Los Angeles Clippers were eliminated from the 2023 NBA playoffs by the Phoenix Suns on Tuesday night, sending a team that came into the year with ultra-high expectations into a long offseason that will be filled with plenty of soul searching. It's a particularly big summer for the Clippers, as both Kawhi Leonard and Paul George have the potential to hit free agency in 2024 if they decline the player option in their respective contracts.
Leonard and George, of course, missed most of the series against the Suns. George was out the whole time due to a knee sprain, while Leonard played in the first two games. After originally being diagnosed with a knee sprain of his own, it was reported on Wednesday morning that Leonard tore the meniscus in his right knee in Game 1 of the series. All of this prompted a doozy of a take from Stephen A. Smith, who expressed his belief on First Take that Leonard should be forced to retire by the Clippers.
"Steve Ballmer and the Los Angeles Clippers should force Kawhi Leonard to retire," Smith said. "I'm done, he needs to go home, ok? It's over. I'm not in any way questioning the legitimacy of Kawhi Leonard's injury. A matter of fact, I'm fully embracing it. I've heard very, very alarming stories about his health, you see people talking about he's walking around limping all the time, he is not a healthy individual. I'm not questioning his heart, I'm not questioning his courage, I'm not questioning any of that, the man's a two-time champion, he's a two-time MVP."
Smith went on to repeat his claim that Leonard is the worst kind of superstar to have one a team, arguing that his lack of availability and his hesitancy to promote the team is bad before going through the financials of his deal. He then made a big deal out of how he doesn't suffer his injuries in a high-profile way. (He did not say during his rant if he knew that Leonard's injury was revealed to be a torn meniscus, which they discussed a little later in the show.)
"This is the difference between him and a Paul George or various other people," Smith said. "We see them get hurt. We watch Kawhi drop 38 one game like he did in Game 1 against Phoenix, 31 in Game 2, walk off the court, and next thing you know, Ty Lue gets a note, he ain't available today, and he ain't available next week, and he ain't available the next game. You don't know why, but you hear, and you hear, and you hear stories."
Smith expressed his belief that, if George and Leonard were healthy, the Clippers would have beaten the Suns in the first round, citing how much Devin Booker and Kevin Durant play too much. But apparently, due to Leonard's lack of availability, Smith thinks the team's decision makers need to have some difficult conversations.
"You're the second-largest market in the United States of America," Smith said. "You're in Los Angeles, man. It's Laker Nation, Laker town, you know what Steve Ballmer and them got to compete against. You got an elite owner, Lawrence Frank is a well-respected executive, Ty Lue is considered one of the best coaches in the business. And this is what you got to rely on as a player. It's over, for me. We can talk about the game and all of that stuff, but the culminating point, the end result is, to me, it should be the end. And I say that cause I called some league officials this morning and I wanted to know specifically, what can you do to get rid of Kawhi Leonard and make sure he gets his money. He's got an insurance policy, you can carve it out through the years, make sure he gets every penny, just give him his money and go, because you can't rely on him, you gotta move on. If you're the Clippers, you gotta move on."
It is unclear why Smith thinks this is a better path forward for the Clippers, especially considering Leonard can hit free agency next summer and is almost certainly a better option, even in a limited role, than anyone else the team can realistically get this offseason. It is also unclear if a front office forcing a player to retire would be legal.