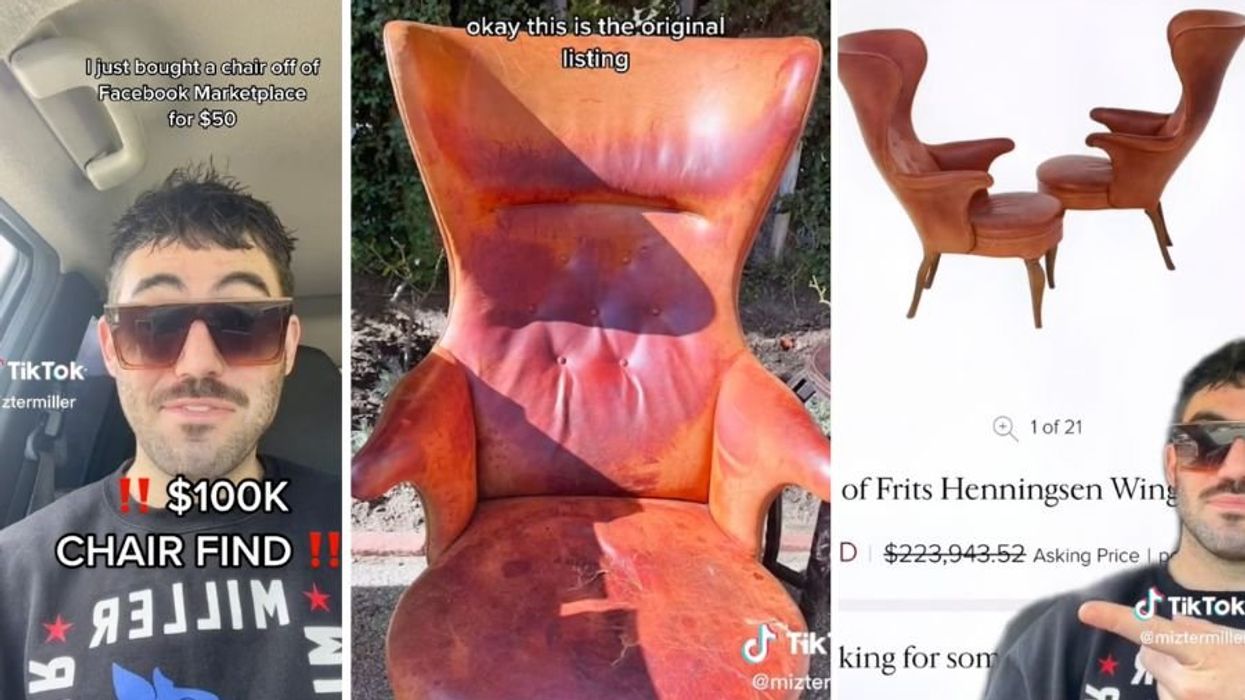 Let's be real—buying secondhand allows us to save a few bucks, which is great. But the real thrill is the possibility of snagging that ultra-rare, one-of-a-kind item that's worth a bajillion times more than we originally paid for it. Yes, that kind of shopping is a lottery unto itself. But man, what a jackpot, should you win.
And of course, it's not a totally far-fetched fantasy. Costly things get thrown out or donated all the time, ready to be procured at the nearby thrift store, garage sale…
…or, in this case, Facebook Marketplace.
---
In February 2023, Los Angeles-based designer and container creator Justin Miller posted a TikTok sharing a listing he found for a dark tan leather wingback chair going for $50.
Miller immediately felt the piece was "unique" and dove into some online research. The brand, he discovered, was Frits Henningsen, with the design dating back to the 1930s. Miller would later discover (thanks to a helpful commenter) that the same chair showed up during Kirsten Dunst's hour tour for Architectural Digest, where the actress mentioned that only 50 of the chairs were ever made.
With all that info, the prices for the chair were expectedly "insane," ranging from $9,634 to $60,000, to even a whopping $223,943 for a pair of the exact same chair in the listing—meaning that, theoretically, one chair would be worth around $100,000. Yowza.
Of course, with a few scratches in the leather, Miller knew he wouldn't be getting anywhere near $100,000. But still, he seemed in for a pretty penny. So he of course bought the chair and has documented the ongoing journey in subsequent TikToks.
As he explained in an interview with Insider, the seller, located in Beverly Hills, gave Miller a quick heads up that the chair was potentially worth a lot of money. They had been tasked with selling a family friend's unwanted items in exchange for a percentage of the profits and had set up a yard sale, only to have to quickly pack everything up again after finding out that the city didn't allow them. At that point, the only goal really was to sell everything as quickly as possible.
"She knew, she just wanted to get rid of it," he said.
After procuring the chair, Miller submitted it to auction houses, and, according to Sotheby's, it is estimated at…drumroll please…between $30,000-$50,000.
Best $50 ever spent.
Miller is still waiting to get the final price for his chair, but he is undoubtedly patting himself on the back for trusting his gut. And he's sure to post how much it ultimately sold for on his TikTok, which you can find here.
Meanwhile, if you need me, I'll be perusing Facebook Marketplace.