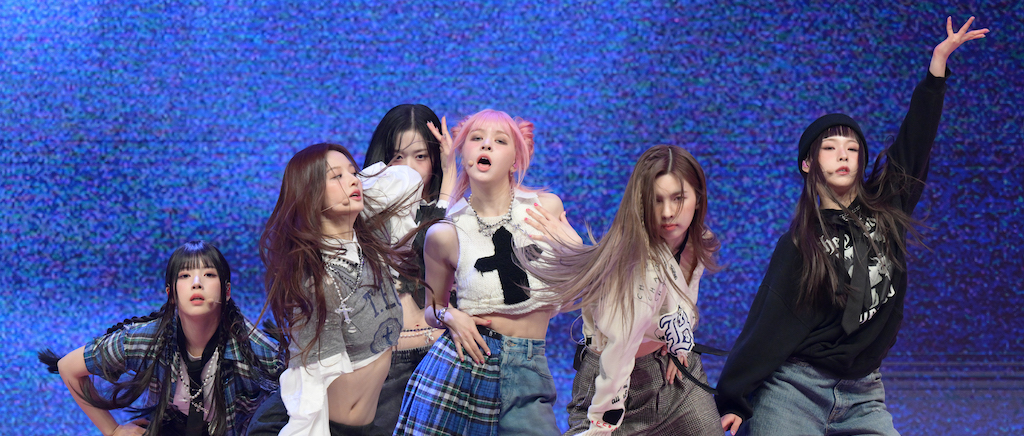 Concert etiquette has been a bit off since the pandemic. Fans hold their phones up to record the whole show, some chuck cameras at the performer on the stage. However, at the show for the South Korean K-pop group NMIXX on Tuesday (May 2) in Seattle, Washington, something even more unexpected happened.
A video of a baby — yes, a human baby — crawling onto the stage in the midst of the concert went viral on Twitter. Member Kyujin looked concerned as she hurried to pick up the baby and hand it to the mother at the edge of the stage. However, the area is so crowded and everyone's hands are reaching for the star — it's chaos.
i was there to witness nmixx baby on stage WHAT IS HAPPENING #nmixx #nmixxseattle #nmixxinseattle pic.twitter.com/ypthXiiN9S

— sage x5 ! KIM JIWOO (@starlostsage) May 3, 2023
An attendee shared more about the situation in a Twitter thread, explaining that the mother kept the baby in its stroller by security with noise-canceling headphones for most of the performance, until the baby woke up and the NMIXX members began interacting with fans.
it's irresponsible to sit your baby on the stage but as soon as the girls started interacting everyone got out of their SEATED seats and started pushing towards stage there was barely any security because during the concert we kept our space at the front … then suddenly

— sage x5 ! KIM JIWOO (@starlostsage) May 3, 2023
Fans of NMIXX call out the mother in the quote-tweets for not taking the necessary precautions to keeping the baby safe at the gig. Others complain that the baby was simply a tool for the parent to get attention from the musicians. Either way, we can all agree that babies do not belong in such riled-up, frenzied environments. Simple concert etiquette!
I uh.. I feel uniquely qualified to speak on this occasion. As a mom you don't have to give up what you love for your kids. And even bringing kids (even babies!) to concerts is fine but you have to take certain precautions. Like buying a seat (instead of GA)proper ear protection https://t.co/vKetYih28f

— JennMakani ★ ★ ★ ★ ★ (젠마카니) (@jennmakani) May 4, 2023
it's the way it's very obvious that the baby wasn't taken there bc it enjoys music or the group but as a tool for the parent/s to get attention from the group on stage… and the fact the baby has been taken to a concert close to the stage more than once too.. https://t.co/9wePfB1cIm

— 다니 ♡ (@jjunmyoen) May 4, 2023
I'm not even joking I hope someone calls cps on her bc people throw stuff on stage it could've hit the baby and the music/bass at concerts is insanely loud on top of the screaming fans. It's hard for older people to handle I can't imagine a baby https://t.co/FJkbNXaXX7

— THEY HATED JESUS CUZ HE SPOKE THE TRUTH⁷ ʚɞ (@poppinryujin) May 4, 2023
i'm still wondering why someone thought it was a good idea to take a baby to a kpop concert knowing how crazy and crowded they get https://t.co/2TTcBcwRw9

— kirsten (@kdayeons) May 4, 2023