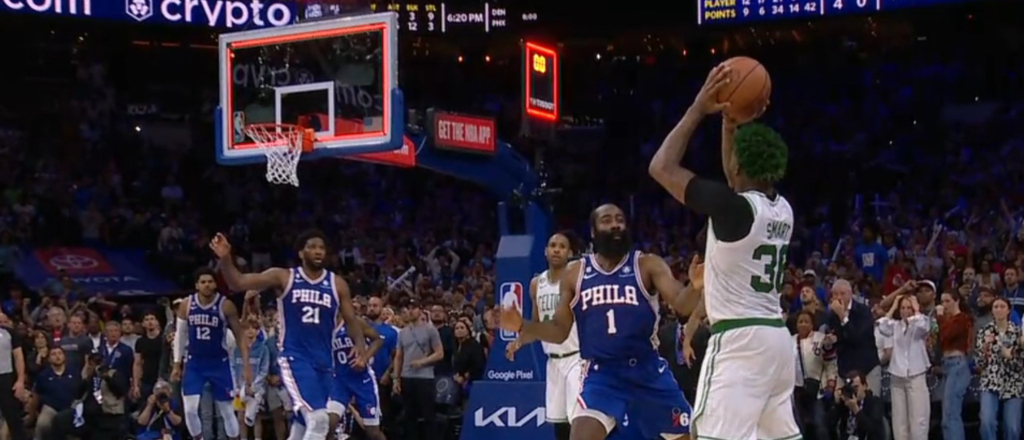 Game 4 between the Sixers and Celtics in Philadelphia became an overtime thriller that saw James Harden (who brought a special guest to the game) and Jayson Tatum taking turns knocking down big shots, with Harden's Sixers escaping with a 116-115 win to tie up the series at 2-2 going back to Boston.
The Sixers offense was dreadful for most of the fourth quarter, as they scored four points in the first eight minutes to allow Boston to claw their way back from nine down to move in front by two with just under four minutes to go in the game. Philadelphia stalled offensively, as they stopped playing with pace and allowed Boston to set its defense, which stymied both Harden and Joel Embiid, with the MVP in particular struggling with Al Horford who blocked him three times in the fourth quarter.
After the unlikeliest of heroes, PJ Tucker, got an and-1 to tie the game, Boston went back in front with a pair of Marcus Smart free throws, setting up a situation where Philly would need to manufacture a bucket in the halfcourt. Harden, who had been their only real offensive threat all game, was able to do just that, tying the game at 107-107 with a floater in the lane to give him 39 points in regulation.
A Smart three went begging at the end of regulation, sending the game to overtime where a very similar script played out. Boston pushed in front as the Sixers struggled to create offense, but Embiid was finally able to break the seal off the basket with a fading shot to cut the deficit to one.
A pair of Embiid free throws pushed the Sixers back in front by one (after his first go-ahead bucket was negated by a questionable charge the possession prior), but that was short-lived as Tatum got away with a discard to free himself for a go-ahead three.
On the next possession, Embiid drove the lane and the Celtics defense collapsed on him, leaving Harden wide open in the corner for what became the game-winning three.
Boston, as they did to end regulation, decided to play it out rather than call timeout to set up a play, but ran too much time off the clock before getting into their action. By the time Tatum started the offense, there were just five seconds on the clock and when Philly crashed on his drive, he kicked out to Smart who this time hit his open look from three — but didn't get the shot off in time.
Smart's three comes after the buzzer.

76ers win 116-115 to tie the series at 2-2!

Wells Fargo Center is LOUD pic.twitter.com/YGvIRlxOEi

— NBA (@NBA) May 7, 2023
It was a rather fitting end to the game given how both offenses really slowed down in the closing stretch, with neither team able to create easy offense down the stretch of the fourth or in overtime. Still, Boston will have to feel like they let a golden opportunity to take full control of this series, as they had multiple looks to win in a game they played pretty terribly for most of three quarters. Jaylen Brown had 23, but 12 of that came in the first quarter as he kept Boston afloat early but faded to the periphery down the stretch. Tatum, who had just two in the first half after an 0-for-8 start, finished with 24 points, 18 rebounds, and six assists, but the Celtics were just not quite able to ever fully take control of the game when they had opportunities to.
On the other side, Embiid finished with 34 points and 13 rebounds, finding just enough offense in overtime to give Harden the assistance he needed to close out the game after a rough fourth quarter from the MVP. Harden, after two no-shows in Games 2 and 3, once again dusted off a vintage performance, scoring 42 with nine assists, eight rebounds, and four steals, as he was sensational for the second time in this series — which have coincided with both Philly wins. The Sixers late-game offense was concerning, but it's not a particularly new issue for them, as when they slow down and defenses set in front of them, they have a tendency to take a lot of difficult shots. Still, gutting out this win will give them plenty of belief they can win this series, but they'll need Harden to be close to his best as he was on Sunday to pull off the upset.