American single malt whiskey is one of the most exciting sectors of the American whiskey scene right now. Part of that is that it feels new and fresh even though we're talking about the oldest style of whiskey there is — the stuff is made with barley, just like in Scotland. So why is American single malt so cutting-edge? There's a lot of potential variation, opening the door for innovation.
The only downside is that most of these innovations are new enough that the market is still a little perplexing to get a handle on. Luckily, the San Francisco World Spirits Competition awards just dropped and there were a fair few American single malt whiskeys that received the coveted double gold — a pretty good metric for anyone looking for an interesting bottle to try. To that end, I'm listing the winners below.
If you want to learn more about how judging works at this event, you can check that out here (I'm a head judge and explain it in detail). As for this list, I'm dropping my personal tasting notes on each of the double-gold-winning American single malt whiskeys from this year's event. I haven't tasted a couple of these, so I added the distiller's notes instead.
Regardless, find the whiskey that speaks to you and then hit that price link to see if you can snag a bottle in your area. Let's dive in!
Also Read: The Top 5 UPROXX American Single Malt Whiskey Posts Of The Last Six Months
ASW Distillery Space Hide Commemorative Scotch Trooper Single Malt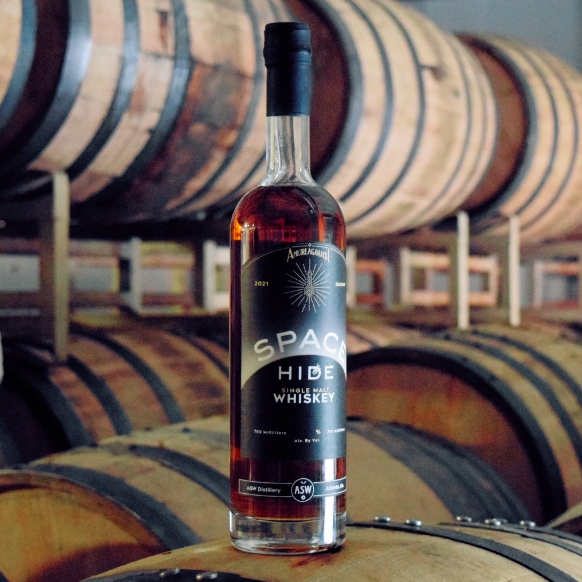 ABV: 58%
Average Price: $149
The Whiskey:
Ameireaganach is a very bespoke distiller that leans into specialty malts (kind of like a super niche craft beer brewer). This bottle is made with a mash bill (recipe) of 76% Speyside distilling malt and 24% applewood smoked malt. That single malt then goes into new oak barrels for a few years before re-barrelling into sherry barrels for a final spell.
Tasting Notes:
Nose: There's a clear sense of oatmeal loaded with brown butter, raisins, and wet brown sugar with a hint of summer squash next to mild malted crackers with this distant whisper of spicy-sweet tang that's kissed with smoke.
Palate: The fresh new oak shines through the malted oatmeal with a deep and moist vanilla cake frosted with bourbon buttercream, drizzled with salted caramel, and dusted with dark cacao powder with a twist of brandied cherry and mild espresso-laced tobacco.
Finish: The fresh wood has a light wet cedar vibe on the back end with more brown sugar and this dark lurking sense of umami-forward Bachan's BBQ sauce.
Bottom Line:
This is a wild ride of a whiskey. The heavy new wood sugars — vanilla cake, caramel, buttercream, etc. — give the malted grain a bourbon vibe before veering into this weirdly compelling umami and tangy sweet world of barbecue at the very end. This is a very limited release (225 bottles only) so you'll need to snag one now or forever hold your peace.
ASW Distillery Red X Single Malt Whiskey
ABV: 50%
Average Price: Limited
The Whiskey:
This is another very limited release from Ameireaganach. This whiskey was made with 100% German Red X malted barley, which you also find in red ales in the craft beer world. The whisky was aged in new oak barrels with Georgia Heartwood staves added to the barrels during the last four months of mellowing.
Tasting Notes:
None Available.
Bottom Line:
This is so rare that it's not going to be easy to even find. I know that's kind of bullshit but it did win a double gold at San Francisco so maybe that'll propel the good people at Ameireaganach to make us all another batch…?
Boulder Spirits American Single Malt Whiskey The Trailhead
ABV: 52.5%
Average Price: Limited
The Whiskey:
The team at Boulder are craft spirit masters in Colorado. This whiskey is made with a combo of peated and unpeated local malts that are aged individually in new American oak for four years. Those barrels are then batched and re-barrelled into Pedro Ximénez sherry casks for an additional year of resting.
Tasting Notes:
Nose: Sour cherries tossed in smoked sea salt burst from the nose with a sense of dark chocolate-coated espresso beans rolled in sweet cinnamon with a sense of smoked caramel and mincemeat pies rounding things out.
Palate: The chocolate-covered coffee beans get creamy and lush on the palate as leather prunes and dates soak up brandy notes with a rush of dark winter spices, dried citrus peels, and soft vanilla-forward eggnog arrive.
Finish: The end circles back around to those sour cherries with a hint of currant and huckleberry next to dark chocolate tobacco leaves, a twinge of smudging sage, and more of that soft winter spice.
Bottom Line:
This is a pretty delicious American malt. There's a good sense of the finishing barrel — leather dark fruit, old winter spices, etc. — that plays well with the chocolate malts and very subtle smoke. It all just works and, thusly, works well as a slow sipper. Maybe add a rock to really amp up that creaminess.
Cedar Ridge Distillery The QuintEssential American Single Malt Whiskey Batch 010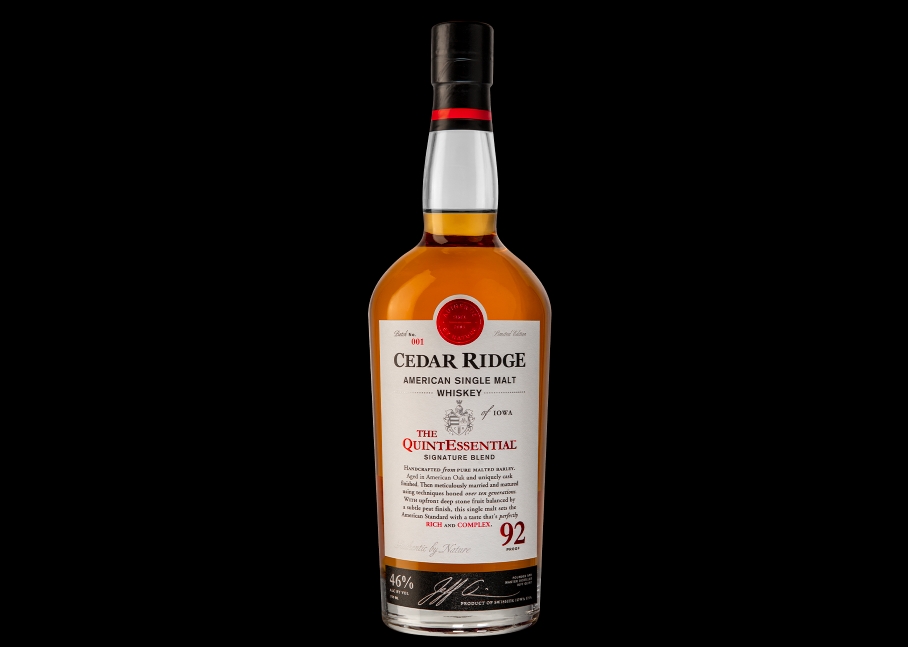 ABV: 46%
Average Price: $55
The Whiskey:
This whiskey is all about a grain-to-glass experience. The juice is made with 100% 2-Row Pale Malted Barley (the same stuff used in some of the biggest craft beers) from up in Saskatchewan. The whiskey is matured in ex-bourbon barrels for an undisclosed term. That whiskey is then finished in a combination of brandy, rum, wine, port, and sherry barrels before it's vatted. The whiskey's blend is then made using the solera method — where the vat is never fully emptied before the next barrel is added.
Tasting Notes:
Nose: The nose is immediately full of bright fruit with a peach and pear vibe that leans into a malty banana bread with plenty of butter, cinnamon, and walnut next to a touch of Almond Joy (but the good ones from a high-end shop).
Palate: The palate is soft and subtle with hints of spiced malted gingersnaps, light cream soda vibes (maybe a light sasparilla), and a mellow and creamy base of chocolate that's not dark but not milky either.
Finish: The mid-palate has a nice sweetness that's slightly apple adjacent with an apricot hint that mellows into a final note of chewy toffees with rum-raisin lurking on the very backend.
Bottom Line:
This is Cedar Ridge at its most powerful and delicious. This is just good American single malt and will get you excited about experiencing more American single malts (and Cedar Ridge's larger whiskey line).
Virginia Distillery Co. Courage & Conviction Cuvée Single Cask American Single Malt Whisky
ABV: 59.2%
Average Price: $150
The Whiskey:
This whisky is made with 100% malted barley. That whiskey is then loaded into French red wine or Cuvée casks for a minimum of three years (each cask is hand-selected for its distinct flavor profile). These single casks were chosen for their beauty as a stand-alone whisky that doesn't need any adulteration or cutting with water. The honey barrel is then bottled as-is at cask strength.
Tasting Notes:
Nose: The nose is seriously buttery with a touch of brandy butter next to lightly salted caramel with a vanilla whipped cream that merges into a fruity backbone with hints of raisins, new leather, and maybe a whisper of damp straw.
Palate: Malts shine through first on the palate as hefty brown spices create a serious heat (from those ABVs) before a cherry tobacco chewiness kicks in with a hint of pear candy under all that malty spice and warmth.
Finish: The mid-palate really leans into the dark and stewed cherry tobacco vibe as a hint of dry hay, reeds, and umami (sweetish tomato paste maybe?) poke in very late on the finish.
Bottom Line:
This is a high watermark for Virginia Distillery Co. — it's my favorite expression from the brand. It's also a perfectly balanced whiskey with a great finish that helps build a refined and deeply hewn tasting experience. I love this over a single piece of ice on a slow-sipping day.
Jack Daniel's Twice Barreled Special Release American Single Malt
ABV: 52.85%
Average Price: $647
The Whiskey:
This new whiskey from Jack Daniel's is made with a 100% malted barley mash bill. Those grains are milled and mashed with Jack's famed cave spring water. That mash is then fermented with Jack's own yeast and then distilled. The hot juice is slowly dripped through ten feet of sugar maple charcoal and is then filled into new American white oak barrels for a several-year rest. Finally, those barrels were batched and re-barreled in Olorosso sherry casks for a final maturation before bottling as-is at cask strength.
Tasting Notes:
Nose: Light chocolate powder malts greet you on the nose with soft leather, a hint of cedar, fresh gingerbread, oatmeal cookie dough, and some sweet ice tea powder.
Palate: The palate opens up with a sense of sour red fruit with a rich vanilla foundation that leads to woody spices and saddle soap with a vanilla white cake sweetness.
Finish: The mid-palate expands toward higher ABV buzziness with a note of almond and coconut and fresh leather on the finish with a fleeting sense of cream soda just kissed with orange-chocolate syrup.
Bottom Line:
This has a wonderful nuance that beckons you back for more. It does lean more toward a bourbon than a single malt, but that's not a knock. That's why this is so enticing. If you're looking for something completely new from Jack Daniel's, then this is a must-buy.
It's also worth noting that this is a very allocated limited release. So that high price point is due to this being pretty much unobtainable going forward. It was originally $69 per bottle.
Lost Lantern Gentle Giant Balcones Distilling Texas Single Malt
ABV: 57.6%
Average Price: $99
The Whisky:
This rare blend from Balcones via Lost Lantern is a batch of five-and-a-half super rare casks. The batch is made from single malts aged in a four-year-old double cask apple brandy cask, a three-year-old large European cask that dried outside for three years, another one of those casks but just a little older, a four-year-old ex-bourbon cask, and a half-full European oak cask that was exactly three years and 56 days old when it was dumped. All of that whisky was vatted and bottled as-is.
Tasting Notes:
Nose: This opens with Granny Smith apple skins over winter spice barks dipped in floral honey and dried next to orange wheels and Graham Crackers.
Palate: The orchard-iness drives the palate with a sense of soft salted toffee cut with vanilla oils and dipped in dark chocolate orange sauce.
Finish: Orchard woods and soft malts round out the finish with a hint of honeyed toffee and spiced apple fritter.
Bottom Line:
This is just nice. It's not life-changing but it doesn't have to be. Sometimes just being really, really good is enough. Though there are only 1,100 bottles in this release. You're going to have to move really fast if you want to call one of those yours.
Lost Woods American Single Malt Whiskey 88
ABV: 44%
Average Price: Limited
The Whiskey:
This is billed as an "Environmental Whiskey" that's a homage to the Indigenous peoples of Minnesota (though it's unclear if there are any Indigenous folks behind this brand). The actual whiskey is made with 100% Wisconsin malted barley that's mashed with local Minnesota water before distilling. After aging and batching, the whiskey is cut with that local water and bottled.
Tasting Notes (from the distillery):
Nose: "Pleasant oak, light sweetness, vanilla, caramel"
Palate: "Light sweetness, oak, vanilla, caramel, apricot, red licorice, light smoke, with a slight burn/warming"
Finish: "Nutty, pleasant oak, sweet, creamy, vanilla, caramel, and raspberry/strawberry"
Bottom Line:
This sounds great. "Red licorice" is especially enticing as a flavor note. That said, I'd only seek this out if I was in Minnesota.
The Maclowe American Single Malt Whiskey 6th Edition
ABV: 46%
Average Price: $1,699
The Whiskey:
This is a super rare American single malt that's filtered through a masterful Scotch whisky POV. The barrel was chosen by Master Blender Ian MacMillan. MacMillan chose a seven-year-old toasted barrel (new American white oak) that was aged in Kentucky. That whiskey was cut with local water and bottled as-is otherwise, creating only 237 bottles.
Tasting Notes:
Nose: The nose is all about sweet oak sugars (think brown sugar and rock candy) with a sense of burnt orange, marzipan, and salted caramel next to this moment of spicy honey with a twinge of dried florals and pecans.
Palate: Bitter yet sweet orange drives the taste toward soft stick toffee pudding with good salted caramel, orange zest, and walnut next to real maple syrup and old woody holiday spice barks.
Finish: Those holiday spices blend with the marzipan and dried orange for a cake vibe that's accented by soft malted whisky with a sense of bourbon cream.
Bottom Line:
This is very American oak forward with a bit of creamy sweet notes countered by soft yet enticing winter spice. It's a great balance and makes for an easy yet fulfilling sipper.
Is it worth the price? Maybe as a collectible. As a drinker, I'm less convinced. Still, it's lush and delicious. Don't get me wrong. You're really paying for a niche Scotch master's barrel pick at the end of the day.
Pacific Coast Spirits American Single Malt Whiskey
ABV: 57%
Average Price: $150
The Whiskey:
This crafty whiskey from California sounds a lot like the mash recipe for a craft beer. The mash is made with Golden Promise Pale, Munich, Crystal 60, and Chocolate malts. That whiskey is left in new American oak for four years before batching and bottling.
Tasting Notes:
Nose: That new oak shines through with rich and oily vanilla that leads to butterscotch and summer fruit orchards with a hint of stewed peach cobbler cut with buttercream, cinnamon, and nutmeg.
Palate: Malted cookies arrive on the taste with walnuts and pecans next to more cinnamon and nutmeg with a hint of clove and dark cacao nibs over more stewed peach and a whisper of orange marmalade.
Finish: The end gets silky smooth with the stewed stone fruit and soft vanilla as the mild spice slowly builds toward a malty crescendo.
Bottom Line:
This is a pretty solid single malt all around. Again, this does feel like a bourbon lovers' malt — thanks to the creamy sweetness — or very "American" if you want to divorce this from bourbon altogether. I'd still argue that it's worth seeking out if you're based on the West Coast and are looking for a new and nice sipper to add to your bar cart.
Stranahan's Blue Peak Colorado Single Malt Whiskey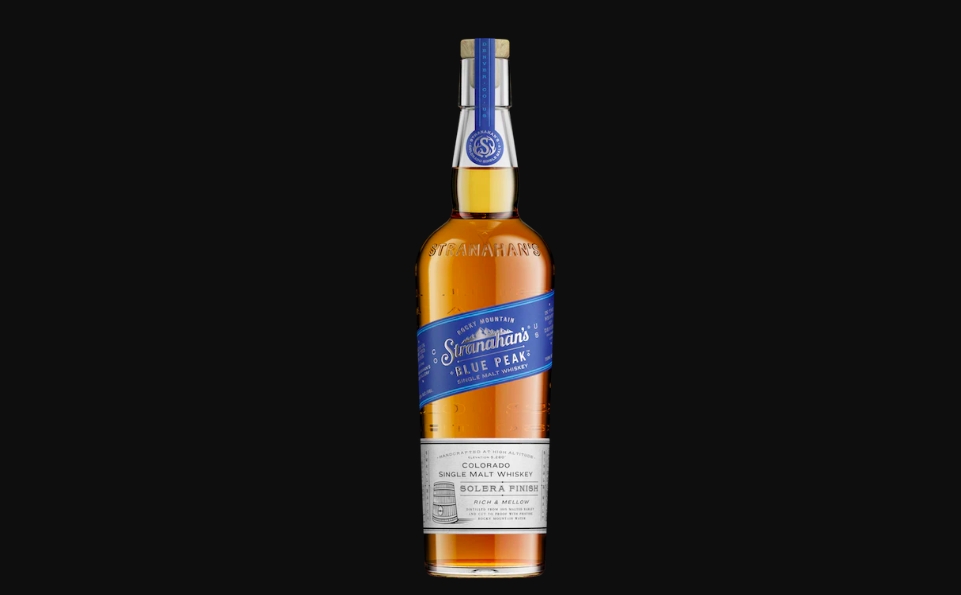 ABV: 43%
Average Price: $36
The Whiskey:
This Colorado malt whiskey is made with Stranahan's classic double distilling high up in the Rockies. The whiskey is aged in new American oak for four years before being solera batched — that means the whiskey goes into a vat that is never emptied.
Tasting Notes:
Nose: Marmalade and dried apricot on toast with plenty of butter is the dominant note on the nose with a hint of winter spice.
Palate: Butterscotch and Cinnamon Toast Crunch drive the palate toward stewed apple with a nice hint of dry spice that leans toward red chili pepper.
Finish: The leathery apricot kicks back in with that sharp chili pepper spice before softer notes of vanilla oil and cinnamon sugar syrup soften the landing.
Bottom Line:
This is nicely complex for this price point. You can feel the craft in each sip but nothing is overpowering anything else. It's just nice. Use it as a cocktail base.
Stranahan's Diamond Peak Colorado Single Malt Whiskey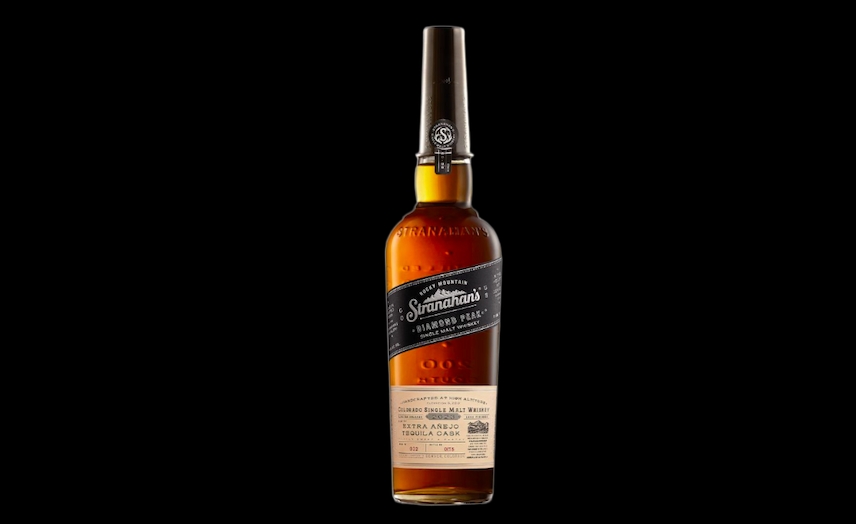 ABV: 45%
Average Price: $78
The Whiskey:
The second Diamond Peak release of 2023 is a 100% Colorado malt whisky. The whiskey barrels were five to eight years old (all-new American oak) that was batched and re-barrelled into Jose Cuervo's Reserva de la Familia Extra Añejo Tequila for two more years of resting. Finally, those barrels were batched, proofed, and bottled.
Tasting Notes:
Nose: This pops with a deep pink peppercorn next to floral honey (think wildflowers and mountain sage) next to soft salted toffee rolled in roasted almond and dipped in lush vanilla caramel.
Palate: That wild sage and lush toffee drive the palate toward a sense of old cedar planks, deep and dark berry leather, and a lush sense of vanilla over salted caramel and marzipan.
Finish: That creamy and lush vibe drives the end with more salted caramel, marzipan, and vanilla cream with a hint of honey-soaked dates and salted cinnamon candies with a whisper of rose-hued tobacco.
Bottom Line:
This is a delicate yet deep AF whiskey. You really cannot go wrong if you're looking for an easy sipper that takes you on a long malted journey. Sip it slowly, perhaps over a big rock.
Tenmile Distillery Little Rest American Single Malt Whisky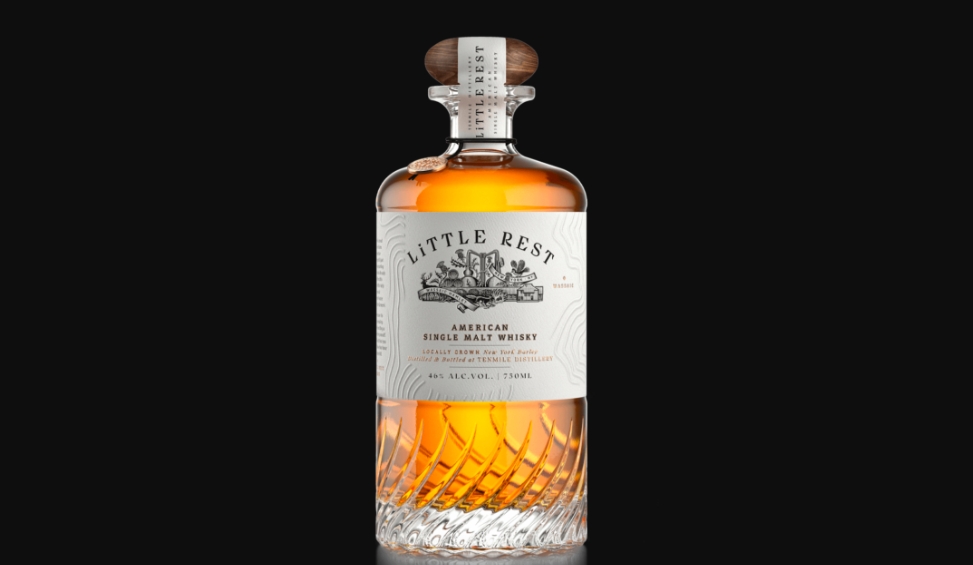 ABV: 46%
Average Price: $215
The Whiskey:
This is one of the only whiskeys that's made in the U.S. by a Scottish master distiller, combining the two styles into one bottle. The ripple here is that the 100% malted barley whiskey is left to rest in François Frères wine barrels from Burgundy, France.
Tasting Notes (from the distiller):
"This First Release American Single Malt Whisky from New York State has mellow honey notes and flavors of vanilla and cinnamon."
Bottom Line:
This feels like a perfectly fine whiskey to look up the next time you're in New York. Hell of a bottle!
Triple Eight Distillery The Notch Nantucket Island Single Malt Whisky 8 Years Old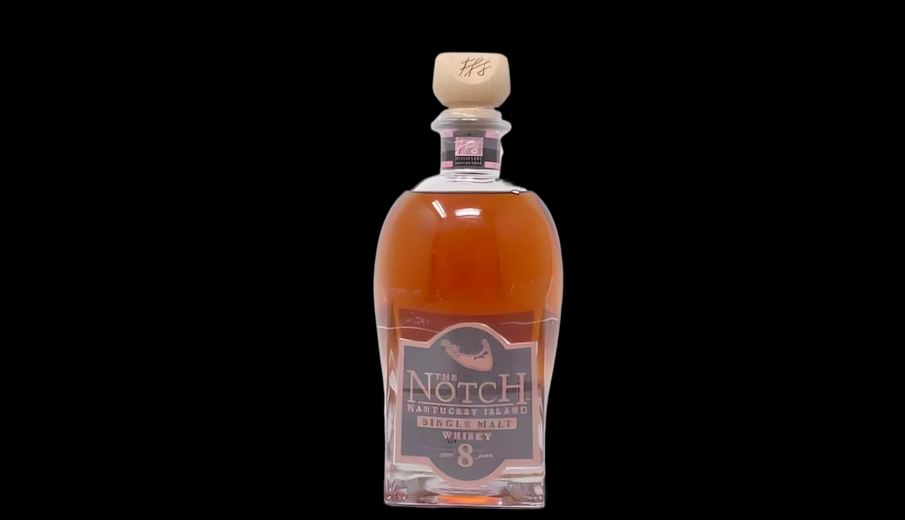 ABV: 48%
Average Price: $888
The Whiskey:
This is The Notch's youngest release but also its rarest. The malt is made with coveted Maris Otter barley. That whiskey is then aged in a combination of French and Spanish oak barrels for eight years next to the sea before very small batching and bottling with a touch of local water.
Tasting Notes:
Nose: Malted cookies dipped in fresh honey drive the nose toward berry brambles — thorns and all — toward a soft sense of woody spice, dark prunes, and soft malted chocolate.
Palate: Dried flowers preserved in old honey draw you in on the palate as black and red berries sipped in rich chocolate lead the taste toward musty cinnamon barks sticks and clove berries.
Finish: Those woody spices dissipate as the honey adds a creamy lush sweetness to the finish with a nice toward of dried dark berries dipped in dark chocolate, rolled in crushed nuts, and dusted with woody winter spices.
Bottom Line:
Almost absurdly the youngest of The Notch line costs the most. Take that as you will.
Price taggery aside, this is delightfully delicious whiskey. If you can find it, you'll be in for a delectable treat.
Triple Eight Distillery The Notch Nantucket Island Single Malt Whisky 12 Years Old
ABV: 48%
Average Price: $399
The Whiskey:
This is classic The Notch single malt made with Maris Otter barley. In this case, the barrels are left seaside for 12 years before batching, proofing, and bottling in slightly larger runs than the famed eight-year-old expression from the brand.
Tasting Notes:
Nose: Creamy toffee with a flake of salt leads to red berries and stewed apples with a hint of floral honey, old oak staves, and cellar funk.
Palate: The taste is immediately pure silk and lush with a sense of creamy yet floral honey, creamed berries stewed in a pie, and malted vanilla wafers layered with nougat next to a fruit orchard on a bright summer day.
Finish: That orchard drives the finish toward a soft honeyed sweetness with a touch of apple and raspberry cobbler with a soft dollop of vanilla ice cream that's just kissed with salt and caramel.
Bottom Line:
This is delicious and, I'd argue, a little more accessible than the eight-year. It's like a fresh fruit dessert on a summer day in a glass. Who doesn't want that?
Triple Eight Distillery The Notch Nantucket Island Single Malt Whisky 15 Years Old
ABV: 48%
Average Price: $569
The Whiskey:
Like many of the single malts on this list, this hinges on the quality of the beer brewed as the base. They use the much-coveted Maris Otter barley that's processed on-site at the brewery before being sent to the distillery to start this whisky. The hot juice is then barreled and stored next to the sea. This expression is a blend of whiskies aged in former sherry barrels, Cognac barrels, wine casks, and Sauternes barrels (a sweet French wine).
Tasting Notes:
Nose: Ripe, dried, and stewed red and black berries mingle with rich marzipan and very dark salted chocolate with a creamy base, a whisper of chili pepper, and a twinge of clove before a subtle layer of old hay bales and what feels like … summer on a farm … kicks in. It's almost an ineffable feeling that arises from the nose of this whiskey.
Palate: Dark and woody spice barks arrive after a sense of old vanilla and nougat wafers but before dried dark berries take on a hint of tartness and almost espresso bitterness with a creamed vibe.
Finish: That creamy espresso leads back to the salted chocolate with a faint whisper of red chili pepper, cinnamon bark, and fresh allspice next to luxuriously creamy honey and berry cake.
Bottom Line:
This is an old-school single malt that even the hardest of core Scotch whiskey aficionados will drink and praise. It's just f*cking delicious, folks.
Westland Solum Edition 1 American Single Malt Whiskey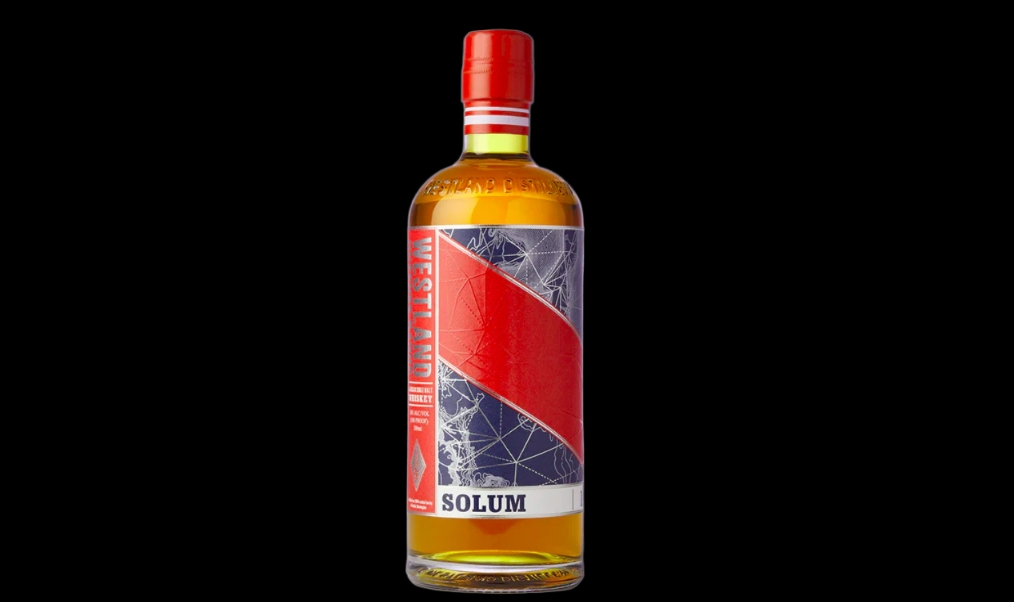 ABV: 50%
Average Price: $183
The Whisky:
This special release from awards and industry darling Westland is made from a small batch of barrels. The whiskey — made from Skagit Valley Malting peated malt — is built from Two new American oak barrels blended with a first-fill ex-bourbon cask. The barrels were 41 months old when they went into the bottle with a hint of local water.
Tasting Notes:
Nose: Apple and strawberry pie drive the nose with a nice dose of soft and sweet cinnamon powder and a touch of tart rhubarb, smoldering cedar, and burning apple tobacco.
Palate: The taste leans into the herbal vibes with chamomile, wild sage, and a touch of white flower next to rye bread crusts, vanilla cream, and pound cake with poppy seeds.
Finish: The rye bread goes full pumpernickel on the finish with a hint of sourness next to creamy maltiness and floral honey.
Bottom Line:
Only 4,044 bottles of this were made. Rarity aside, this is a nice whisky overall. This is a solid choice if you're looking for an easy sipping experience with good depth.