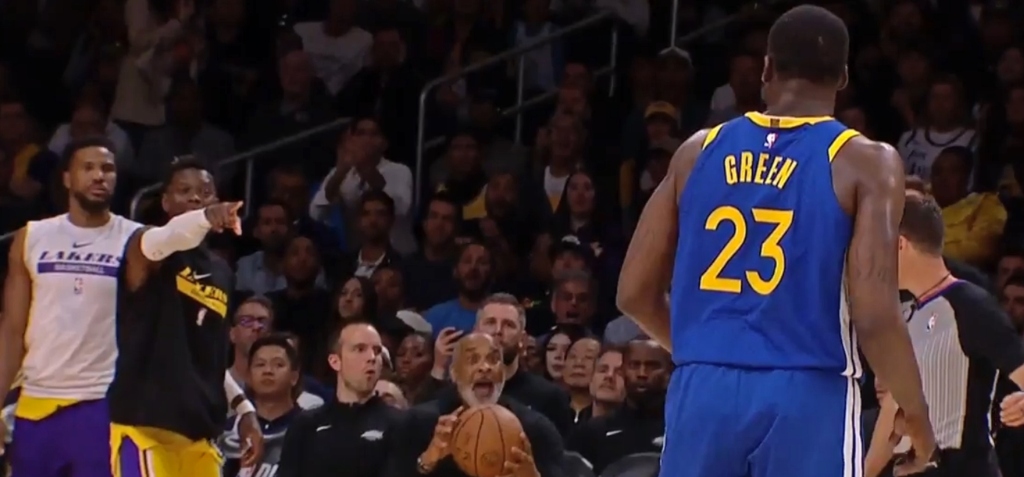 One of the big stories ahead of Game 4 between the Golden State Warriors and the Los Angeles Lakers on Monday revolved around Golden State's starting lineup. The Warriors rolled with JaMychal Green in back-to-back games after he made just one start during the entire regular season but, with Golden State losing Game 3, word began to leak that Steve Kerr would be tweaking the lineup. Ultimately, he decided to insert Gary Payton II into the lineup and go with a smaller group, but Payton II actually left the game in the middle of a play during the first quarter.
With the exception of uncertainty around why Payton II left the game, it would've been noteworthy, but perhaps unremarkable, that he exited, especially since Payton II returned to the bench soon after. However, his absence was magnified when Draymond Green uncorked a pass that ended up being caught by Lakers assistant coach Phil Handy for a turnover — who told Green "great pass!" as he caught the ball.
Draymond passed it to the Lakers bench pic.twitter.com/SBTHMatXOx

— Bleacher Report (@BleacherReport) May 9, 2023
Green's reaction was one of sheer confusion, seemingly because he assumed Payton II was going to be there for the swing pass. As you can see from the broader angle on the video, the Warriors have only four players on that side of the floor, and Green is the rare player who really may have simply thrown a pass to where Payton II should have been, rather than simply looking for him.
Adding to the confusion was that there wasn't anything apparent that happened to Payton (leading to plenty of speculation on Twitter as to why he left the court suddenly), but he was back on the bench shortly after and seemed ready to re-enter the game.
It was a bizarre moment in a rocky first quarter for the Warriors, as they trailed 22-21 in a sluggish offensive start for both teams.
UPDATE: A Twitter sleuth seems to have figured out what happened to Payton, as the Warriors wing appears to have thrown up in his mouth, held it for an entire defensive possession, and then jogged off the floor.
That is a valid reason to not run back down the floor!