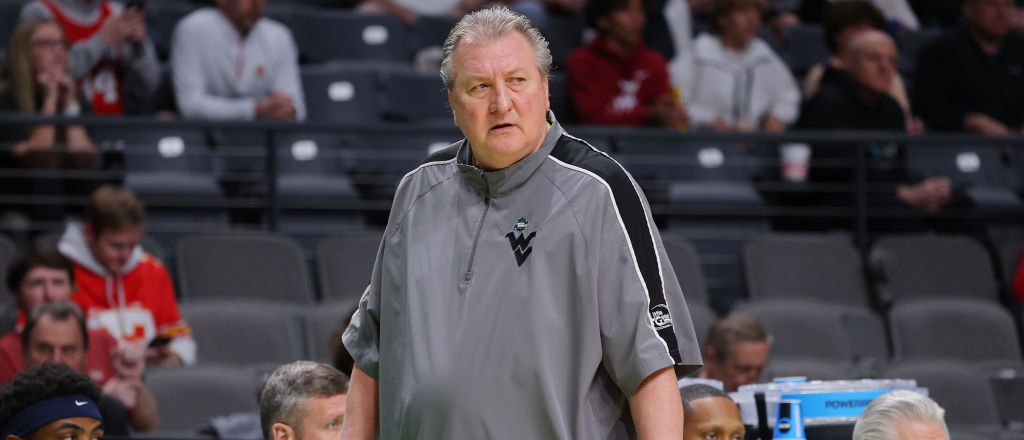 Bob Huggins will reportedly continue as the head basketball coach at West Virginia in spite of a recent controversy revolving around a homophobic slur he used during a radio appearance. According to Pete Thamel of ESPN, the plan is for Huggins to get fined, lose a million dollars from his current contract, and go through some sore of sensitivity training, all while keeping his job with the Mountaineers.
Sources: WVU and coach Bob Huggins are finalizing details for him to return to the sideline next season in the wake of him using an anti-gay slur in a radio interview earlier this week. He's expected to receive a suspension, $1 million salary reduction and sensitivity training. pic.twitter.com/w2VSVrl22p

— Pete Thamel (@PeteThamel) May 10, 2023
Huggins, who coached at Cincinnati earlier in his career, went on the radio in his old stomping grounds and expressed his disdain for fans of the Bearcats' main rival, Xavier. Twice in the span of a few seconds, Huggins referred to Musketeers fans as "f*gs." One of the times, he called them "Catholic f*gs," as Xavier is a Jesuit university. You can listen to the remarks right here.
In the aftermath of the clip hitting Twitter, WVU athletics released a statement condemning the remarks and saying that it would put the matter under review. Huggins likewise released a statement saying he used a "completely insensitive and abhorrent phrase," and that he would "fully accept" any punishment that the university decided to hand down as a result.
Huggins, a Morgantown native and West Virginia alumnus, has been the head coach at his alma mater since 2007.