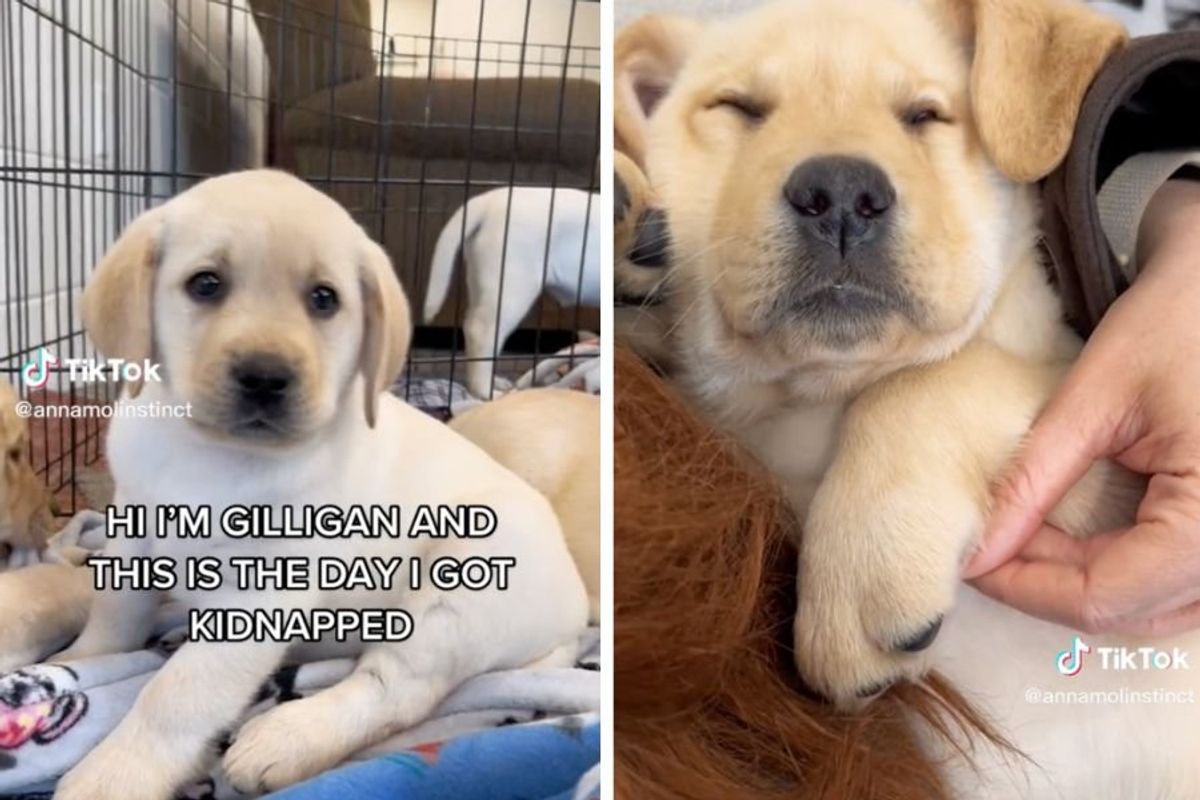 When people adopt an animal, we rarely imagine how that process looks from the animal's point of view. We're so focused on rescuing a pet that we don't often stop to think about what the pet is experiencing. But lucky for us, a cheeky yellow lab puppy named Gilligan gives us his POV in a viral TikTok, and it's a pretty wild ride from start to finish.
One of the most important details of the video is that Gilligan is adorable. If you take nothing else away from his recounting of events, store that knowledge in your pocket for future use. The TikTok video of the fuzzy pooch posted by Anna Molinari uses a voice effect to make the storyteller sound like a toddler, giving the impression that we are hearing straight from the "kidnapped" puppy's mouth. Gilligan's interesting retelling has racked up a massive 30.9 million views and over 5.5 million likes.
---
The video starts strong with the introduction, "Apparently, my name is Gilligan and this is a day in my life of getting kidnapped." Gilligan is sitting in a pen with other puppies, spinning a truthful yet hilarious tale. He details every moment, including all of the naps he took before meeting "my mother" (or at least that's what the puppy thinks her name is).
"This is my new sister. She has red hair, which is confusing. We don't look anything alike," Gilligan says.
The dog doesn't leave out his own dealings in mischief when spinning the tale about his day. He explains that he gets crazy after he sleeps and he can't control it. After Gilligan reaches his new home, he introduces "my dad."
"I met this guy that calls himself my dad. He told me we're going to go on long walks, but he's old and has a limp, so I don't know what the hell he's talking about," he laments.
Watch the cute retelling below:
If you thought Gilligan was done sharing his view of events, you're in for a fun treat. The sassy puppy gave everyone an update one month after his "kidnapping." See what he's been up to below: