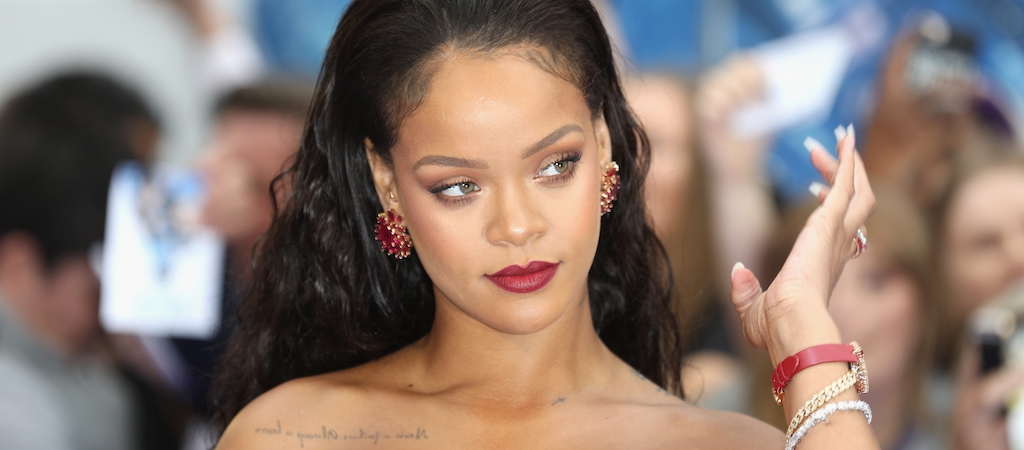 Rihanna has had a strong past few months. Just the possibility of her presence stopped Pedro Pascal in his tracks, she's climbing her way up the RIAA ranks, there's a great new wax figure of her, she made the Forbes billionaires list, and it was announced she's starring in a new Smurfs movie. Yes, times are good, and now they've gotten even better: Rihanna's currently getting a lot of attention for her revealing new maternity shoot, much of which is topless.
In an Instagram gallery shared yesterday (May 18), Rihanna wrote, "here's a little series I call 'Rub on ya titties.' in honor of my first pregnancy, embracing motherhood like a g, and the magic that this body made! Baby RZA… he in there not having a clue how nuts his mama is, or how obsessed he was bout to make me #maternityshoot2022 #tobecontinued."
The photos were taken in a tropical-looking environment and feature Rihanna in a barely-there bikini, topless in some shots but covering her breasts with her hands in all of them. As Rihanna noted, the pics are also from 2022, when she was pregnant with her and ASAP Rocky's first child, RZA.
As of this post, in the approximately 13 hours since the gallery was shared on Instagram, it has racked up about 9.9 million likes.
Check out the photos above.