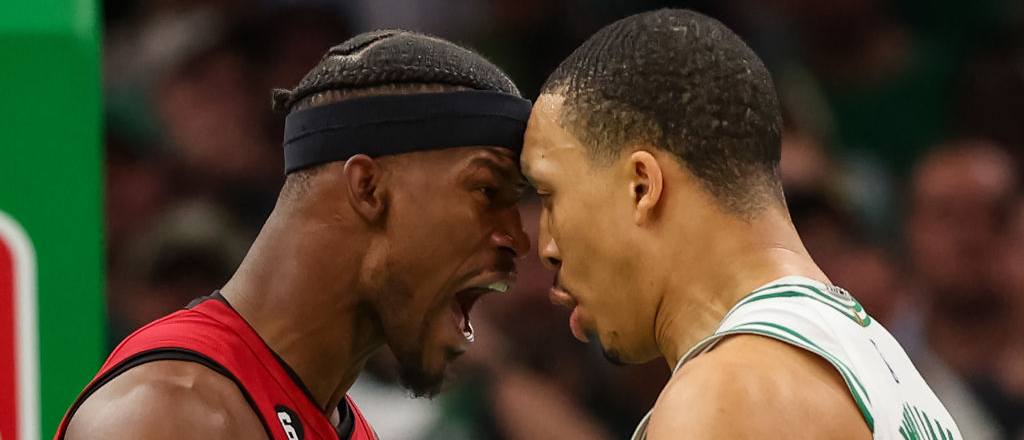 Much has been made out of Jimmy Butler and Grant Williams going face-to-face in the fourth quarter of Game 2 between the Boston Celtics and the Miami Heat. At the time, Boston was ahead and riding high after a three by Williams to give them a six-point lead. Butler came down the floor on the ensuing possession, scored against Williams, got fouled, and the pair got into each other's faces, which beget a monster run by Miami en route to a 111-105 win.
The Heat outscored the Celtics 24-9 after this Jimmy and Grant face-off pic.twitter.com/517RREFVWW

— SportsCenter (@SportsCenter) May 20, 2023
Williams battled against Butler down the stretch, but the Heat star kept taking him 1-on-1, and despite his best efforts, Williams couldn't consistently prevent him from scoring. It's a thing that just happens when you're playing against Butler, especially when he's cooking in a playoff game, but regardless, Butler seemed to get a whole lot of joy out of it. After the game, cameras caught him screaming about the Celtics thought Williams was "the answer to the Jimmy Butler problem."
"That's the answer to the Jimmy Butler problem?!"

Jimmy is HYPE after going up 2-0 against Boston pic.twitter.com/weGt0h1ts1

— NBA on TNT (@NBAonTNT) May 20, 2023
After doing a postgame hit with TNT, Butler was once again caught screaming about Williams as he started to make his way into the locker room.
"There's no way they thought that was the answer!"

— Jimmy pic.twitter.com/VEYRdVSZdl

— SportsCenter (@SportsCenter) May 20, 2023
Butler had 27 points on 12-for-25 shooting on the night. With the win, the Heat managed to win both games in Boston to start the series to go up, 2-0, as things shift to Miami for Game 3 on Sunday.