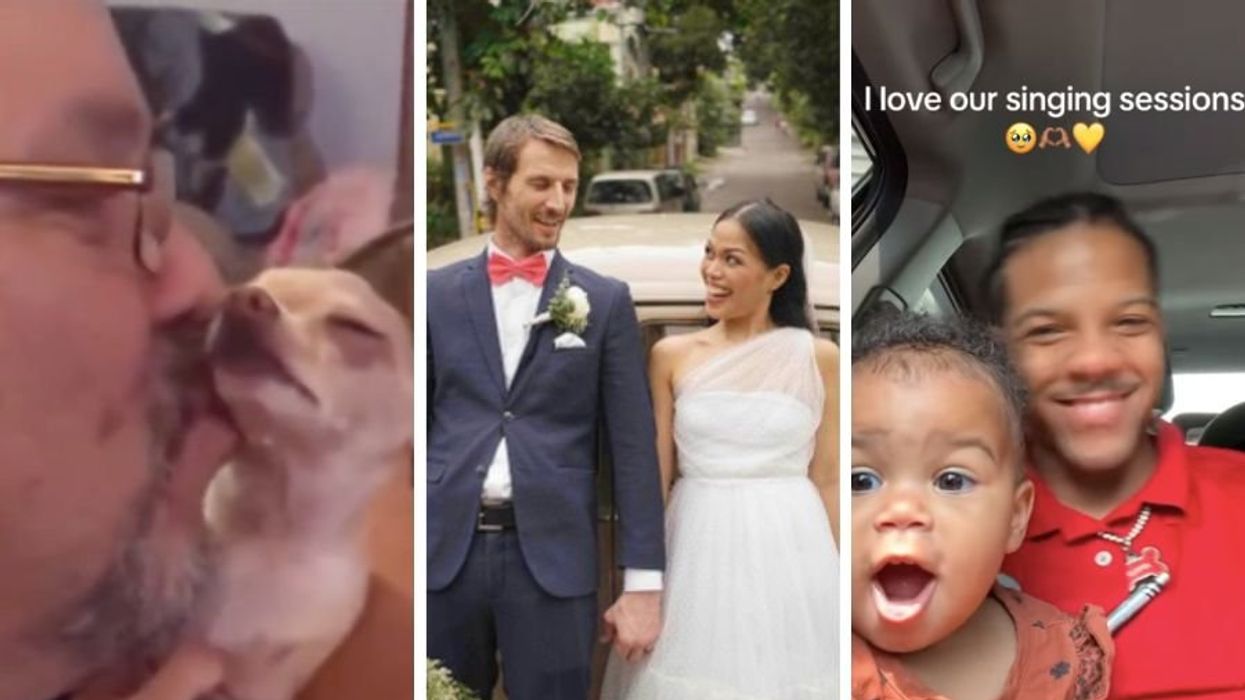 I recently sat down with Rainn Wilson to talk about his book, "Soul Boom: Why We Need a Spiritual Revolution," for the Upworthy Book Club, and one of the things we talked about was cynicism. We live in a world where it's so easy to be cynical, to toss up our hands and say, "People suck, so why bother?"
However, when we become cynical, we allow the negative forces in the world win. So what do we do instead?
Wilson posits that the opposite of cynicism isn't optimism, but joy. Optimism too easily becomes "toxic positivity," which is insensitive to the real difficulties people face. But as Wilson writes, joy "doesn't disregard the hard stuff. Joy knows that negativity is a part of life as well. Joy says that life is hard but there is a place you can go, a tool you can use. Joy is a force. A choice. Something that can be harnessed. A decision to be made."
There are lots of ways to foster joy in our lives, from being of service to others to spending time with loved ones to appreciating nature to finding wholesome reasons to smile and laugh.
Joy is powerful, and however small a measure of it this week's roundup provides, I hope it helps you battle away cynicism and offers some hope and peace to your soul.
---
1. Doggo makes it crystal clear that she wants allll the kisses.
Her communication couldn't be clearer even if she could talk.
2. You never know what a random act of kindness means to the person on the receiving end
"If it's on your heart to do something nice for someone, just do it." Words to live by.
3. Older skater holds younger skater's hand to help with a trick and his reaction when he lands it is priceless.
Skateboarding has really created such an awesome, supportive community. Read the full story here.
4. Two strangers met on Duolingo when he kept congratulating her on her progress. Now they're married.
What an adorable real-life meet cute!
5. Couple raises over $37,000 for a kid who came by their house looking for someone to befriend
@brennanray

Its takes 2 seconds to make someones day, you never know what people are going through until you get a chance to talk to them. This young man is well mannered, kind, and brave. So tiktok can we help shayden make some friends???#fyp #bekind #nobullying #love #kindness #letschangetheworld
It takes a lot of courage to ask for help and to put yourself out there, especially when you've been bullied. This kiddo may not have found any kids his age at the Ray home, but he did find some kind neighbors who wanted to help him out and raised over $37,000 for him and his family in a GoFundMe. Read the full story here.
6. Dad and baby singing their ABCs together doesn't really get any cuter
That little finger. So precious.
7. Cat insists on human doing its makeup…kind of
Let's get this cat together with the chihuahua in the first video and see what happens.
8. Accidental speech-to-text is the absolute best, but especially when you're talking to a dog
"Got to poop, little poopster?"
9. A raucous piano solo turned into a rockin' dance party at the mall
Staged? Eh, perhaps. Fun and joyful to witness? Most definitely.
10. If you're baking in the July heat, take some cool inspiration from this happy polar bear
Are you feeling the joy? Would you like more of it? Get these smiley-worthy posts delivered to your inbox each week by signing up for our free email newsletter, The Upworthiest, here.