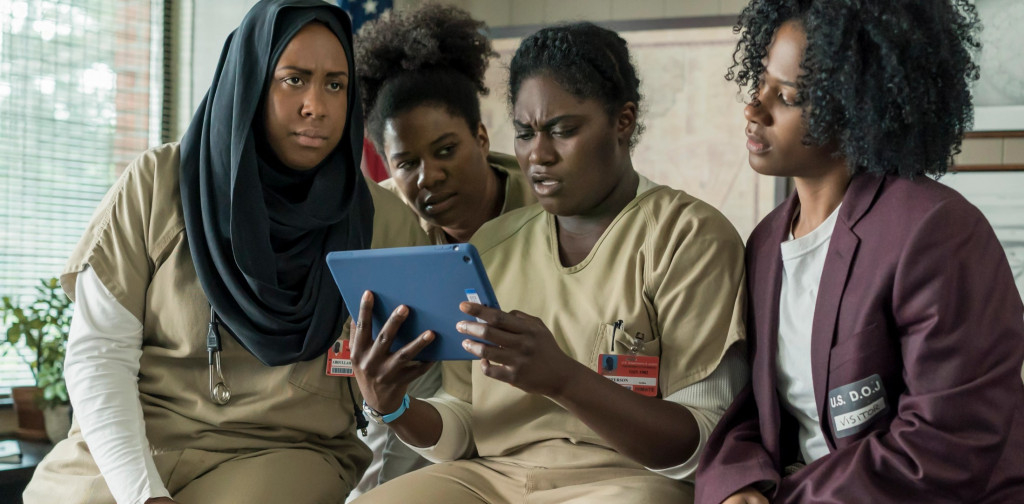 Read the room, Netflix. The streaming giant is currently on the wrong side of a historic battle with both the WGA and SAG-AFTRA over their refusal to pay creators a living wage and their insistence on using AI to, among other things, own people's likeness for all time. The whole strike against streamers reads like a particularly disturbing Black Mirror episode and, for some reason, the social media teams behind these platforms aren't making it any better. Case in point: Netflix's latest Twitter gaffe.
On Friday, the streamer's official account shared a clip from Orange is the New Black that spotlighted the devastating relationship between Natasha Lyonne's Nicky and Kate Mulgrew's Red. "Nicky and Red is THE Orange Is the New Black relationship that broke my heart," the tweet read. Now, it's likely that Netflix just wanted to find an easy way to pay homage to one of their flagship series on its 10th anniversary, but the optics of this look kind of bad once you read that New Yorker piece. You know, the one where nearly a dozen actors accuse the streaming service of paying them pennies in residuals and forcing them to live on food stamps and struggle to pay rent while they starred in the show?
We have to assume that the person who scheduled this tweet didn't read that expose. Regardless, people are coming for Netflix's neck in the comments regardless.
OITNB cast/residuals is what breaks mine!

— (@Blushingflwr) July 14, 2023
Reading a lot of New Yorker articles these days?

— Dan Howell (@Dan_Howell) July 14, 2023
Pay your fucking actors

— Lavo (@SchnappTBH) July 14, 2023
Y'all might wanna stay quiet for a while

— Xzyliac Delilah-Electroclash Ariel 2024 (@Xzyliac) July 13, 2023
Seems like you should maybe pay the actors and writers who made that happen then. #WGA #SAGAFTRA

— Jared S. Cram (@JSCram3254) July 13, 2023
10 years later and you're still underpaying your workers

— jane #ResistTheFascist (@janeascn) July 13, 2023
Something tells me Netflix's social media person may also be a writer or actor (or just also not paid shit)

— Jrow (@Jenne_RoW) July 13, 2023
It's perhaps worth noting that Netflix CEO Ted Sarandos will reportedly be paid $40 million this year.