In our social media-obsessed culture, it can sometimes feel like we've seen it all. Between the iconic spots out west, awe-inspiring National Parks, beautiful beaches, and inspiring cities, it can feel like nothing is truly "underrated" anymore. And while I agree to an extent – nothing is truly hidden anymore – I still feel like some states and cities haven't gotten their due.
After visiting all 50 US states solo in the last few years, I always return to one still somewhat under the radar destination as "America's most underrated": New Mexico.
I've visited over a dozen times in the past decade and can confidently say that it only gets better each time. With otherworldly National and State Parks, rich culture and history, fantastic food, friendly people, surprising geological formations, and a style all it is own – it is no wonder it's long been a mecca for artists and loners. While the entire state is worth exploring, a northern New Mexico road trip is the perfect first glimpse of this remarkable state.
Here is the route and stops I recommend:
GETTING THERE:
If you're not already in the four corners area, the best option for traveling to New Mexico is flying into Albuquerque and renting a car. It is also, of course, a great stop on a more extended Southwest road trip.
LEG 1 – ALBUQUERQUE TO SANTA FE — 1 HOUR DRIVE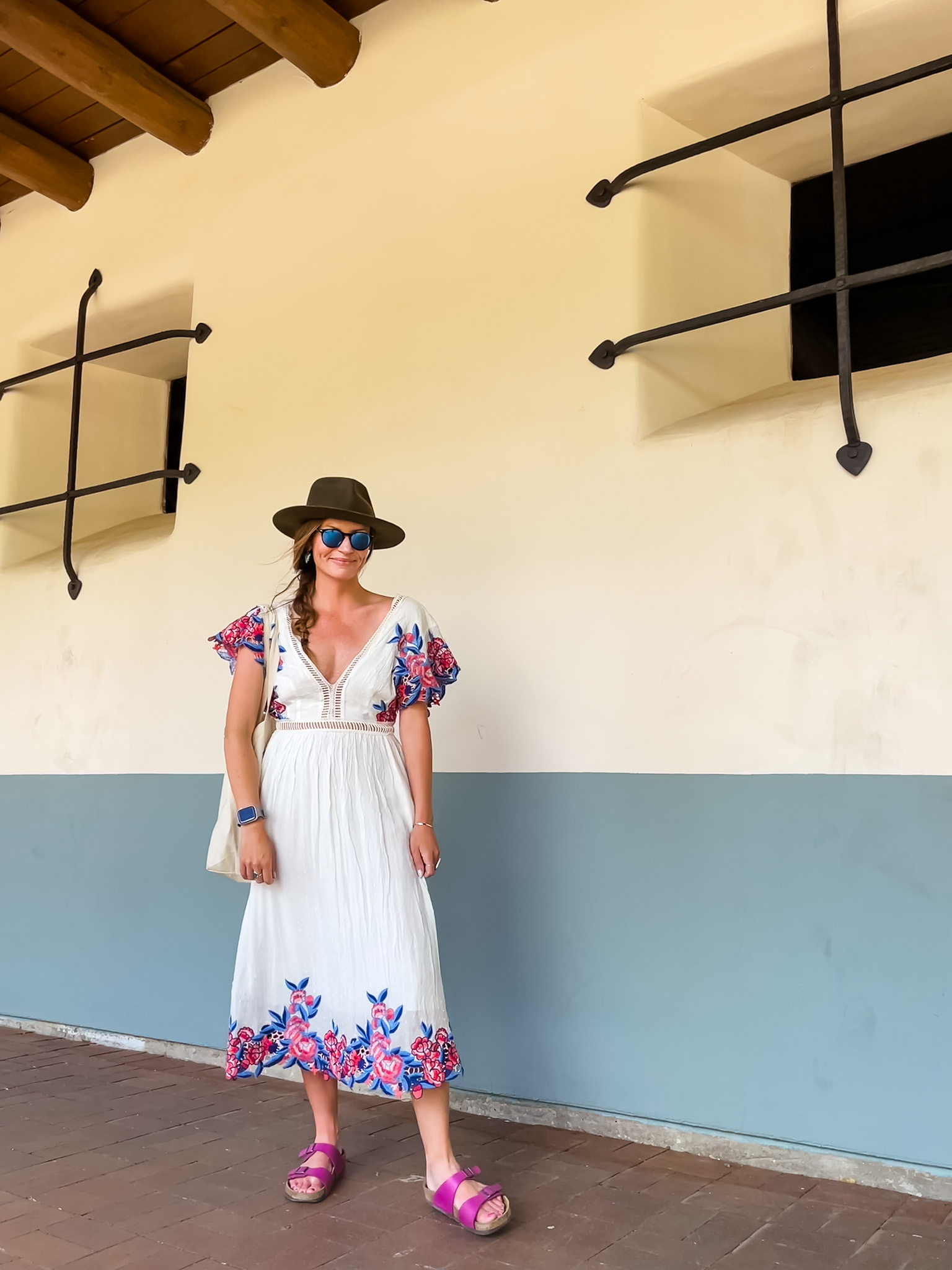 Santa Fe is a magical place where expectations, for me, are only exceeded by reality. The Capitol of New Mexico, Santa Fe's history can be traced back over 400 years. The adobe-dotted town is chock full of art, food, culture, and vibrancy – and it's the perfect place to spend a few days.
WHERE TO STAY:
EL REY COURT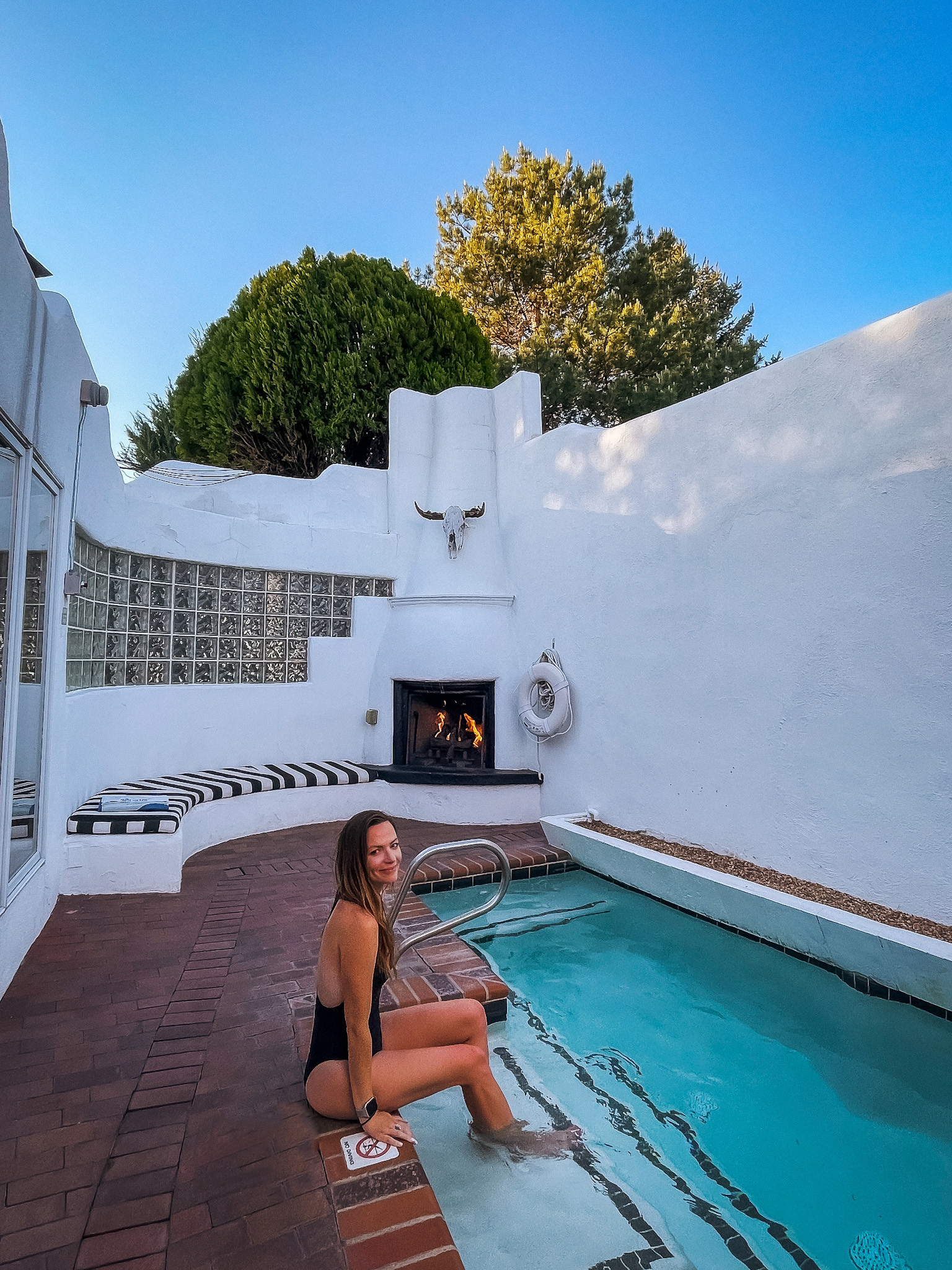 I loved staying at El Rey Court on my last visit to Santa Fe. The renovated motel along Route 66 has been thoughtfully reimagined with mid-century decor, exciting art, and gorgeous landscaping. The hotel bar, La Reina, is a Santa Fe hot spot with great drinks and options for mingling. The pool has returned to its former glory, while the hot tub area remains cozy with a kiva fireplace and nearby sauna.
An on-site food truck offers casual bites daily for breakfast and Wednesday through Sunday for dinner.
WHAT TO DO:
MUSEUM HOP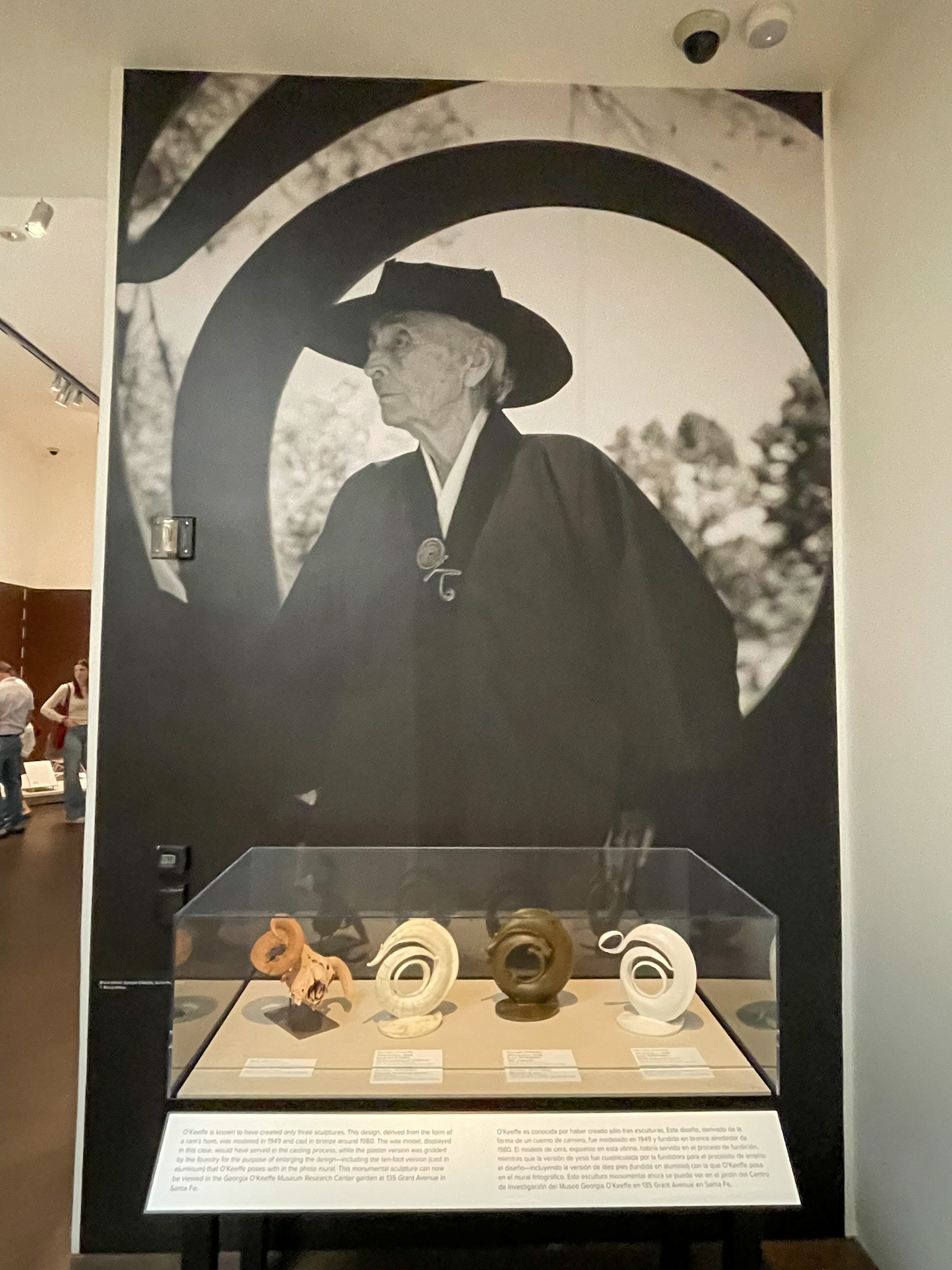 Santa Fe is renowned for its vibrant art scene and thriving cultural heritage. The city has numerous galleries, museums, and art markets, including the world-famous Santa Fe Indian Market and the Canyon Road art district. I always visit the Georgia O'Keeffe Museum in town; I love to stroll through the Palace of the Governors and visit the New Mexico Museum of Art.
ENTER INTO ANOTHER DIMENSION AT MEOW WOLF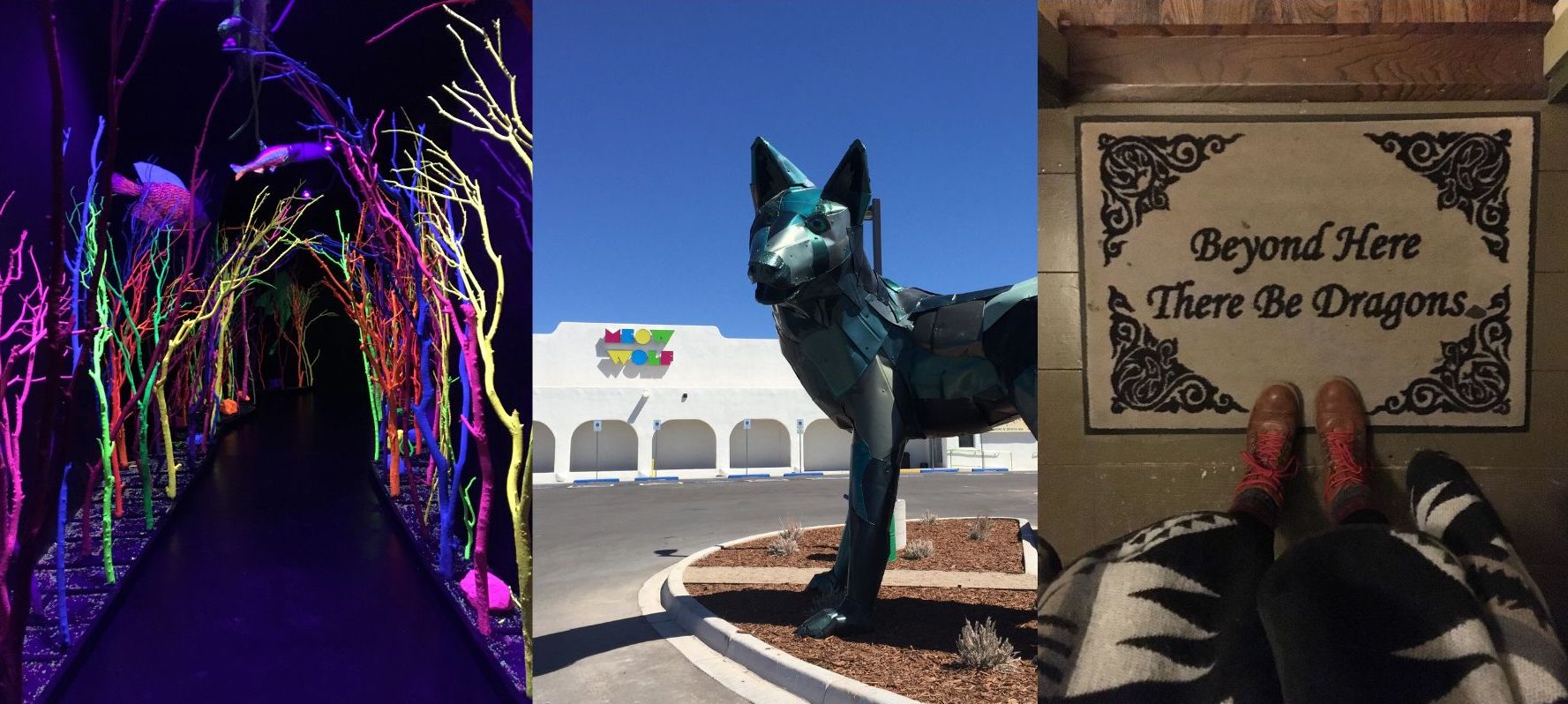 You can't visit Santa Fe without visiting the OG Meow Wolf. An immersive and interactive art installation and entertainment venue, Meow Wolf was founded in 2008 by a collective of artists, writers, and musicians in Santa Fe to create immersive art experiences that blur boundaries between art, entertainment, and exploration. Their multi-dimensional, interactive art installation, "The House of Eternal Return," is housed in a former bowling alley with portals to other dimensions and alternate realities.
It's trippy in the best way, and you have to see it for yourself.
EXPLORE THE PLAZA
The Santa Fe Plaza is the city's heart, and you should spend some time exploring. The plaza's rich history dates back to the 17th century, and evidence is everywhere. Stroll into the shops, restaurants, bars, museums, and galleries while passing street vendors and likely a festival or two.
WHERE TO EAT AND DRINK:
LA PLAZUELA AT LA FONDA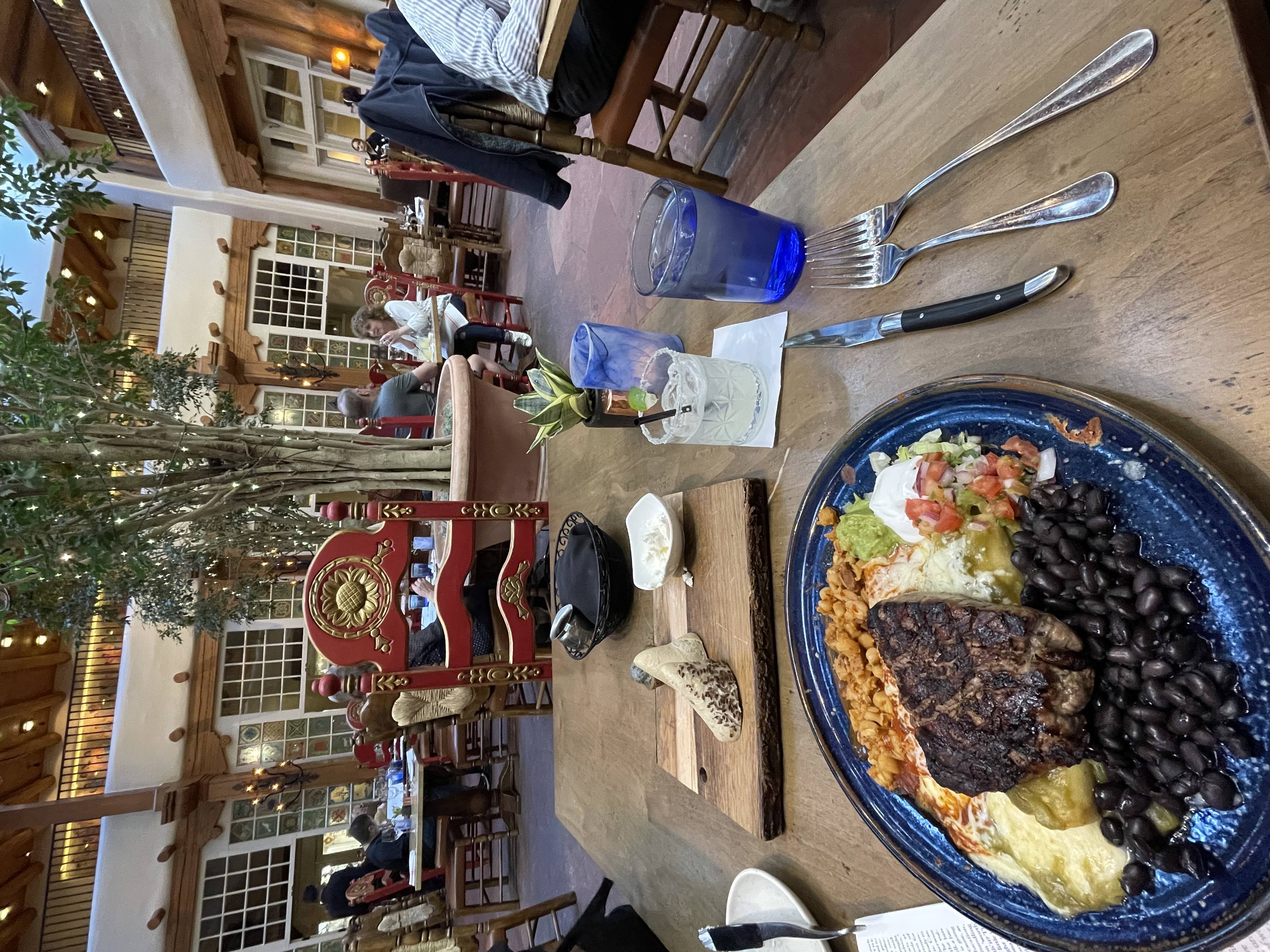 La Plazuela at La Fonda is my go-to for an authentic meal in a historic space. The building, built in the 1920s, is the perfect place to explore before sitting in the gorgeous dining room. I loved sitting in the dramatic space with high ceilings and hand-painted windows. The margarita was fresh, the breadboard was a perfect start (the blue corn muffins were my favorite), and my entree filet with enchiladas was the perfect end to the meal that can only be described as an "experience."
GRUET WINERY
You may not realize that New Mexico has a very long history of wine production, with over 60 wineries today. One of my favorite New Mexican wines is Gruet, a family-owned and operated winery in Albuquerque. You don't have to travel to Albuquerque to enjoy the delicious sparkling wines. I love visiting the Santa Fe tasting room, just off the Plaza connected to the gorgeous Hotel St. Francis. I opted for a rose-focused tasting – each wine was light, crisp, and perfect for a summer day. Reservations recommended.
PLAZA CAFE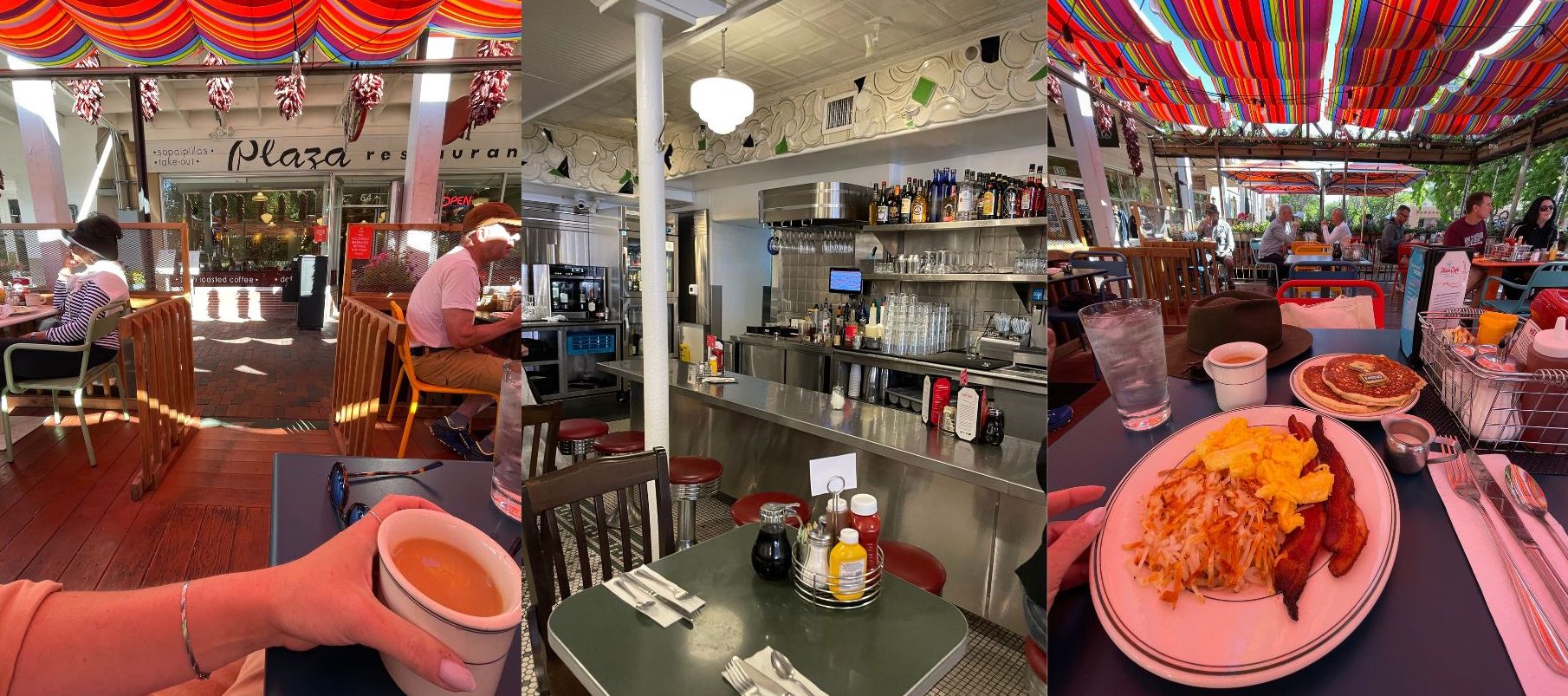 I always love visiting The Plaza Cafe, Santa Fe's oldest restaurant, for breakfast in town. The restaurant, which has been serving since 1905, is situated right on the plaza; the cafe combines New Mexican tradition with Greek and American influences to create an experience from each meal.
DETOUR TO VELARDE — BLACK MESA WINERY
I always love to detour to Black Mesa Winery on the road from Santa Fe to Taos. The family-owned and operated winery is located in Velarde, on the "low road" from Toas to Santa Fe. Established in 1992 by Jerry and Lynda Burd, a thriving winery and cidery started with a small vineyard and a vision to create high-quality wines. I loved my tasting in the tasting room and took a glass out to enjoy with the hummingbirds on the gorgeous property.
LEG 2 – SANTA FE TO TAOS – 1.5 HOUR DRIVE
Taos has long been an artist colony, with traditional adobe structures and a laid-back vibe. Nestled in the Sangre de Cristo Mountains, it is home to a World Heritage Site – Taos Pueblo, a world-class ski resort – Taos Ski Valley, and famously, Julia Roberts, who has long been a second homeowner. I visited Taos for the first time a decade ago and was immediately taken with the slightly mystical feeling that seems to permeate the town.
As time has passed, although Taos has undoubtedly received more visitation, it has managed to do what many tourist-friendly towns have not – it hasn't lost its charm.
WHERE TO STAY:
HOTEL LUNA MYSTICA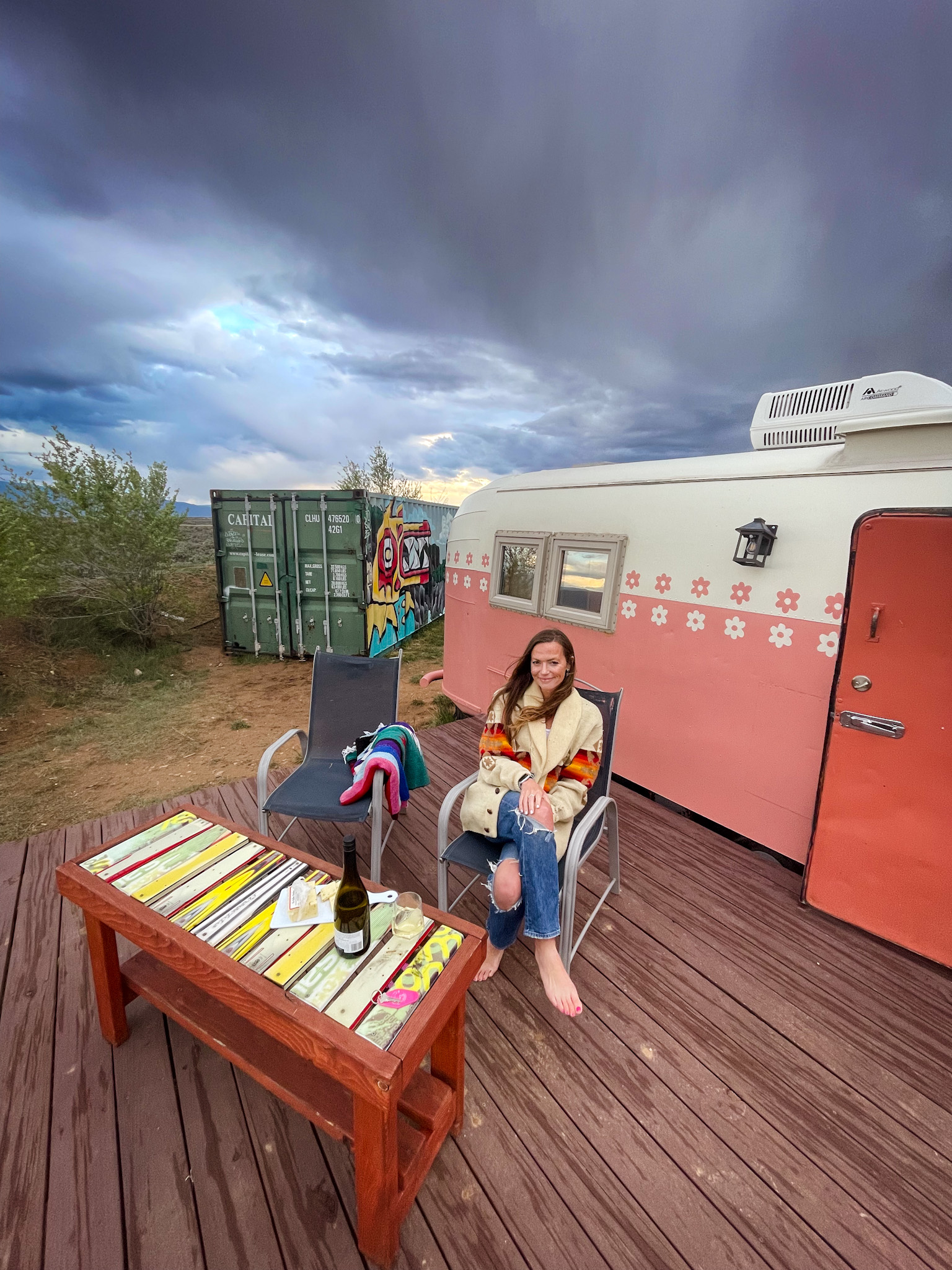 I love staying at Hotel Luna Mystica whenever I am in Taos. The vintage trailer hotel boasts 20 trailers and a campground with incredible mountain views. I have happily car camped throughout the years at Hotel Luna Mystica and was happy to spend a couple of nights on my last visit in "Louise," a 1967 restored Avion Tourist.
Located just 8 miles from downtown, each trailer has a deck, fire pit, bathroom, and kitchen facilities. There are also shower houses on the property and communal areas. Next door to the newly reopened Taos Mesa Brewery Mothership is the perfect place to unwind with a brew and a view.
AIRBNBS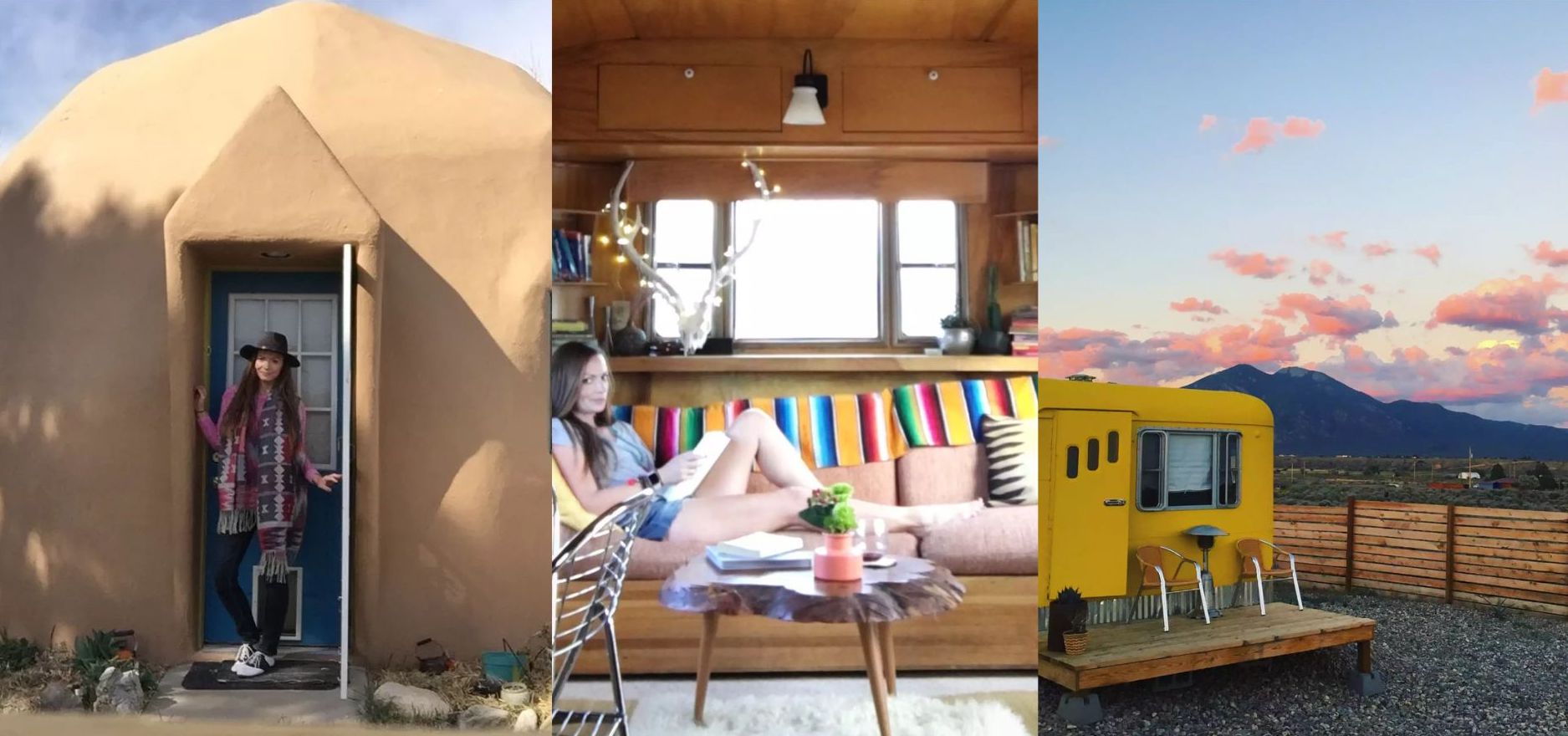 I have consistently found the most unique and well-priced short-term rentals in New Mexico, particularly Taos. You can find it here whether you opt for a vintage trailer, abode casita, yurt, earthship, or a geodesic dome.
WHAT TO DO:
TOUR EARTHSHIPS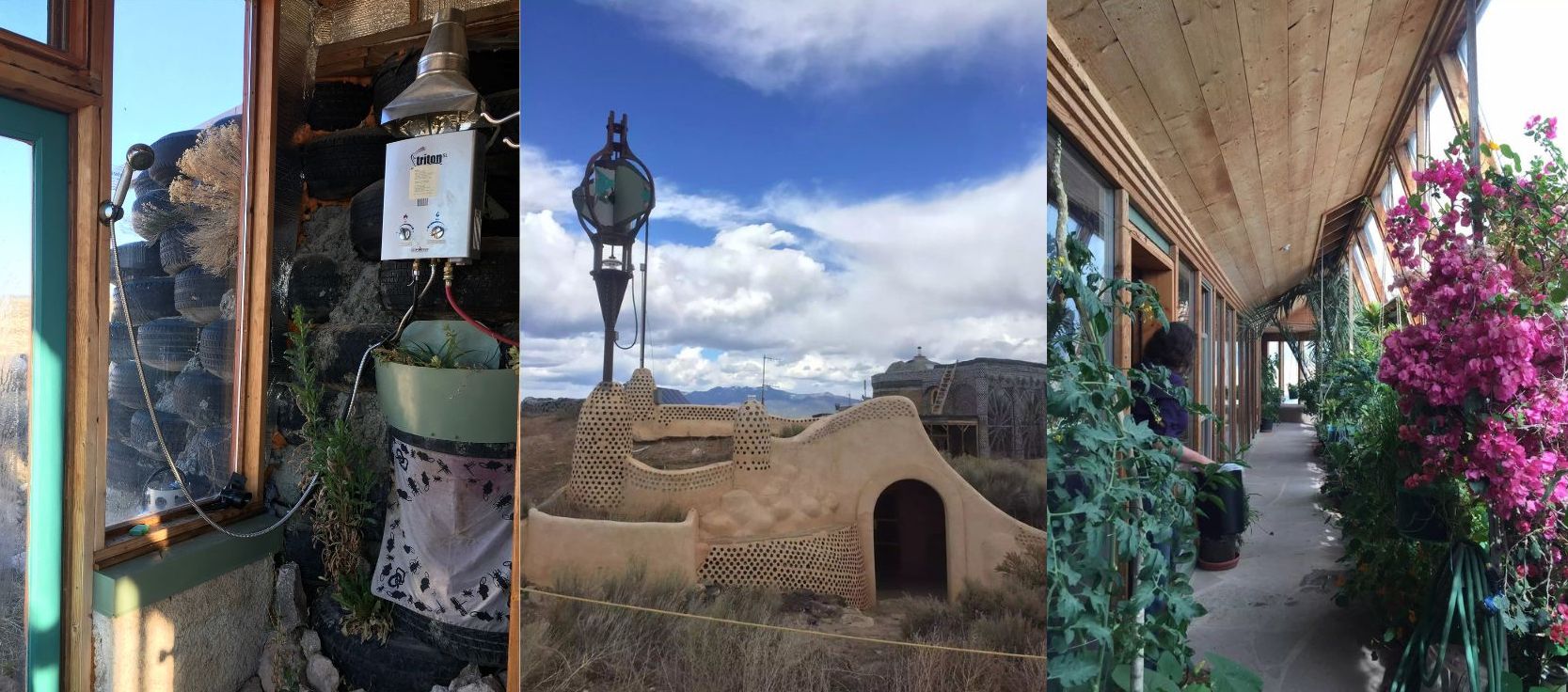 El Prado and the Earthship Biotecture World Headquarters are a few miles from Taos. An Earthship is a passive solar home made from recycled, salvaged, and up-cycled materials (tires, bottles, cans, etc.).
You can visit the model home, learn about Earthships, and rent one for the night. Architect Michael Reynolds started The community in Taos, but Earthships can now be found worldwide. It's a fascinating topic; the homes are super artistic and livable. Worth a visit on your road trip.
RIO GRANDE GORGE
You may be surprised that the United States Highway System's second-highest bridge is near town. At 650 ft above the Rio Grande River, the Rio Grande Gorge Bridge is simply a marvel of engineering – with incredible views. Whether you opt for a quick stop to peer into the gorge or a more extended visit spending time on the rim walking trail – one thing is sure – you will leave in awe.
WHERE TO EAT AND DRINK:
THE LOVE APPLE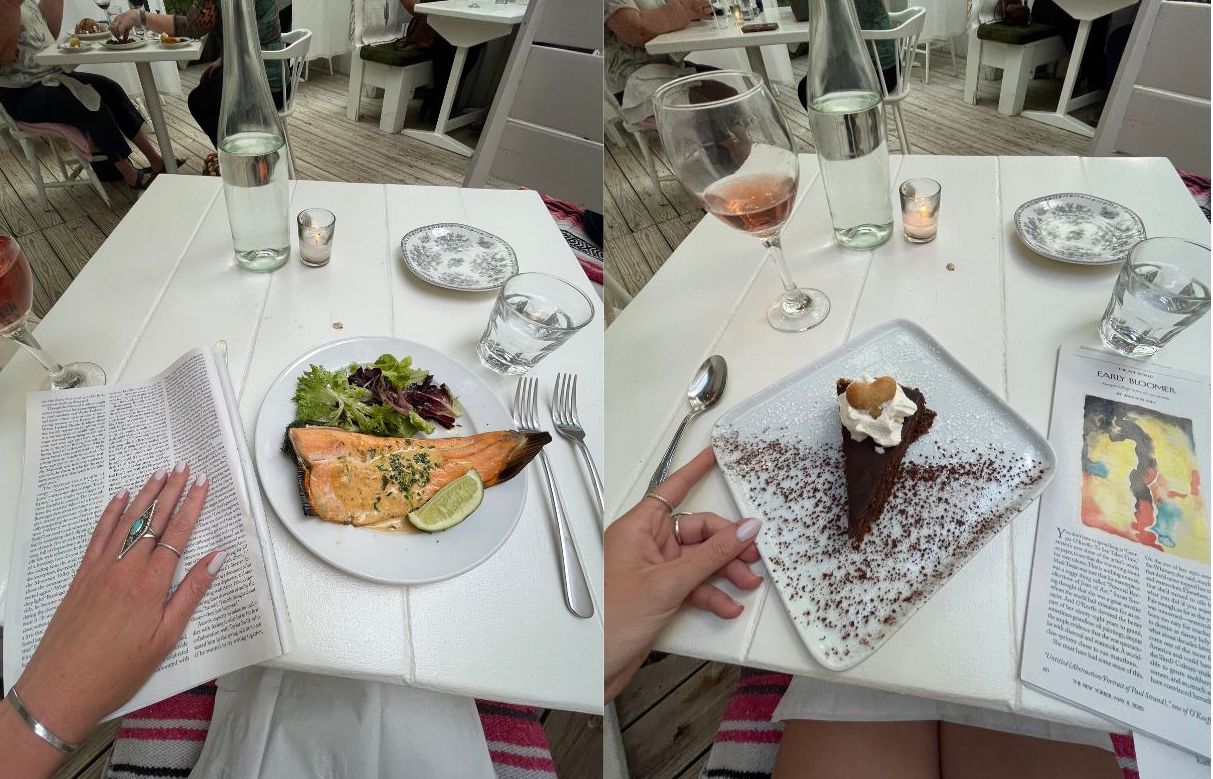 The Love Apple, my favorite rustic-chic restaurant in Taos, is housed in a former adobe chapel. Focusing on locally sourced ingredients and organic home cooking, the restaurant feels upscale and welcoming. Open Wednesday through Sunday for dinner; the cash or check-only establishment is well worth making a reservation and stopping by an ATM.
While the menu changes regularly, I enjoyed my dinner of trout followed by a heavenly chocolate dessert.
TAOS BREWING MOTHERSHIP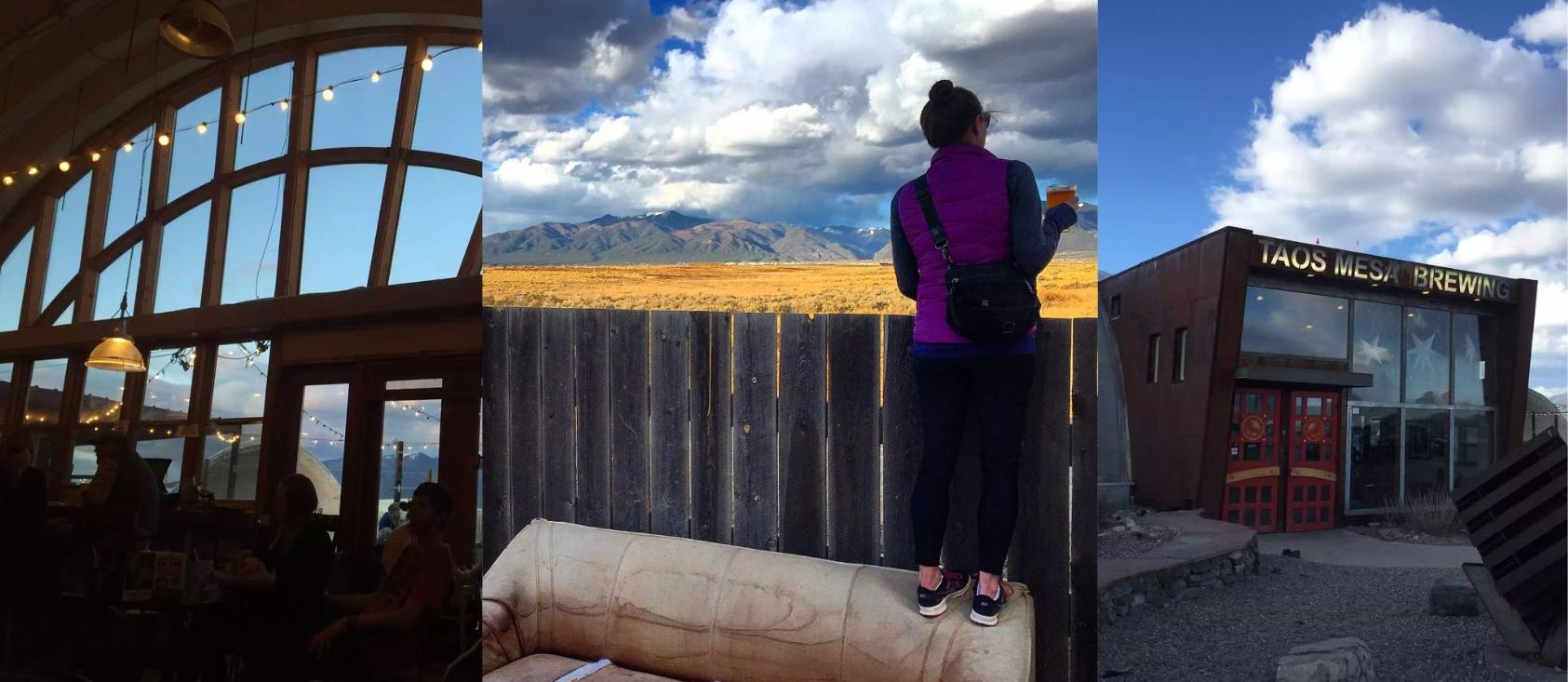 Next door to Hotel Luna Mystica is home to one of my favorite stops in town – Taos Mesa Brewing Mothership. The restaurant, brewery, and event space was built in the same sustainable building style as the Earthships down the road, with an incredible view of the majestic Sangre de Cristos. Unfortunately, the Mothership suffered from a damaging fire in 2020 and has been closed until this June.
I can't wait to return to watch an incredible sunset with a brew.
DETOUR TO RED RIVER — NOISY WATER WINERY
Nestled in the Sangre de Cristo Mountains at 8,750 feet, Red River is a picturesque mountain detour or getaway in its own right. I spent the afternoon exploring downtown and stopping at the Red River outpost of the Rudioso-based Noisy Water Winery. The wines are inventive, crisp, and delicious. I loved that the tasting was as educational as it was boozy – the perfect detour.
LEG 3 – TAOS TO CHAMA – 2 HOUR DRIVE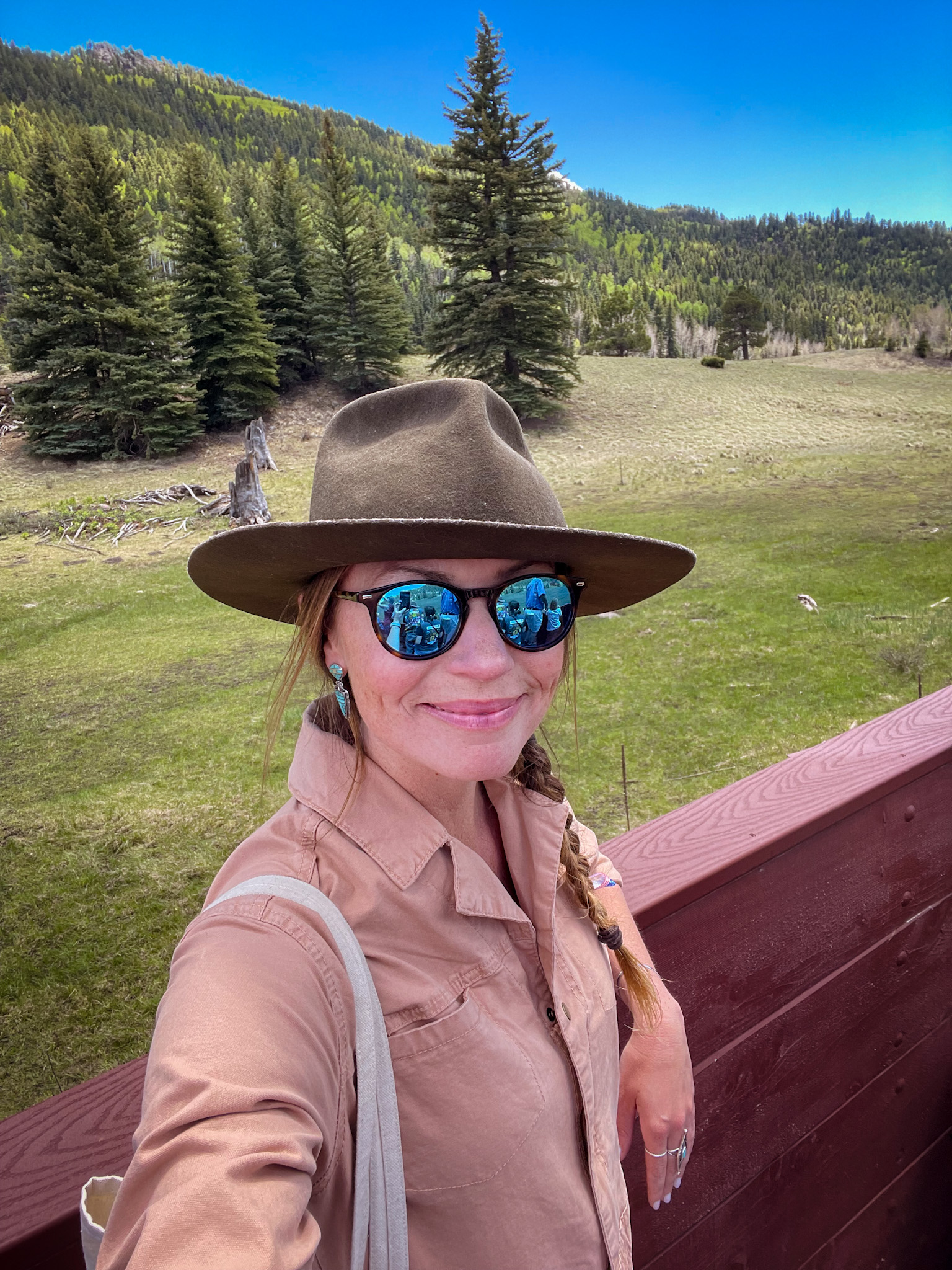 Chama is a small town on the New Mexico and Colorado border that may get less love than the other towns on this list. Still, the visitors who make the trek are rewarded with incredible mountain views, quaint restaurants and shops, and countless outdoor activities.
WHERE TO STAY:
CHAMA STATION INN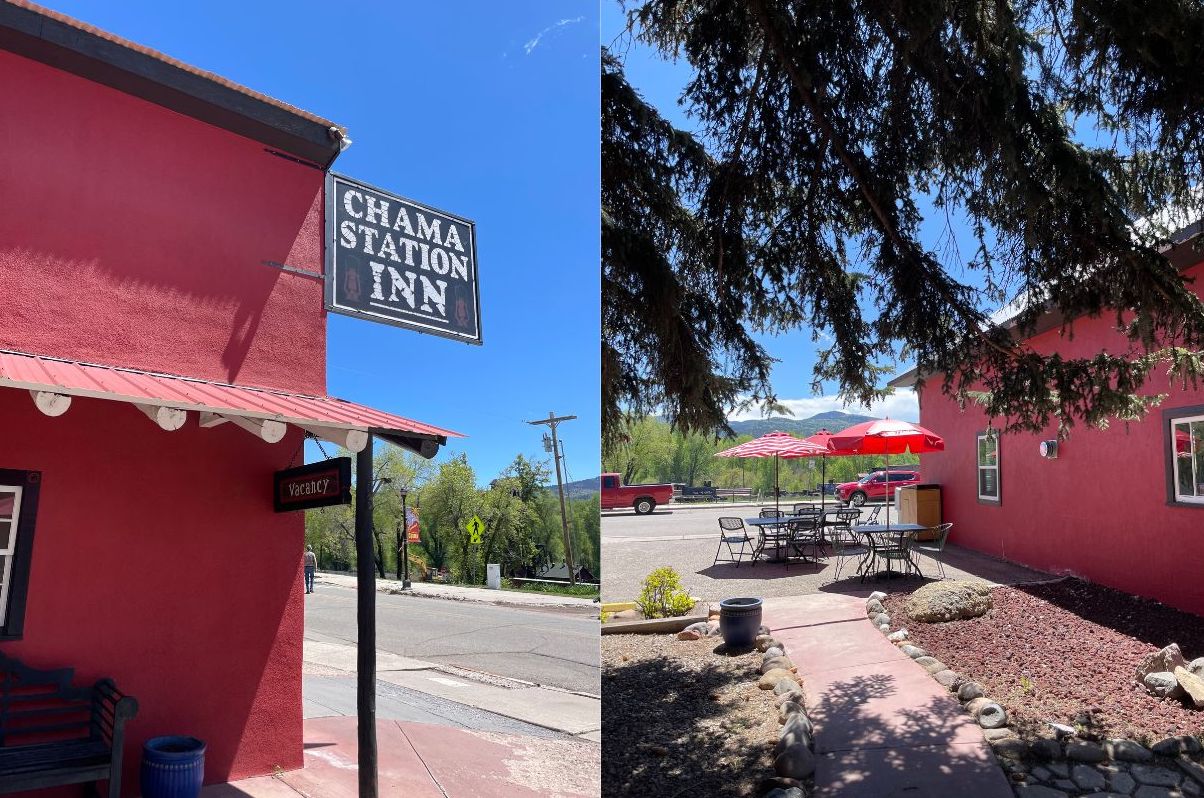 I stayed at Chama Station Inn while visiting Chama, across the street from the Cumbres and Toltec Scenic Railroad. The rooms were traditional and large – mine even had a kiva fireplace. The location can't be beaten – I walked everywhere in town – and the service was impeccable.
CORKINS LODGE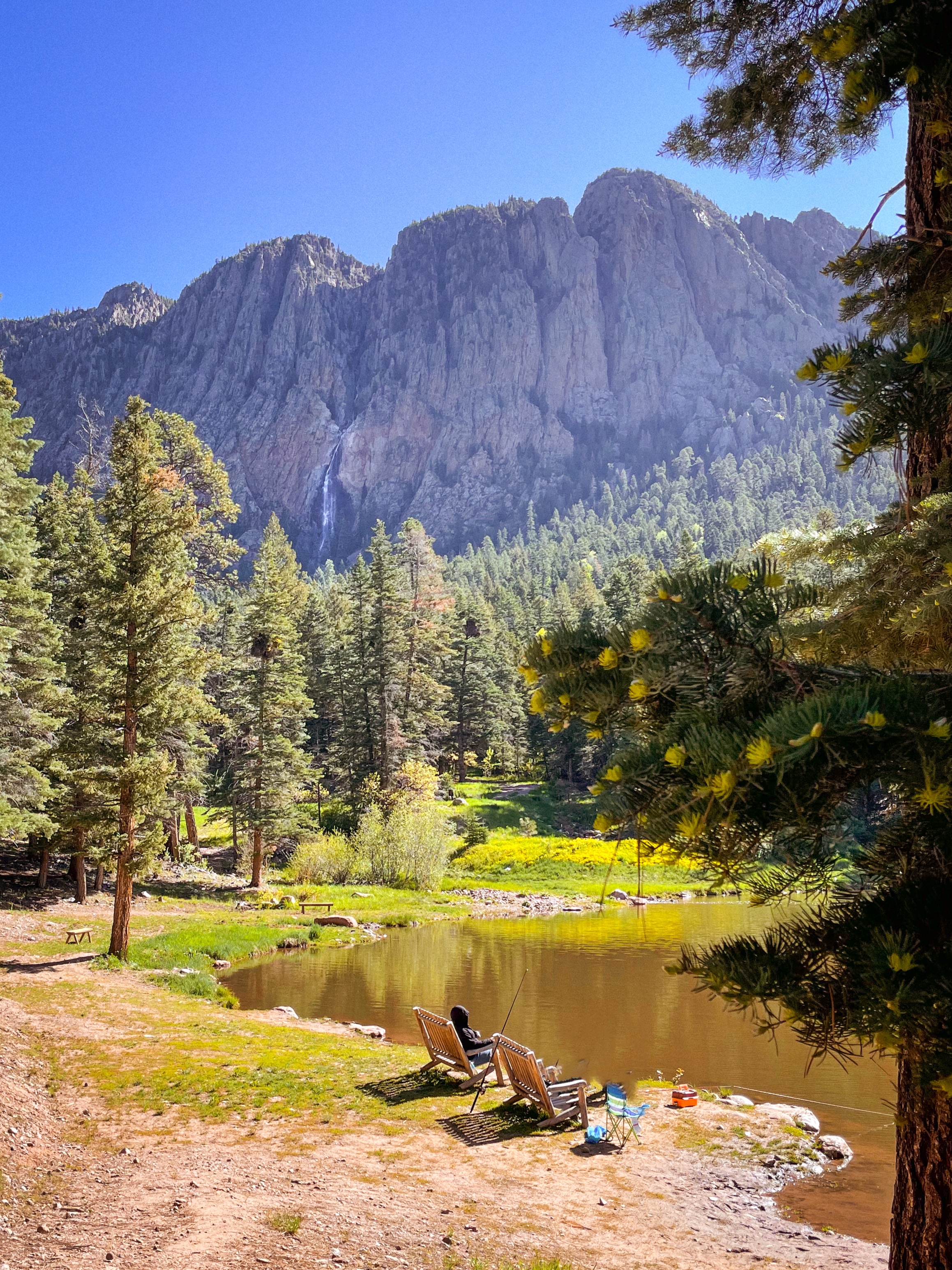 Another option a few miles outside of town is Corkins Lodge, a gorgeous property in the Brazos Cliffs with ten individual cabins and amenities like a swimming pool, game room, fly fishing, and hiking on the property. I was lucky enough to visit the property during the Spring Waterfall – the 2-3 week span when Brazos Falls runs to create New Mexico's highest waterfall at 2,400 ft. The only access to the falls is to lodge guests, making it an even more magical escape.
WHAT TO DO:
CUMBRES AND TOLTEC SCENIC RAILROAD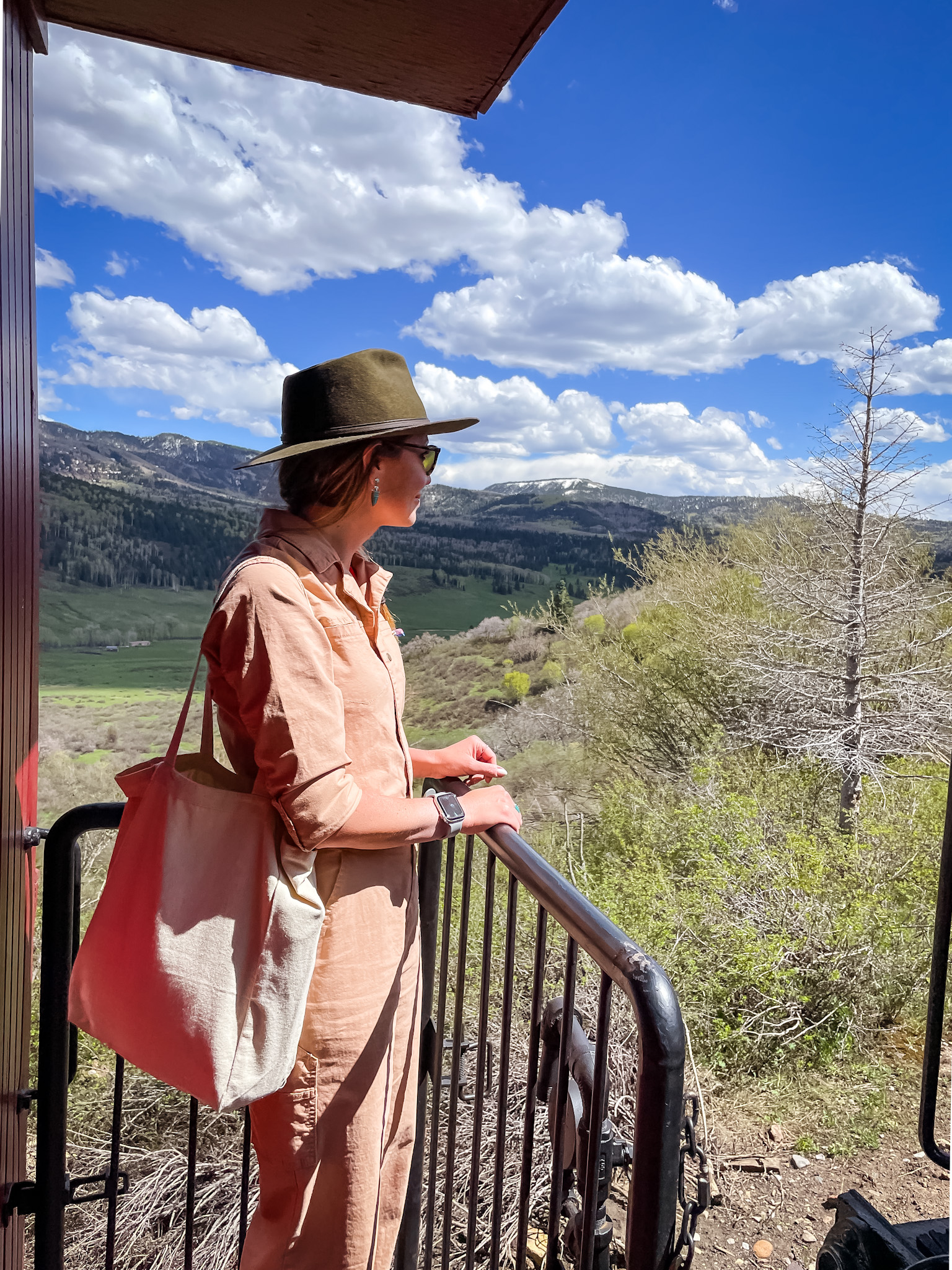 Many visitors come to Chama to take a ride on the Cumbres and Toltec Scenic Railroad. At 64-miles, and reaching over 10,000 ft of elevation it is the longest and highest steam railroad in North America. Owned by both New Mexico and Colorado the full route takes passengers over the states borders 11 times, with wildlife and incredible views the entire way.
I loved spending the trip on the open-air car (that is conveniently located next to the bar car) while climbing high into the alpine. We spotted sheep, horses, and even a bear during the educational and fun day trip.
WHERE TO EAT AND DRINK:
LOCAL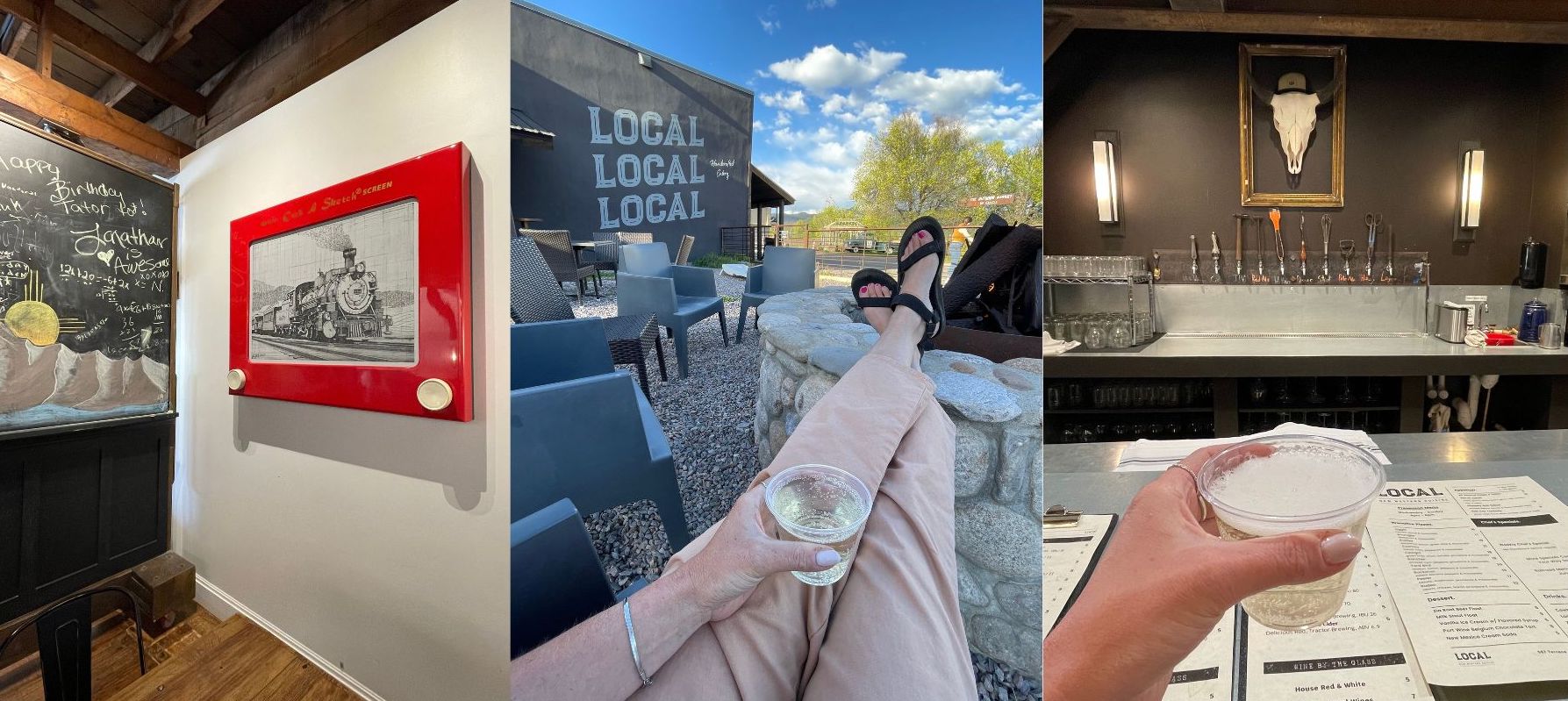 I loved walking down to Local for dinner and drinks by the fire after my trip on the railroad. Specializing in "New Western" cuisine, my calzone was tasty, the wine on tap was refreshing, and the vibe blended art and a "Western" ethos perfectly.
CHAMA ESPRESSO
Chama Espresso is a cute espresso bar and kitchen that's a great place to spend time working, meeting friends, or just picking up some breakfast. The atmosphere is unique and the drinks are well-made. A great stop that is walkable from downtown.
LEG 4 – CHAMA TO JEMEZ SPRINGS – 3-HOUR DRIVE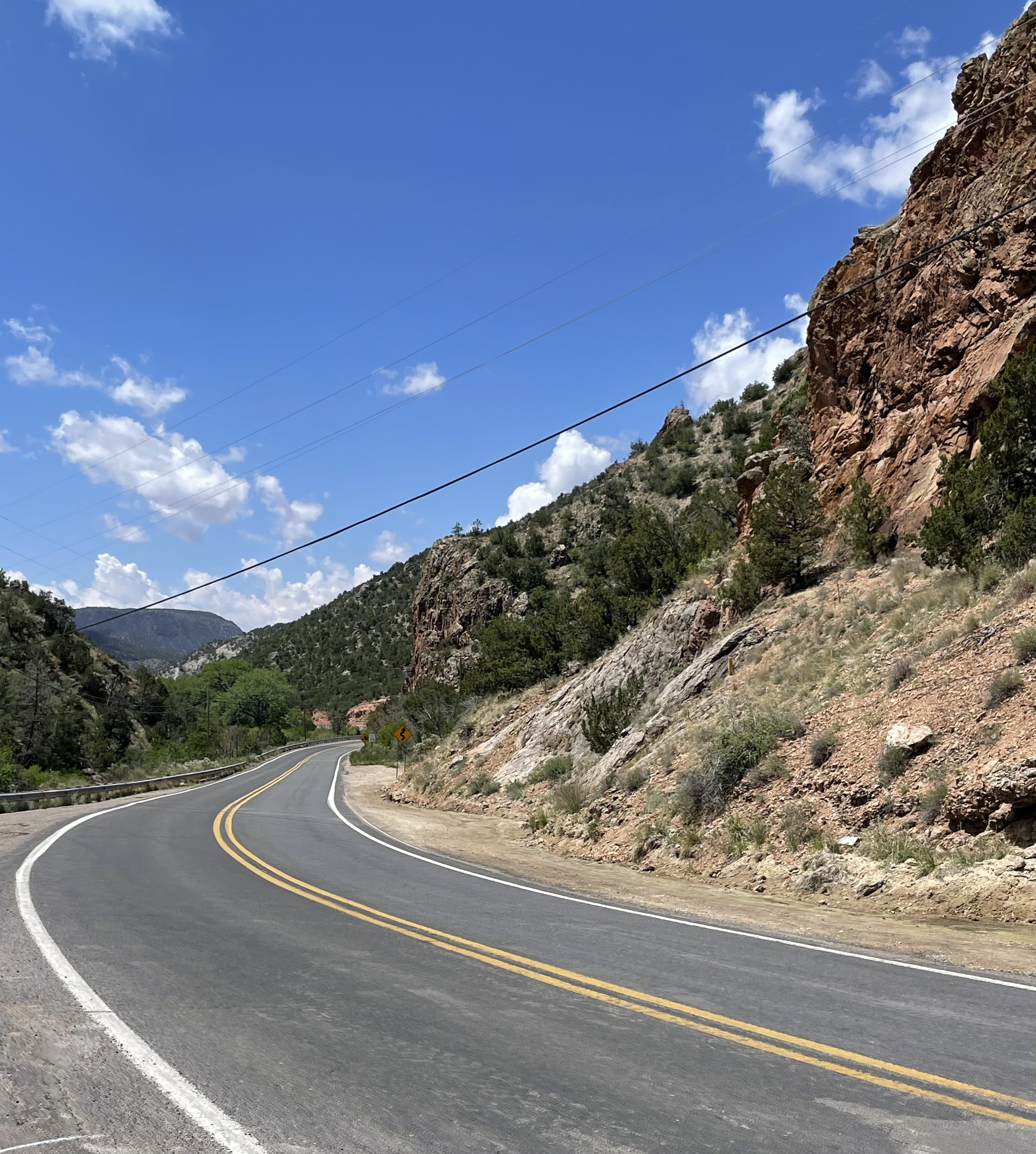 Jemez Springs is a small village in the Jemez Mountains within the Santa Fe National Forest. Known for its natural beauty, hot springs, and rich history, outdoor enthusiasts will find plenty of recreation opportunities.
The area offers hiking, fishing, camping, and gorgeous scenic drives. The tranquil and laid-back village has a small downtown area with shops, art galleries, and restaurants.
WHERE TO STAY:
CANON DEL RIO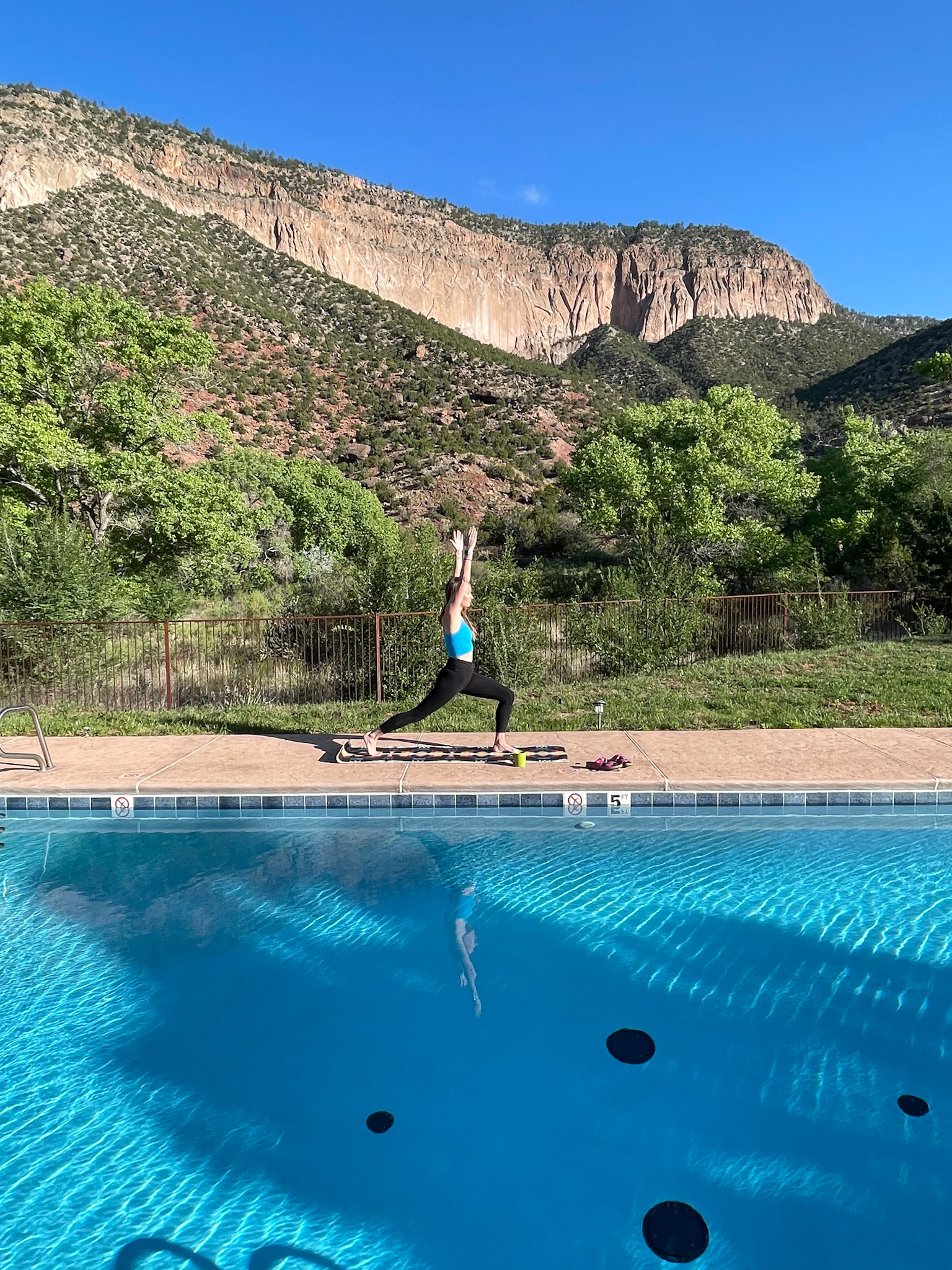 At the intersection of a Bed and Breakfast, luxury resort, and upscale spa lies Canon Del Rio in Jemez Springs. The gem is hidden in the canyons of Jemez Valley along the Jemez River. The sprawling New Mexican-style property boasts five guest rooms with full private bathrooms leading out onto an incredibly idyllic and scenic courtyard. I stayed in the "Apache" room. I enjoyed spending time in the hot tub watching the sunset, practicing yoga, and dipping into the pool in the morning after the provided breakfast in the communal kitchen. Next time I'd love to enjoy a massage in this paradise.
WHAT TO DO:
JEMEZ SPRINGS HOT SPRINGS
Unsurprisingly, Jemez Springs is known for its hot springs. Whether developed or primitive, there is an option for any hot water-loving traveler. Jemez Springs Hot Springs – formerly Giggling Springs – is popular with locals and visitors. Located right downtown, the hot springs offers several different hiking pools and lodging. The water originates from beneath the Valles Caldera National Preserve nearby and has been infused with minerals. Jemez Springs operates on a first-come, first-served basis, with no reservations allowed. You can soak for 1 hour for $25 or 2 hours for $50.
SPENCE HOT SPRINGS
Spence Hot Springs is a popular hike to a primitive hot spring outside Jemez Springs. The short 0.7-mile trail is rated moderate, with hot springs easily accessible to soak in or admire.
JEMEZ SPRINGS TO ALBUQUERQUE – JUST OVER AN HOUR
And there's your loop, folks — a true road adventure in one of the most scenic and certainly most underrated states in the country!