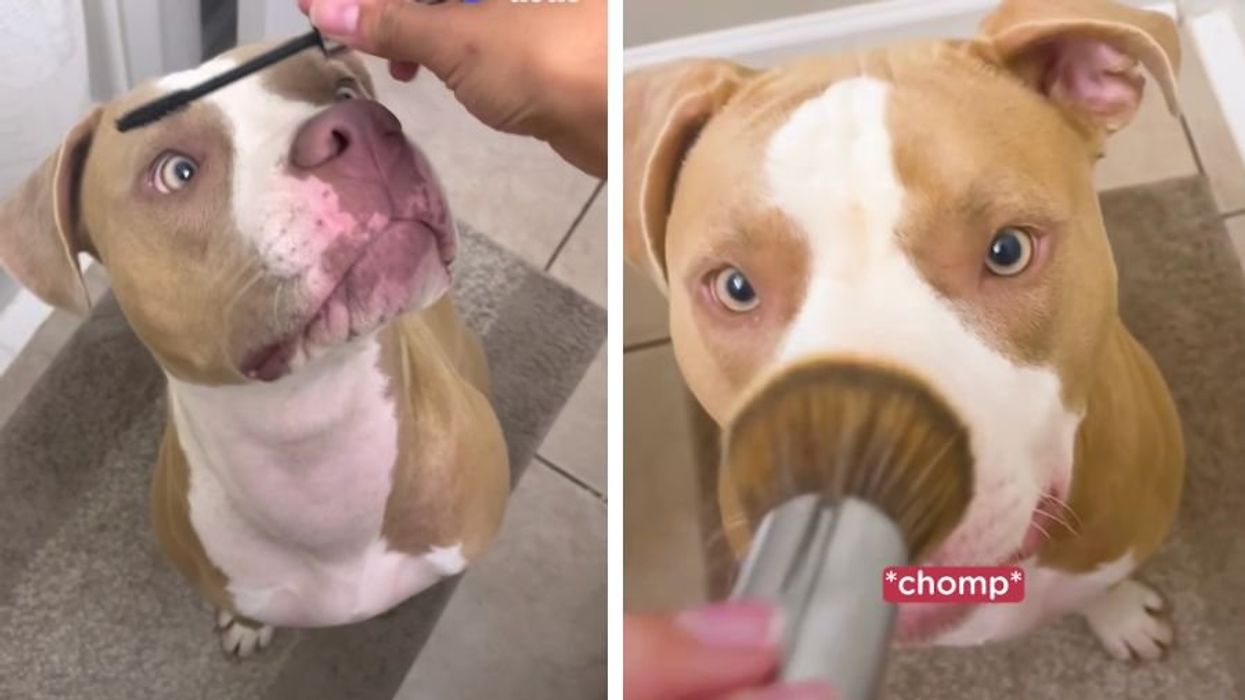 Dogs have pretty big personalities, and it seems like some just may have enough to share. There are dogs that enjoy dressing up in cute clothes and others that like to pretend all four of their legs are broken when it's time to take a walk. Then there are dogs like Nilla, who thinks anytime she sees her mom getting ready for the day, she also has to get a full face of makeup to start her day, too.
Cierra adopted Nilla when she was just a puppy, and they've become best friends who do lots of things together. One of those things is getting ready in the morning. While Cierra stands in front of her bathroom mirror to apply her makeup, Nilla will whine and bark at her mom, who is clearly hogging the blush.
It doesn't take long before Cierra gives in to the dog's demands and starts giving Nilla a full face of makeup. After all, dogs have to look beautiful as well.
---
Nilla sits patiently as her mom "applies" mascara and eyebrow pencil to her face. But as soon as Cierra takes too long with another product, Nilla is back to scolding her mom with high-pitched barks. Before long, the pittie is decked out with concealer, blush, highlighter and lipstick. Of course, none of this is actually applied to the dog's face, but she doesn't realize her mom is just pretending. In her mind, she's red carpet ready when Cierra is done with the puppy makeover.
"I bend down and pretend that I'm doing her makeup," Cierra told The Dodo. "I'll grab a beauty blender and do it on her cheeks. I did the blow dryer and then I did some concealer."
Nilla even gets fancy setting spray, and while she does try to eat the blush brush, she's a pretty good makeover candidate. You can watch her whole beautiful and amusing transformation below.