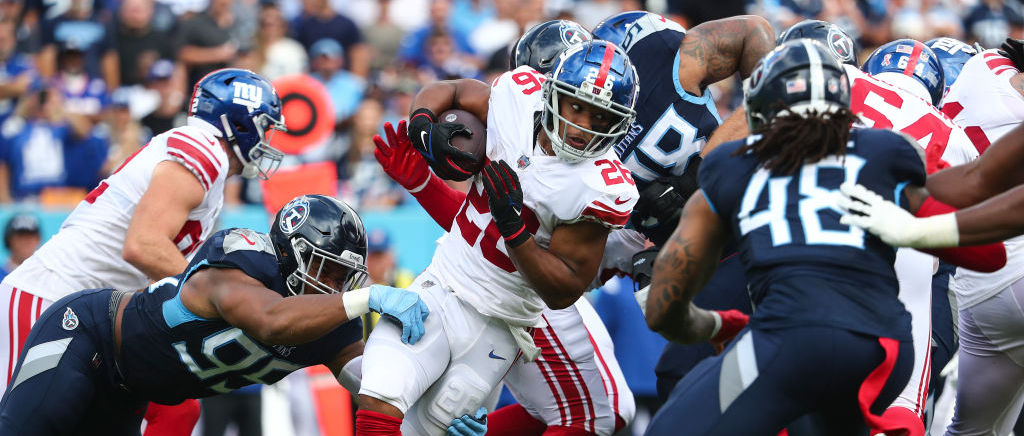 The running back market in the NFL has been getting worse and worse for players over the last decade, as offenses become increasingly pass-heavy and teams have shifted their valuation of the position to be one that is easiest to make a replacement at.
There are very few big money deals being given out, with Nick Chubb's 2021 contract being the last long-term running back deal given out with a $10+ million annual salary. Given the relatively short career-span of running backs, this poses a serious problem for their ability to maximize their earnings, as they aren't given big deals once they've produced at a high level on a rookie deal. This summer figured to provide the clearest indication yet of whether we'd see a shift in the running back market, as three highly productive backs were put on the franchise tag.
Saquon Barkley, Josh Jacobs, and Tony Pollard all had until 4 p.m. ET on Monday to reach a new long-term deal or play on the $10 million franchise tag, and none of them received an offer that was particularly close to their asking price. Pollard ending up on the tag was not a shock, as the Cowboys are just getting off of the monster deal they gave Ezekiel Elliott (one of the last of its kind) and while Pollard was a 1,000 yard rusher last year, he'll get a chance to be the clear lead back this season for the first time in his career.
Dallas RB Tony Pollard and the Cowboys officially did not reach agreement on a long-term extension before today's 4 pm ET deadline for franchise players to sign long-term deals this season. Pollard now will play on his one-year franchise deal before becoming a free agent in 2024.

— Adam Schefter (@AdamSchefter) July 17, 2023
However, Barkley and Jacobs are indicators of a much larger trend in backs simply not getting paid despite tremendous productivity early in their careers, and both have left their tags unsigned so they can sit out all of camp, if they choose.
Saquon Barkley and Josh Jacobs still have not signed their $10.091 million franchise tag tenders yet, so they can skip all of training camp without getting fined since they're not under contract. They would lose game checks only if they miss regular season games.

— Adam Schefter (@AdamSchefter) July 17, 2023
After two years derailed by injuries, Barkley returned last year to post the best season of his career since he was a rookie, rushing for 1,300 yards and 10 touchdowns as a focal point of the Giants offense as they made it back to the postseason. Jacobs, meanwhile, led the league in rushing with 1,653 yards and 12 touchdowns for the Raiders, where he has voiced his displeasure with a lack of a long-term for some time. Now, there's a genuine question as to whether Jacobs will even sign the tag and be on the field when the season starts, while Barkley is likewise expected to miss most all of camp.
Barkley, for his part, is taking it all in stride, posting a very simple message to Twitter.
However, backs around the league are taking notice of how teams are refusing to pay up for elite production, with Colts young star back Jonathan Taylor having this reaction to the deadline coming and passing with no deals done.
There are a number of factors in how we got here, but it certainly seems like we've reached a point where it's hard to figure out what a running back can do to get paid and also what a reasonable asking price is. It's clear teams are trying to drive values as low as possible at a non-premium position, shifting that money to the offensive line and receivers, but it's especially fascinating to see teams like the Giants and Raiders, who love to run the ball, balking at paying their bell cow backs who are so vital to their success.