The words "healthy" and "fast food" pretty much seem at complete odds with one another. But that doesn't mean that just because you're pressed for time, out of the house, and trying to get fed on the cheap, you have to subject yourself to total garbage, deep-fried food, and empty calories (ditch the soda… unless you really love it). Truth be told, underneath all the decadent double cheeseburgers, epic burritos, cheese fries, and spicy chicken sandwiches, there are some sensible well-balanced meals out there in the fast food landscape.
In the past, we broke down and ranked five of the most popular and healthiest fast food meals you can find right now, but that left a lot of different restaurants out of the picture entirely. If your favorite wasn't included in that short list, we feel you — which is why now we're shouting out the best-tasting healthy dishes at every major chain across the fast food universe.
Sadly, this is simpler/ shorter than it sounds — a lot of fast food joints have dropped any semblance of healthy eating from their menu.
Before we dive in let us say this: we're not saying these are the healthiest dishes at each restaurant. Instead, what we're looking for is something that is healthy and sensible from a caloric/sodium/fat content standpoint, but still tastes good and doesn't feel like you're compromising flavor in favor of nutritional stats. If a brand isn't on this list — Arbys, Burger King, McDonald's — it's because they aren't even trying to cater to the health-conscious anymore.
Let's dive in!
Chick-fil-A — Grilled Chicken Sandwich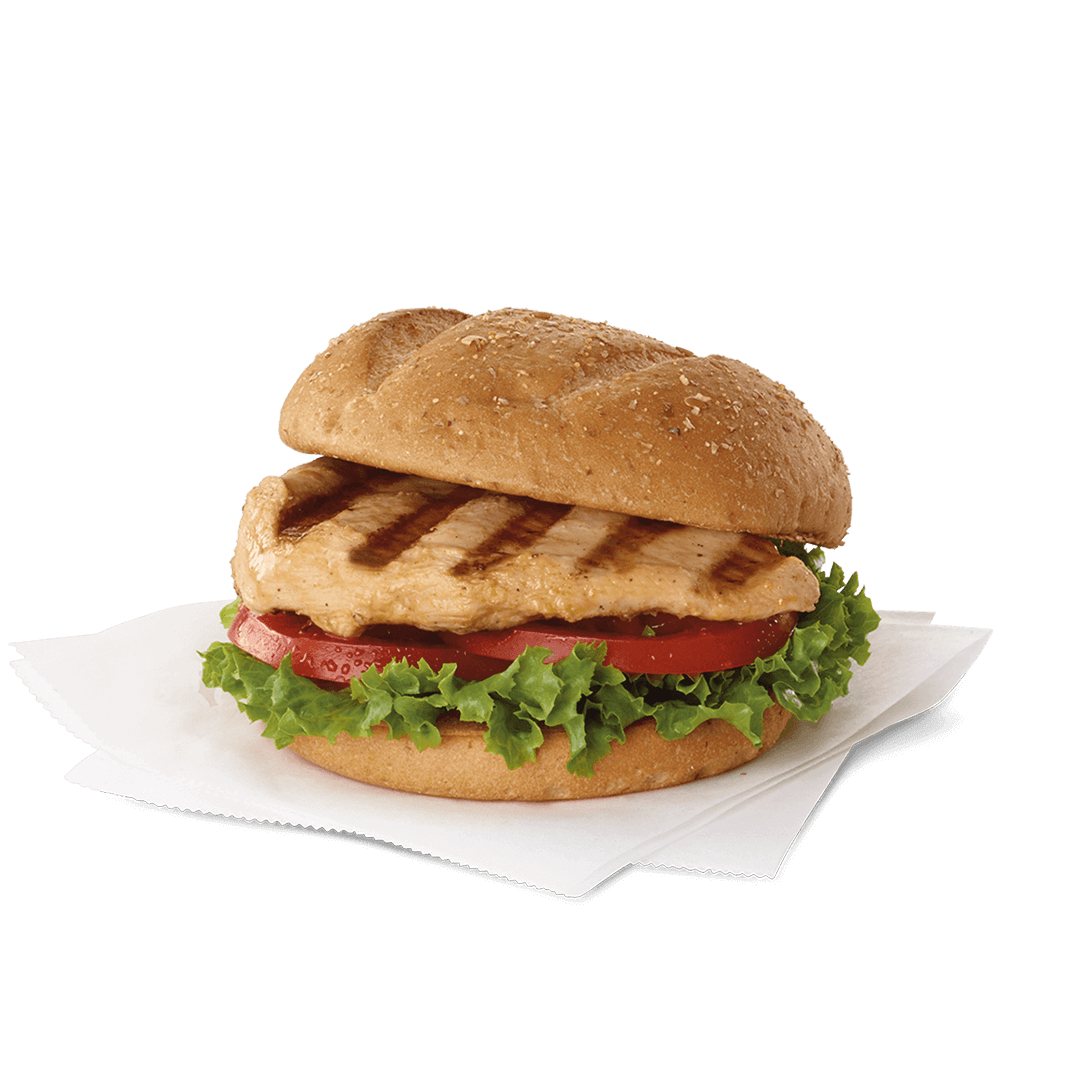 Calories: 390
Fat: 12g
Sodium: 770mg
Carbs: 44g
Protein: 28g
Tasting Notes:
It's easy to overlook Chick-fil-A's Grilled Chicken Sandwich because the chain is known for its fried chicken sandwich and it does that pretty damn well. But guess what? This just might be the best grilled chicken sandwich in the whole game!
Despite the way it looks, this chicken filet is incredibly juicy and well marinated with a lemon juice and black pepper-dominated flavor further seasoned by some grill-charred notes and a tender texture that is easy to chew through, no sauce required.
The sandwich is built on a multigrain bun with leaf lettuce and super ripe tomatoes which bring a nice fresh vibe to the whole sandwich. In fact, I think the lettuce and tomato work better here than on the fried version of the sandwich.
If you feel like cheating a little bit, go ahead and add cheese to this sandwich for an even better experience, your choices are American (gross), Colby Jack (delicious, creamy, and salty), and Pepper Jack (the best option).
The Bottom Line:
Good enough that once you have it, some days you'll opt for this sandwich over its fried counterpart.
Find your nearest Chick-fil-A here.
Chipotle — Uproxx Custom Burrito Bowl
Calories: 670
Fat: 21g
Sodium: NA
Carbs: 78g
Protein: 44g
Tasting Notes:
This is probably the third or fourth time we've recommended four custom Chipotle Burrito Bowl build, but we're not going to stop anytime soon because we have created, without a doubt, the best Chipotle Burrito Bowl ever.
We did extensive building to get this just right. Here's the build:
barbacoa
pinto beans
white rice
extra fajitas
tomatillo red salsa
roasted corn salsa
cheese
lettuce
a drizzle of jalapeño tabasco (which for some reason Chipotle keeps by the soda machine).
What you'll get with that build is forkful after forkful of smokey, earthy, and spicy flavors that finish sweet courtesy of a mix of cumin, oregano, and other spices. Best of all, thanks to the fajitas, this dish is incredibly aromatic and the way the flavors soak into the rice is heaven for your palate.
We went with white rice for our build and we think the stats look great, but feel free to up the fiber by swapping white rice for brown.
The Bottom Line:
Just try it, you won't be disappointed. If you're going Keto, check out our keto bowl build here.
Find your nearest Chipotle here.
El Pollo Loco Classic Double Chicken Chopped Salad
Calories: 490
Fat: 14g
Sodium: 900mg
Carbs: 14g
Protein: 48g
Tasting Notes:
The best thing about El Pollo Loco is just about everything on the menu is healthy, it's all based on flame-grilled chicken, so you can't really go wrong with this entire menu. Having said that, if you want one of the healthiest dishes that doesn't skimp on flavor, you have to go with the Double Chicken Chopped Salad.
It's more chicken than you'll need (which is a good problem to have) mixed with buttery slices of fresh avocado, earthy pumpkin seeds, creamy queso fresco, some admittedly forgettable greens, spicy and fresh pico de Gallo, and a nice creamy cilantro dressing that enhances the freshness of the salad with a cool peppery finish. But why stop at the cilantro dressing? Add avocado salsa to the whole thing for a sharp kick of heat.
It comes dangerously close to besting what Chipotle has to offer at less than half of the price.
The Bottom Line:
Hands down one of the best salads in all of fast food.
Find your nearest El Pollo Loco here.
Jack in the Box — Chicken Fajita Pita
Calories: 320
Fat: 9g
Sodium: 67-mg
Carbs: 34g
Protein: 27g
Tasting Notes:
Jack in the Box used to have a variety of delicious salads that were operating on the level of Wendy's and then the pandemic happened and fast food brands started to ditch salads completely to simplify their menus. So unfortunately, while I would've liked to recommend the Southwest Chicken Salad from Jack in the Box, it's not a thing anymore — so I'm going with the Fajita Pita.
This sandwich (wrap?) isn't the best I'm not going to lie, it features bland grilled chicken, shredded cheddar cheese, lettuce, grilled onions, and tomato all mixed together and served in a whole grain pita with a side of roasted salsa. The salsa, grilled onions, and tomato do a lot of the flavoring for this thing — it's savory and has a slight umami-backed flavor to it — but alas, it never really satisfies the way you want it to. It feels like it's missing some crucial ingredient to wrap it all together.
So why did it make this list? Because it's the only relatively healthy thing you can order at Jack in the Box, and that's something right? Right?!
The Bottom Line:
Skip this one, but if you end up at a Jack in the Box and want something relatively healthy this is your best option.
Find your nearest Jack in the Box here.
Panda Express — String Bean Chicken Breast
Calories: 190 + 380 (White Rice)
Fat: 8g
Sodium: 840mg
Carbs: 34g + 87g (White Rice)
Protein: 19g + 7g (White Rice)
Tasting Notes:
Panda Express has a whole bunch of different delicious and sensible protein options on the menu, but the String Bean Chicken Breast is hands down our favorite, it also has the least amount of calories — so it really feels like a win-win.
Sampling this dish in preparation for this article made me realize that I've been sleeping on Panda Express, this is some deliciously flavorful food.
The chicken is tender and juicy with a soft floral ginger flavor and a touch of sweetened soy sauce, which works well with the vegetal qualities and wonderful crunch of the string beans and onions. It's delicious enough that you could eat a bowl of just the chicken and veggies and be satisfied, no rice required.
But rice certainly makes it a meal, so we included the stats assuming you're going to get rice.
The Bottom Line:
Delicious and incredibly flavorful without compromise.
Find your nearest Panda Express here.
Flame Broiler — Chicken Veggie Bowl with Avocado
Calories: 780
Fat: 4.5g
Sodium: 1250mg
Carbs: 102g
Protein: 53g
Tasting Notes:
If you're looking for the best teriyaki bowl from a fast food chain restaurant, nobody does it like Flame Broiler (your local Japanese teriyaki bowl place is likely even better, but those are few and far between). The chicken is fresh, never frozen, and grilled to perfection.
Our favorite bowl is the veggie bowl which features steamed carrot and broccoli, white rice, and chicken cooked in what Flame Broiler calls "Magic Sauce," which is a bold thing to call something that is essentially a cheap form of teriyaki sauce that goes heavy on the sweetness.
In addition to the magic sauce, Flame Broiler also provides Hot Sauce, Jalapeño hot sauce, and Seoul Scorcher. None of these sauces are quite as good as the magic sauce, but if you're looking or some extra heat definitely grab the Seoul Scorcher — it tastes a bit like gochujang.
Flame Broiler's flavors are simple, just heavily charred chicken over neutral white rice and bright steamed veggies with a touch of sweetness. Where the bowl really comes alive is by adding slices of fresh avocado, which adds a savory and buttery component that pairs really nicely with the flame-forward flavor of the chicken.
The Bottom Line:
The gold standard for fast food teriyaki bowls.
Find your nearest Flame Broiler here.
In-N-Out — Tomato Wrap Cheeseburger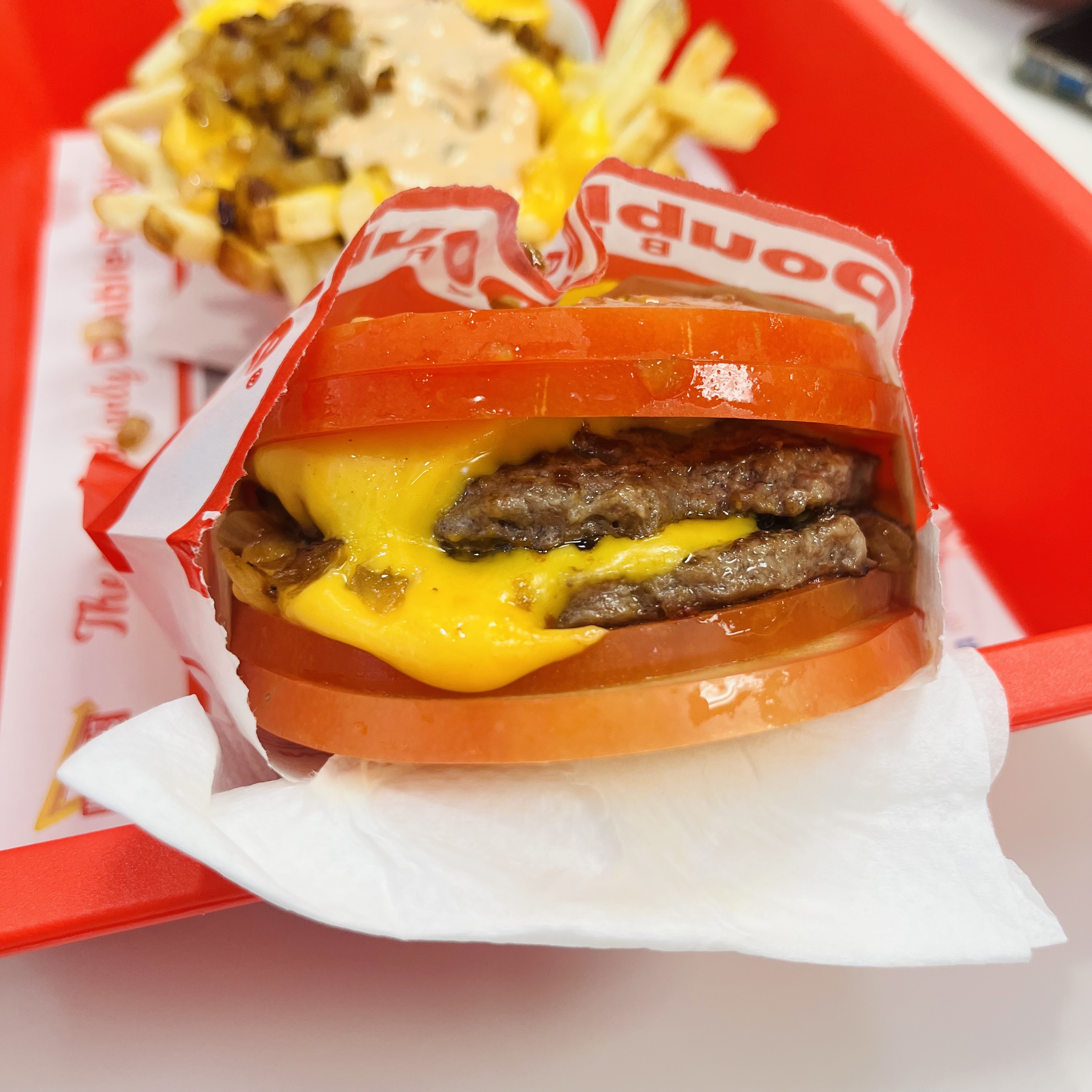 Calories: 520
Fat: 39g
Sodium: 1160mg
Carbs: 11g
Protein: 33g
Tasting Notes:
The In-N-Out Tomato Wrap dunks on the Protein Style. Instead of wrapping your delicious salty cheeseburger in lettuce, which just creates a mess, opt to have it wrapped in tomato instead. You get four slices of juicy thick tomato serving as the perfect bun, best of all with four tomatoes this burger is so juicy that you don't even need sauce, which will save you nearly 100 calories.
The combination of grilled onions, juicy tomato, and meat will provide a savory umami-packed flavor that is as mouthwatering as a burger with a bun.
The Bottom Line:
Better than lettuce wrapped — try it and you'll never look back.
Find your nearest In-N-Out here.
Panera — Napa Almond Chicken Salad on Country Rustic Sourdough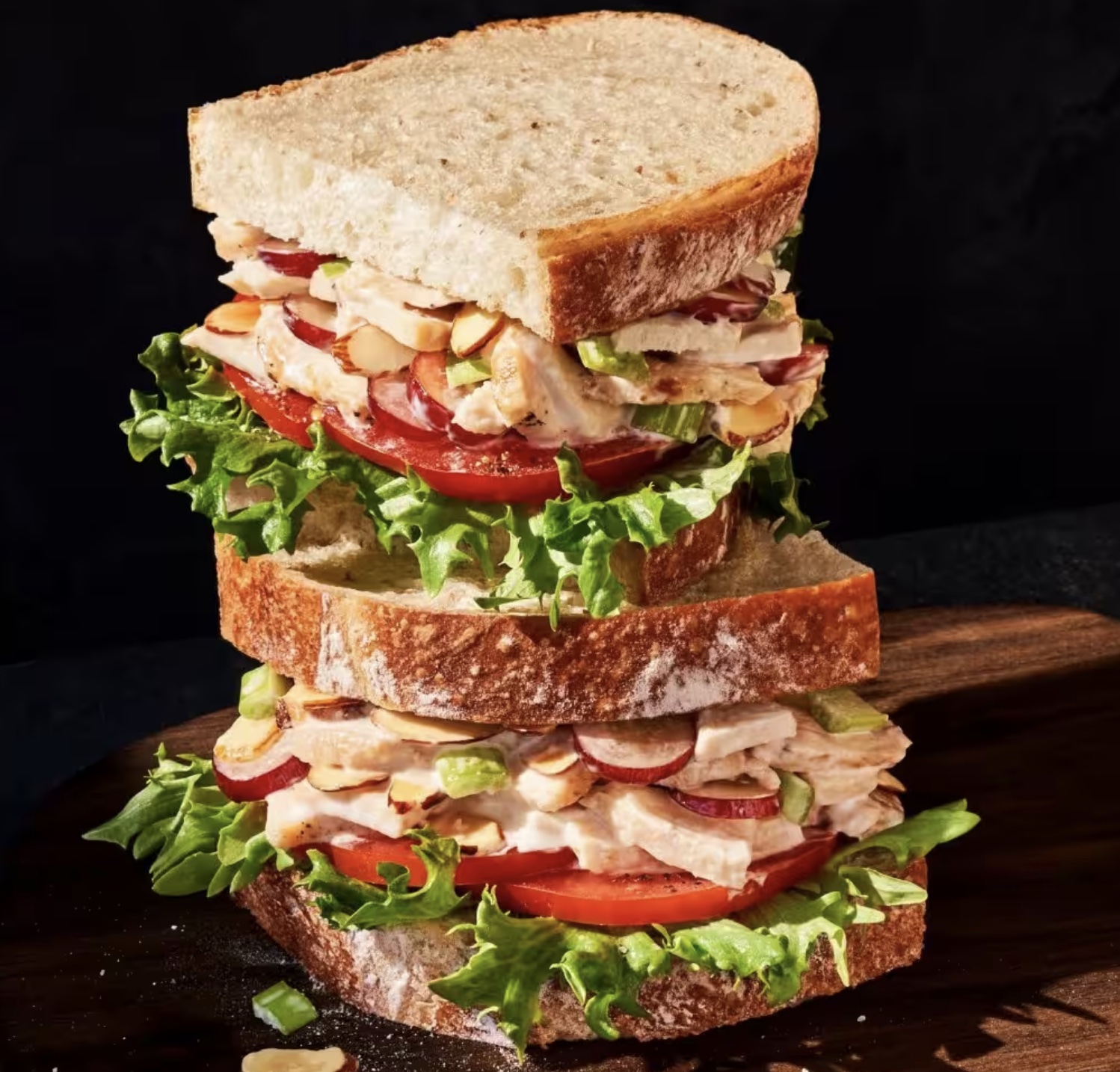 Calories: 640
Fat: 25g
Sodium: 970mg
Carbs: 78g
Protein: 27g
Tasting Notes:
Chick-fil-a's grilled chicken sandwich is what I call a "starter sandwich." It gets you comfortable with the idea of a grilled chicken sandwich over a fried one, but if you want something that truly goes all out while still being healthy and sensible, you have to go with Panera's Napa Almond Chicken Salad on Country Rustic Sourdough.
The sandwich features sliced chicken, celery, red grapes, toasted almonds, tomatoes, greens, and salt and pepper, all brought together with a sweet honey and vinegar-based sauce served over some tangy and wonderfully chewy sourdough.
This is a treat for the palate, it combines pleasing bitter notes with nutty tones, earthy and fragrant pepper notes, bright vegetal qualities, and a hint of sweet sour goodness. The sauce and tomato end each bite with a tangy and savory umami quality that makes this sandwich incredibly satisfying.
The Bottom Line:
An elevated fast food grilled chicken sandwich on delicious bread. Level it up (and up the calories) with some fresh avocado.
Find your nearest Panera here.
Starbucks — Spinach Feta and Egg White Wrap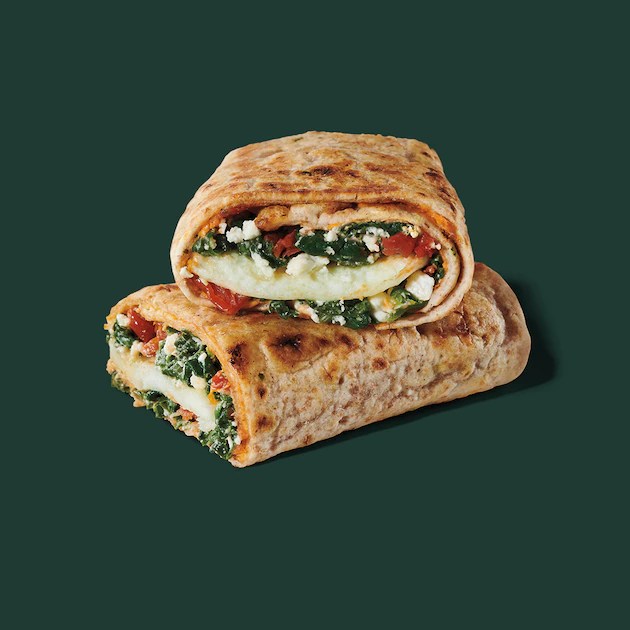 Calories: 290
Fat: 8g
Sodium: 840mg
Carbs: 34g
Protein: 19g
Tasting Notes:
Here is the thing about the Starbucks Spinach Feta and Egg White Wrap — it is easily the weakest option on this entire list. My suggestion is to actually skip out on food entirely from Starbucks and just grab a pack of Madelines, but that's not exactly healthy, is it?
As it stands, this wrap will have a small footprint in your overall daily intake of calories and fat while providing enough protein and energy to get you through a good chunk of hours. The wrap features egg whites mixed with spinach, feta cheese, and sun-dried tomato cream cheese in a wheat wrap.
The dominant flavors are a mix of dirty salty flavors with a bright and tangy aftertaste courtesy of the sun-dried tomato cream cheese.
The Bottom Line:
It'll satisfy for a couple of hours, but it's not the most exciting meal you'll ever eat. Having said that, nothing at Starbucks is — people who buy food from Starbucks are weird!
Find your nearest Starbucks here.
Taco Bell — Black Bean Crunchwrap Supreme
Calories: 520
Fat: 18g
Sodium: 1100mg
Carbs: 77g
Protein: 13g
Tasting Notes:
Originally we were going to shout out the Power Bowl as the prime healthy option at Taco Bell but… have you ever had a Power Bowl? It's awful. Mostly because it relies too heavily on rice and lettuce, two ingredients that Taco Bell straight-up sucks at.
So we're going with the Black Bean Crunchwrap Supreme. Is it sodium and carb-heavy? Yes, but it's delicious, and a meal that'll satisfy as good as a burger with less than half the calories.
This Crunchwrap features a mix of black beans, nacho cheese sauce, tomatoes, reduced-fat sour cream, and lettuce, on top of a tostada shell wrapped in a giant flour tortilla. The black beans add texture and a heavy earthy flavor, while the cheese sauce brings in a strong salty component to this super crunchy meal. The rest of the ingredients are there simply there for texture.
The Bottom Line:
Watch your sodium intake, aside from that the Black Bean Crunchwrap is a hearty yet sensible meal.
Find your nearest Taco Bell here.
Waba Grill — White Meat Chicken Veggie Bowl
Calories: 710
Fat: 5g
Sodium: 2505
Carbs: 113g
Protein: 47g
Tasting Notes:
Generally, in a chicken teriyaki rice bowl, I'll opt for dark meat because it's significantly more flavorful and much juicier than white meat, especially white meat that has been flame grilled. But at Waba Grill I'm going to have to recommend the white meat, Waba's dark meat is way too fatty and chewy. Calorically, it's the same, but I saved you at least a couple of fat grams, so — you're welcome!
This bowl features grilled white meat, steamed rice, broccoli, and carrot. The sauce, which is a simple teriyaki-style sauce (it lacks the complex and sweet mirin and sake blend that makes true teriyaki sauce have such a nice depth of flavor) is cooked on the chicken, which caramelizes really nicely and provides enough sweet flavor that you shouldn't need any extra sauce. The broccoli supplies some bitter earthiness which works as a nice counterbalance to the sauce while the carrot enhances and deepens the sweet flavors.
My only criticism is that I would prefer a bit more char on the meat. You can order this bowl with brown rice, but I find Waba Grill's brown rice to be very mushy.
The Bottom Line:
A delicious healthy meal that doesn't sacrifice flavor in any way. It's not quite as good as Flame Broiler, but it's close.
Find your nearest Waba Grill here.
Wendy's — Apple Pecan Salad
Calories: 450 + 90 (Dressing)
Fat: 25g + 3g (Dressing)
Sodium: 1230mg (Fried Chicken) + 190mg (Dressing)
Carbs: 28g
Protein: 32g
Tasting Notes:
Wendy's is one of the few big fast food brands that still have salads, and that is thanks to the fact that Wendy's is one of the few big fast food brands that can put together a decent salad in the first place. The Apple Pecan combines diced red and green apples, pecans, cranberries, and bleu cheese crumbles, and is topped with either Wendy's spicy, homestyle, or grilled chicken served over some romaine and green leaf lettuce.
The flavors are a shifting mix of salty, sweet, fruity, and nutty sensations which are pulled together by Wendy's pomegranate vinaigrette dressing — which helps to accentuate the sweetness from the apples and cranberry — and the tartness from the… cranberry and apples. It's a really well-thought-out and considered salad and, unfortunately, you don't see too much of that in fast food anymore.
The Bottom Line:
A delicious salad that actually tastes like someone somewhere thought really hard about how these flavors complement and elevate one another.
Find your nearest Wendy's here.