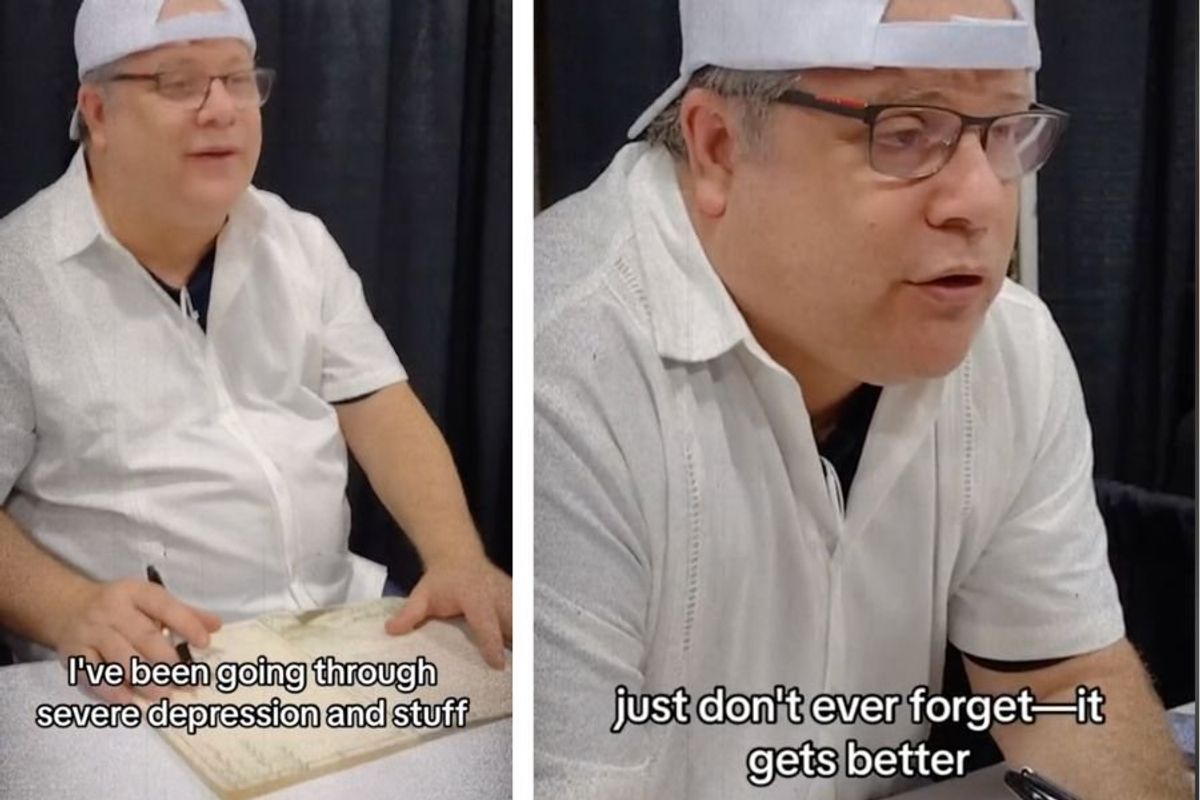 Depression hits different folks in different ways. But whether it's an occasional episode of the blues or more long-lasting, debilitating clinical depression, there are two factors that only make the ache worse: one, the pervading loneliness from feeling like no one can possibly understand what you're going through, and two, wondering if the storm will ever truly pass.
That's why an encouraging word from a loved one can be helpful during these low episodes. Or in this case, from Samwise Gamgee.
"Lord of the Rings" actor Sean Astin was recently signing autographs at Knoxville's Fanboy Expo when a female fan (@easttnelvira on TikTok) opened up about how one of his character's iconic lines had been helping her through "severe depression."
---
Astin knew exactly what line she was referencing, and without missing a beat said, "Even darkness will pass and a new day will come."
But he didn't stop there. Astin then validated the woman's experience in a lighthearted way ("You know what the best part about severe depression is? NOTHING! It blows!") before reminding her that, just as the quote promises, "It gets better."
He even took her hand, looked her right in the eyes, and said, "You know what's wrong with you? Nothing. Absolute nothing. I'm sorry it's hard sometimes…Be strong. I love you."
Can you believe that? Girlie came for an autograph but unlocked a new core memory instead.
In the clip's caption, the woman wrote, "I am so glad this was captured on video to remember this moment, cherish, and reflect on anytime I am feeling down. I hope anyone else who struggles with depression takes his words and kindness to heart too."
Even her boyfriend, who filmed the whole thing, felt some residual joy. "I can say with confidence she was overwhelmingly ecstatic to the point of happy tears. This meant the world to her and seeing the person you love that happy was a moment I'll remember forever," he wrote.
As the touching interaction began making the rounds on TikTok and Reddit, viewers couldn't help but praise Astin for showing authentic compassion.
"He said it with the conviction of someone who means it 100%," one person wrote.
Another added, "All that validation with a good solid bit of empathy and encouragement. This is a VERY thoughtful and helpful way to reply."
Some were quick to point out that Astin's mother, sitcom actress Patty Duke, had her own struggles with bipolar disorder, which led her to become a mental health advocate. Astin has followed in his mother's footsteps, regularly championing the importance of seeking help and self-forgiveness
And then, of course, some folks just wanted to bask in how Astin is one of the nicest guys in Hollywood. As one person commented, "Oh Sean, you are one of the good ones from my generation. We are lucky to have grown with you and see how great you've become."
"That is a man who has seen every fan, done every photo, shaken every hand. And he's still out here, loving and caring for people," seconded another.
Be it carrying a cursed ring back to Mordor whence it came, or carrying a heavy emotional burden, struggles are easier to manage with support on your side. It can be hard to know exactly what to say to someone going through severe depression in a way that truly helps them feel supported, but take a page from Astin's book and start with empathy.