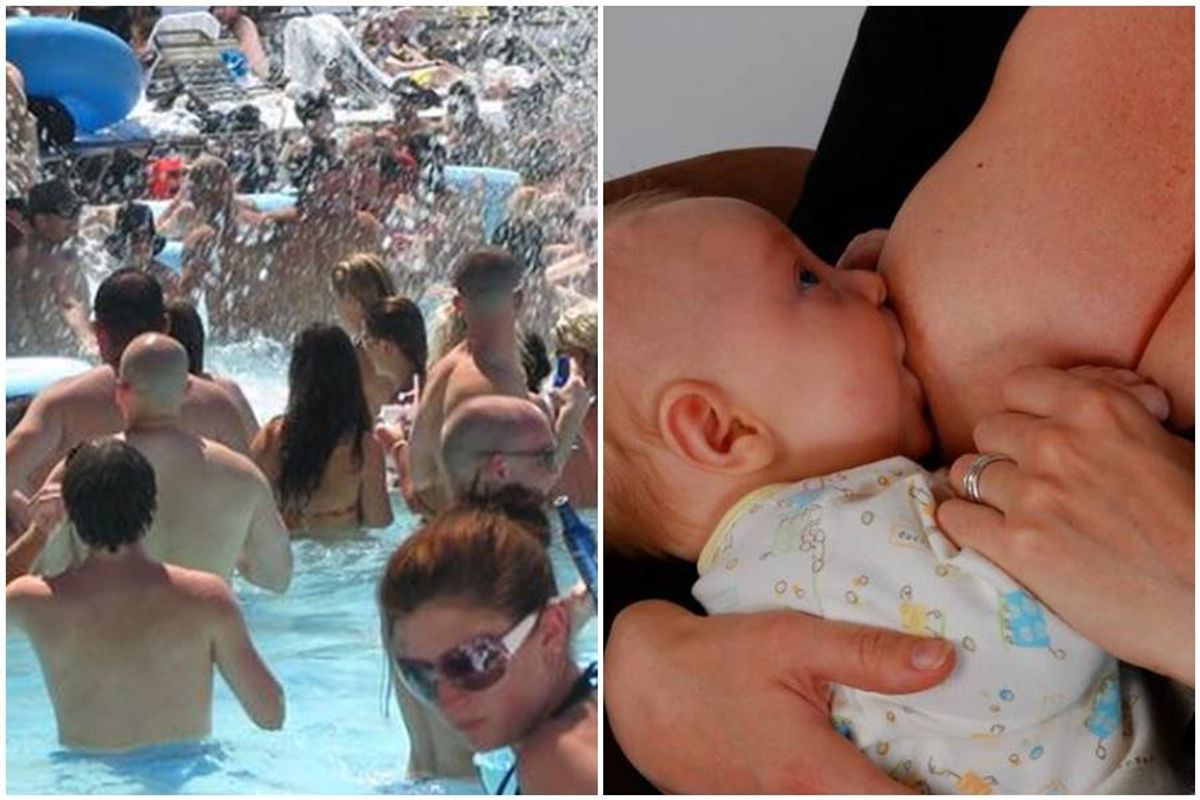 There are a lot of reasons why waterparks aren't the most sanitary places in the world. In the water lurks a mysterious combination of chlorine, sweat, pee, saliva and whatever grime the people brought into the park from the outside. So, it's strange that Rigby's Water World in Georgia asked mother Tiffany Francis to stop breastfeeding her baby in the lazy river "as a courtesy to other people."
Francis shared her story on Facebook, where the post received 848 shares and over 1,000 comments.
"My son is 11 months old, and when it was getting to be his nap time, like I do every visit, I got in the lazy river to nurse him to sleep," she wrote in the vial post. "He likes motion to sleep, he sleeps well in the car or swing, so he will also sleep in the lazy river."
---
A park employee informed Francis that she couldn't breastfeed in the lazy river, and then a manager came by to confirm the rules and said they were posted outside. "Of course there was nothing stating anything about children, except for babies needed to wear swim diapers (which he was)," Francis continued in her post.
A manager told Francis that "as a courtesy to other people," she can't feed her son in the lazy river because "no food or drinks" are allowed in the water. "So my boobs aren't allowed in the water?" she retorted.
Francis made a great point about why the park shouldn't have been concerned about breast milk potentially leaking into the water.
"Imagine all the bodily fluids being excreted into the water, but they're worried about breastmilk when the baby was latched, my breast was out of the water, and the milk was only going into baby's mouth," she wrote. "But really it wasn't even about him eating in the water it was about it making other guests uncomfortable."
She then contrasted her behavior with other bathers.
"Also in the lazy river, I saw several other mothers with their kids asleep in their laps, the kids heads on their mom's chests. My situation looked just like theirs, my breast wasn't exposed. My sons face was covering everything," Francis continued. "So without looking extra hard you'd think he was just asleep on my chest. But somehow I made people uncomfortable by doing the most natural thing I could do for my child, while just trying to let him nap. Mind you, this was also at a water park where most people are wearing very little clothing but my son and I were offensive."
Francis asked for her season pass to be refunded, but they said no. She left the park in tears.
The post received a flurry of angry mothers, many of whom wrote messages to the water park through Facebook. Many pointed to the law that says moms are free to breastfeed just about anywhere in Georgia.
According to Georgia Code 31-1-9, "The breastfeeding of a baby is an important and basic act of nurture which should be encouraged in the interests of maternal and child health. A mother may breastfeed her baby in any location where the mother and baby are otherwise authorized to be."
Steve Brown, Rigby's vice president, spoke with aquatic professionals and decided to reverse the park's stance on breastfeeding in the lazy river, issuing a statement:
"After reviewing other cases on this subject and conducting a survey among other aquatic professionals. There were some good arguments for and some good arguments against allowing it. However, going forward, I will not prevent breastfeeding mothers from nursing their child in the pools at Rigby's Water World. Even though it could be considered by many to not be the best practice, mothers have the right to breastfeed their child wherever they chose. It has always been common practice on the pool deck, but now it is allowed in the pool if a mother chooses. I would like to apologize to Tiffany for asking her to not breastfeed in the pool and, by that, not creating the best experience for her today. I will send a memo to our team to let them know the change to this policy. I would like to thank those of you who conducted yourselves in a positive way to shed light on the subject."
In the end, Francis just wants moms to feel at ease feeding their babies wherever they go.
"No one else is told to eat under a cover or go to the bathroom to eat or to go eat in their car, but babies aren't allowed to eat in public? People are just so oh a breast! Oh my goodness! Because people have sexualized it and it's gross! I just want other moms to feel comfortable feeding in public whether in the water or anywhere else. It's okay and you can do it!" Francis told WGXA.