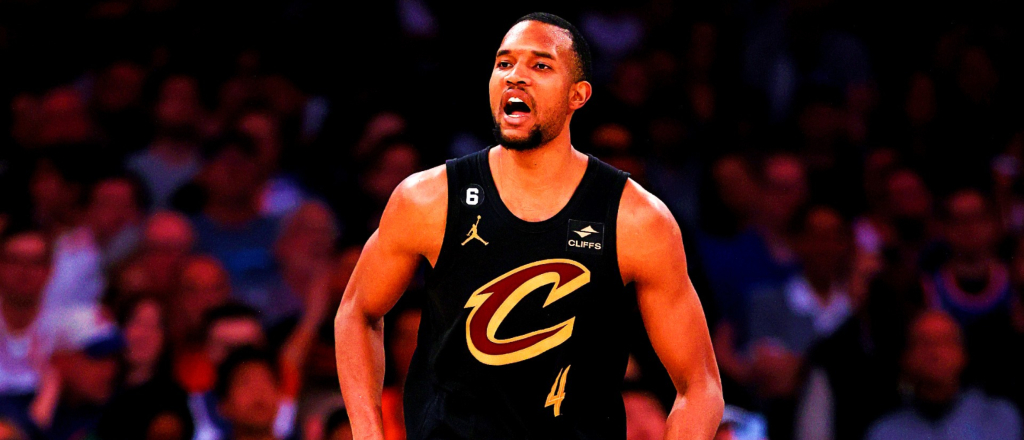 Throughout their first-round series against the Cleveland Cavaliers, the New York Knicks had a clear plan defensively: coax the ball out of Darius Garland and Donovan Mitchell's hands. Time and time again, New York trapped Cleveland's star guards, coerced the offense elsewhere, and exploited the Cavaliers' lack of frontcourt floor-spacing.
The upshot of that gambit left Evan Mobley in a cycle of short-roll opportunities, presenting him with a slew of reads, including kickouts to corner shooters, lobs to Jarrett Allen, or calling his own number as a scorer. Mobley and the Cavaliers failed to shift or challenge the Knicks' strategy. Cleveland's offense was dreadful during the playoffs — it ranked 20th among 20 postseason teams in offensive rating (102.2) and 11.3 points below league average after finishing seventh (116.7) and 1.6 points above league average in those respective categories during the regular season, according to Cleaning The Glass.
Mobley experienced some similarly jarring declines. Despite significant growth between years 1 and 2 — namely as a finisher and self-creator, which manifested in a major scoring efficiency uptick (54.9 percent true shooting in 2021-22, 59.1 percent in 2022-23) — the second-year big man struggled to translate those improvements to the playoffs.
He averaged 9.8 points per game (16.2 in the regular season) on 47.6 percent true shooting (59.1 in regular season). His assist-to-turnover ratio slipped from 2.8:1.5 to 1.0:1.2. His two-percentage tumbled from 59.5 percent to 46.8 percent. While his defense remained quite the asset, the offense emerged as a glaring liability and New York was happy to keep directing touches his way.
Among Mobley's struggles was his incongruence on the short roll. He could not consistently punish New York in 4-on-3 situations. Some of that is not his doing, as Isaac Okoro's presence in the corner enabled the Knicks to comfortably help off of him while he connected on just 30.8 percent of his long balls in the series.
Okoro's shooting from distance perked up from his 29 percent rookie year clip to 35.7 percent over the past two seasons, but it's on such minimal volume (2.3 attempts per game) that defenses are willing to concede those shots, particularly when the alternatives are guys like Mitchell or Garland creating and Mobley or Allen finishing at the rim. The arrivals of a pair of versatile, effective shooters in Max Strus and Georges Niang could harmonize some of these lineups, more optimally arrange the court for Cleveland, and ease Mobley's short-roll burden.
Regardless, Mobley did not steadily maximize these possessions. Because neither Allen nor Mobley stretches the floor from deep, much of the focus about his areas of improvement revolve around the outside jumper, especially since he's so much younger than Allen and adding that to his repertoire seems more plausible than the six-year veteran doing so. Yet Mobley's playoff foibles revealed another hole to address: the floater.
Through two regular seasons, per Cleaning The Glass, he's shot 38 and 40 percent between 4 and 14 feet, ranking in the 35th percentile or lower both years. In the playoffs, he was 4-for-24 (16.7 percent, 13th percentile) on those field goals. Mobley shrewdly trimmed down his long two volume as a sophomore to prioritize more looks around the rim, which behooved his efficiency and paired well with newfound physicality and craft. Sometimes, though, that aggression persuaded him to pursue daunting finishes against gangly, eager rim protectors when a viable runner might've prompted him to be a bit more judicious versus Mitchell Robinson and Isaiah Hartenstein. The lack of an intermediate game instills some rigidity into his paint scoring. It was evident against the Knicks, illuminated through choppy footwork and general discomfort transitioning into those shots.
One of Mobley's staunch, foremost traits is his processing speed in advantageous situations. He tends to feast in these scenarios and punish defenses for giving him an edge. That didn't manifest in Round 1. His decision-making looked hurried and off-kilter. He didn't patiently progress through his reads. He slung errant passes, glossed over ones typically within his wheelhouse, and sped up even when he had space and time available. New York's rotations and physicality befuddled him.
He resembled a completely different player offensively than the one whose playmaking and feel have been bedrocks for so long. Caris LeVert shot 39 percent beyond the arc during the regular season and 36 percent during the playoff; Mobley continually elected to confront Robinson inside rather than swing feeds to LeVert for open triples. Mobley and Allen have developed some nifty high-low rapport; Mobley squandered various openings for lobs or drop-offs when the low man stepped up to him.
He must refine his pacing and discernment to be the short-roll release valve he's capable of becoming. Alleviate pressure from his star guards — who experienced their own first-round tribulations worth rectifying — and burn defenses for providing him such beneficial alignments on the floor. Force defensive schemes into conflict.
Getting a bit stronger will benefit him, as well. When Robinson stayed down on his shot fakes, Mobley didn't have much of a counter, given the chasm in strength between them. There's a whole lot of tape out there from the first round that could forge a roadmap toward another leap offensively, one that carries a pulse into the playoffs.
His regular season strides should be applauded and are relevant. He is a much better scorer today than the player drafted two summers ago and, at 22 years old, is one of the world's premier defenders, which remained the case in the playoffs even though he went through some major growing pains on offense. The Cavaliers' future is bright with him at the helm and their foundational quartet is certainly not a finished product.
His playoff regression should also be a signpost of the crucial next steps, reinforcing the dichotomy between regular season and postseason hoops that Mobley and his teammates must bridge to help Cleveland achieve its lofty aspirations.