The strawberry margarita is a fantastic drink… that has been horribly bastardized over the decades. But even with the cutting of corners via overly sweet, neon red "strawberry margarita mix," this tequila drink remains one of the most popular cocktails in the world. Here's the crazy part — this drink is so easy to make with fresh and real ingredients that using a pre-mix is absolutely pointless and, worse, takes away from the beautiful profile of the original drink.
So… Let's make a real strawberry marg!
Below, I'm breaking down the beauty of making both a frozen and on the rocks strawberry margarita at home. I'm using real lime and real strawberries. Please trust me that you just don't need to resort to bullshit pre-mixes with way too many sketchy additives and sugars — because I will personally guarantee that if you even kind of like strawberry margaritas, you're going to fall in love with this real version. It's about a bazillion times better than the premix crap that dominates the market these days.
And, one last time, these are super easy to make. It takes about a minute, maybe two, to whip up either of these drinks. Read the recipes below and then throw out that garbage strawberry margarita mix. You'll never need it again.
Also Read: The Top Five Cocktail Recipes of the Last Six Months
Frozen Strawberry Margarita
Ingredients:
1.5 oz. blanco tequila
1 oz. triple sec
1 oz. fresh lime juice
0.5 oz. Blue Weber agave syrup
6 medium strawberries (quartered)
Pinch of kosher salt
Ice
Strawberry for garnish
You have to start any great margarita with a great tequila. I've been using Tres Generaciones Plata lately. It has this wonderful roasted agave profile with a hint of spice and funk that shines through in a margarita nicely.
I also like to use a decent triple sec to marry with a great tequila. So I'm using Cointreau.
A frozen strawberry margarita does need a touch of sweetness. Most of that is going to be derived from the strawberries and triple sec. But to really layer the sweetness, you need to add a touch of agave syrup. Don't add too much though. You want it to accent, not overwhelm.
The rest is pretty straightforward. As you can see from the image below, I'm using medium-sized strawberries. If you have those huge California berries, maybe only use two or three.
What You'll Need:
Rocks glass or margarita glass
Blender
Jigger
Pairing knife
Hand juicer
Method:
Add the tequila, triple sec, lime, agave, strawberries, salt, and a large handful of ice to a blender.
Blend until smooth and thick — add more ice if needed to thicken.
Pour into a waiting glass, garnish with a strawberry slice, and serve.
Bottom Line: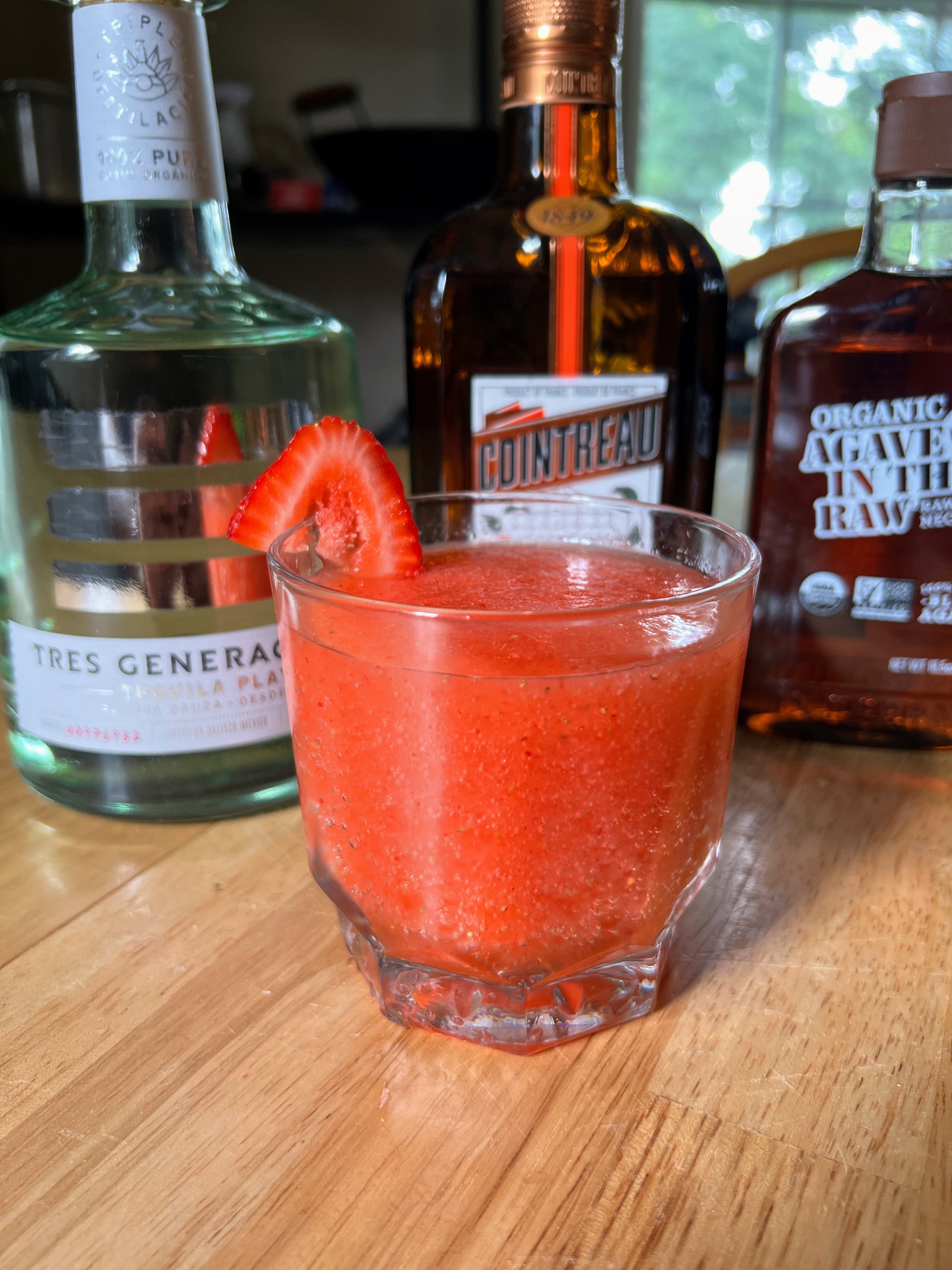 This might not come as a shock, but this is delicious. The fresh strawberry and lime really pop on the palate with a hint of earthy depth thanks to the tequila. There's still a real sense of a classic and really good margarita that's accented by fresh strawberries. The best part is that you can taste all the elements without them being completely washed out by sugar. There's nuance and depth to this drink that's incredibly fresh and delicious.
This is so good — and so much better than the premix margs — that it's almost baffling that the other option is so ubiquitous.
Strawberry Margarita On The Rocks
Ingredients:
1.5 oz. blanco tequila
1 oz. triple sec
1 oz. fresh lime juice
4 medium strawberries (halved)
A drop of Blue Weber agave syrup
Pinch of kosher salt
Ice
Strawberry for garnish
Again, you have to start with great tequila to make a great margarita. For that, I'm going with Tres Generaciones Plata. It just makes too good of a marg not to use in both applications.
The rest is pretty easy to get. Cointreau is the play for the triple sec element. Then, make sure to get nice fresh strawberries with a mild sweetness. Always taste the strawberries before you use them. If they're a little tart, then add a drop or two more of the agave syrup. If they're already sweet AF, draw back on the agave.
What You'll Need:
Rocks glass or margarita glass
Cocktail shaker
Cocktail strainer
Fine mesh strainer
Muddler
Jigger
Pairing knife
Hand juicer
Method:
Prechill the glass in the freezer.
Add the lime and strawberries to the cocktail shaker and muddle the strawberries gently into the lime (you don't have to smash them, just mush them a bit).
Add the tequila, triple sec, agave, salt, and a large handful of ice to the shaker. Affix the lid and shake vigorously for about 20 seconds (or until the shaker is very ice-cold to touch).
Retrieve the glass from the freezer, fill it with fresh ice, and double-strain the cocktail into the glass — the cocktail strainer will hold the ice back while the fine mesh strainer catches all the strawberry bits.
Garnish with a fresh strawberry slice and serve.
Bottom Line: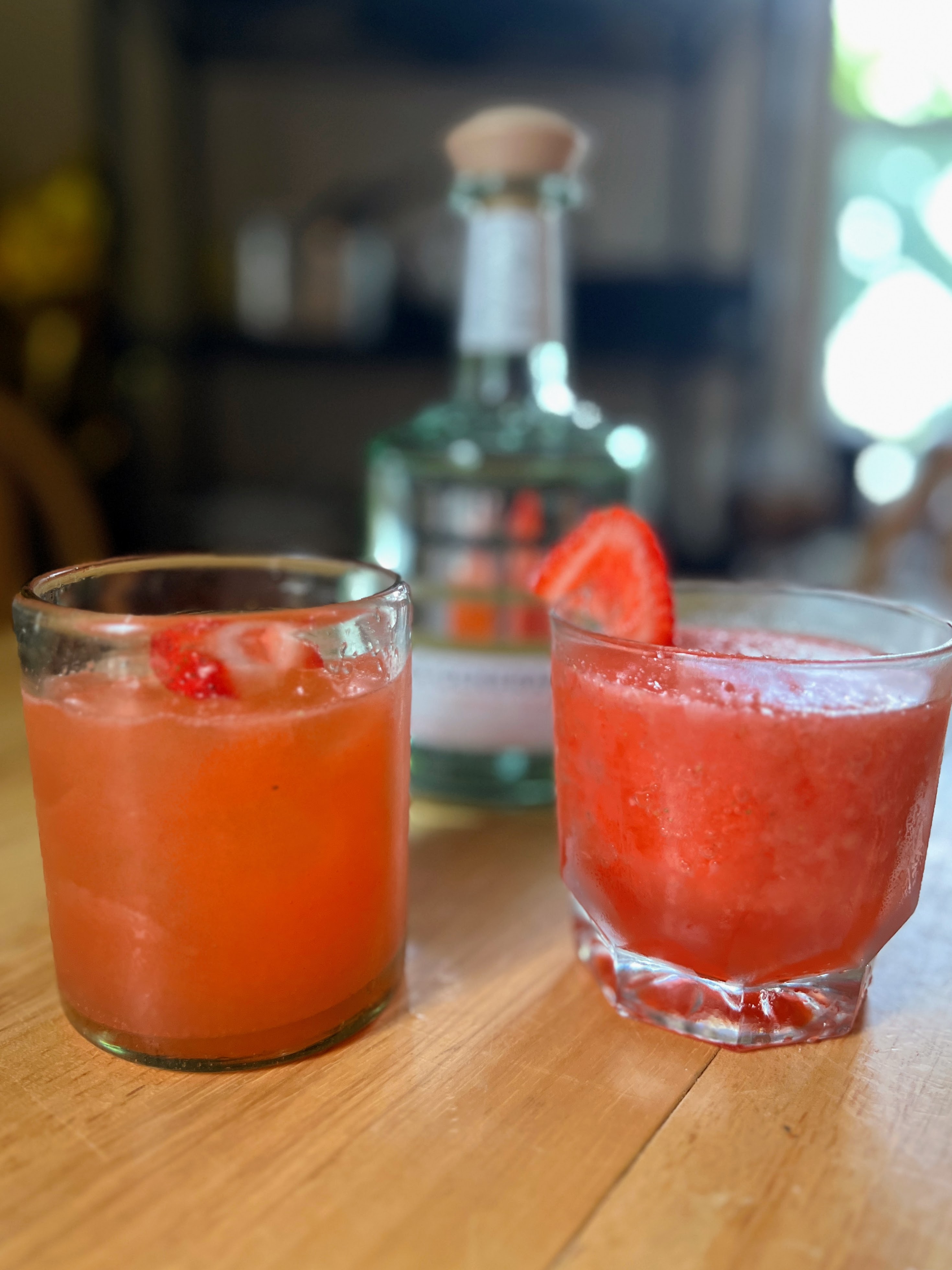 Like I said up above, once you start making these for real, you'll never go back to the fake premix margs.
This is refreshing, deep, and full of strawberry goodness. The best part is that this feels like a really solid classic margarita that's accented with fresh strawberries. There's no sugar bomb element and these feel almost healthy (it's booze, folks, that's obviously not true).
Overall, both of these cocktails took all of three or four minutes to make. It's really that easy and you get amazingly refreshing cocktails without all the additives and corn syrup. That's a win-win, folks!