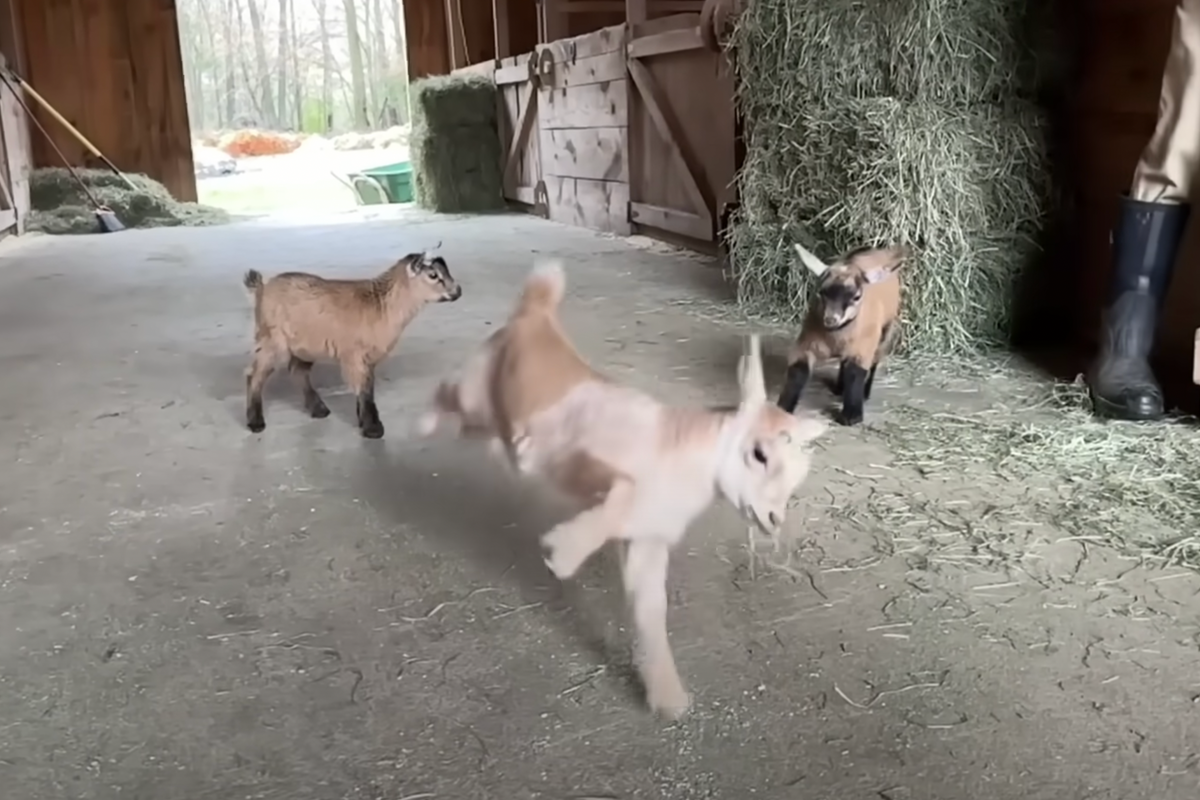 Look, you're busy. You've got stuff that needs to be done today. Do you really have time to watch tiny baby goats jump in slow motion? Will that really add anything of value to your life?
Actually, the answer is yes. Because watching tiny baby goats jump in slow motion is not only exceedingly entertaining, it's actually a simple life lesson in disguise.
These little guys hail from Sunflower Farm Creamery in Maine, where 60 (yes, 60) goats are born each year. Sunflower Farm promises that even if you didn't love goats before, you will after watching videos from its Youtube channel showing the wee babes run, play, hop and snuggle. I mean, there's another video showing the goats in pajamas…what's not to love?
---
But back to this one. In the video's description, Sunflower Farm writes, "The amount of effort a baby goat puts into each hop is astounding, and only fully observed by slowing down their motion so you can see every twist and turn clearly. They leap so bravely forward. Even the youngest six, who are one week old, are full of twists and turns and side kicks."
Yep, in the clip you can definitely see boundless energy and fearlessness in their leaps. Which, let's be honest, might not always result in the most graceful move. And yet when you slow that action down and put on a little Tchaikovsky, it suddenly becomes a riveting ballet nonetheless.
Check it out:
The farm added that the goats aren't merely hopping around to learn how to avoid predators. They are also simply doing it for the "joy of it." Play in the animal kingdom is as nuanced as it is for humans, with many experts noting that some species actually don't engage in play to develop any sort of motor or cognitive skills. They do it, seemingly, just cause.
In other words, these goats "leap because they can." And that's that.
Folks who watched the video seemed to agree that their spontaneous, unbridled joy was contagious.
"OMG, the sheer joy! I had no real understanding of how random their movement was! That is probably the best thing I've seen in months!" one person comments.
Another added, "These kids are simply experiencing the sheer joy of life bursting out of them. Absolutely wondrous to watch."
Sure, it's a silly little goat ballet, but Sunflower Farms argues that humans could learn a thing or two from it.
"Humans could benefit so much by practicing being more nimble, fluid, and joyful. It is so easy to get stuck in our ways, to feel heavy, and weighed down by the world. The goat kids show us that there is another way," the video description read.
Indeed, life might feel heavy at times. But take it from a group of baby goats…jumping around for no reason at all can be the best pick-me-up. No kidding.
This article originally appeared on 5.7.23