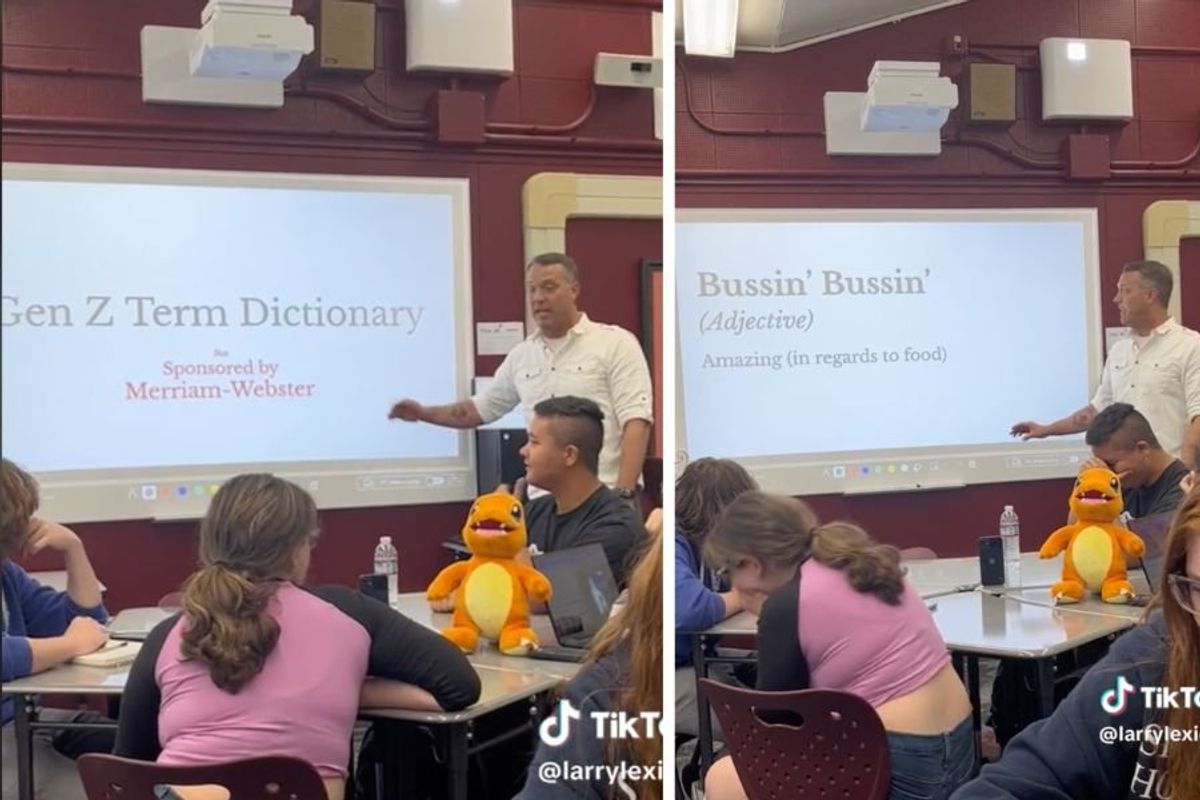 What started out as a lighthearted class presentation quickly turned into a fabulous humanities lesson for all.
A teacher under the pseudonym Larry Lexicon has 1.8 million followers on TikTok, where they tune in to catch the funny-yet-inspirational interactions Lexicon has with his students.
Recently, Lexicon had his class rolling with his meticulously crafted PowerPoint explaining what certain Gen Z words mean.
"All year long I've been listening to you and making a list, which I've compiled here for you — the Gen Z Term Dictionary," he told the class, saying that they should speak up if anything was inaccurate.
Here's what he came up with.
---
He took "bruh," (aka the "staple of their generation") to simply be the alternative for "bro," except that "bruh!" can also be used as an exclamation. That was correct.
Although the word "Rizz," was fairly new to him, he also correctly guessed that this was short for "charisma," and thus refers to someone who has the ability to charm.
"You can use it in all kinds of ways. Like I'm the Rizzard of Oz!" he joked.
"Bussin" he took to mean that something was good, particularly food. Also correct. He even knew that "bussin' bussin'" meant that something was really good. Clearly, Lexicon had done his homework.
However, a few people pointed out in the comments that many terms have roots in African-American Vernacular English (AAVE). So in his third TikTok, Lexicon chose to make some revisions, and explained to the class why those revisions were important.
"I know you think you came up with a lot of these words, but you didn't, and they've been around for a long time," Lexicon said, noting how parts of AAVE language are at first "looked down upon by society as uneducated or thuggish" yet nonetheless sneak into daily vocabulary through pop culture.
"What happens is it makes its way into like, white suburbia, and you get a middle-aged dorky white dude mislabeling it just for a whole generation as a term dictionary," he said. "And it ends up erasing the importance of it."
Lexicon then admitted that it was a mistake made by his own ignorance, which was okay, because he was able to take feedback, learn and act on it to grow.
"Being ignorant's OK, but being willfully ignorant and not doing anything about it — not so OK."
Viewers who have been following Lexicon's series applauded him for taking the time to make even a silly little powerpoint into an important conversation for everyone involved.
"I love how you're learning it and then teaching it! This is education!" one person wrote.
"The fact that you came back and showed HOW TO LEARN and that it's OK NOT TO KNOW but not ok to be willfully ignorant," added another.
"This is a hell of an example for your students," read the top comment.
In case you're curious, here are all the words gathered so far for the newly re-titled "AAVE-inspired Gen Z term dictionary."
"Delulu"— delusional.
"Eepy"— really sleepy.
"Be so for real"— "Are you serious?"
"Witerawy"— "Literally," but with emphasis.
"Baddie" — "A pretty girl, typically very curvy and independent." But can also be a guy.
"Gyatt" — A substitute for "gosh darn!" typically used in response to seeing a baddie.
"Getting sturdy" — A dance usually used when winning, kind of like a touchdown dance.
"Bet" — Another way of saying "OK" or "alright." Likely a shortened version of "you bet."
"Slaps" — a verb for when a song is really good. Or food. Maybe? Debate's still out on that one
"Cap" — A lie.
"No cap" — The truth.
"On god"— undeniable truth.
Lexicon plans to add new words each week throughout the remaining weeks of school. If you'd like to follow along, he can be found on TikTok.
This article originally appeared on 5.19.23