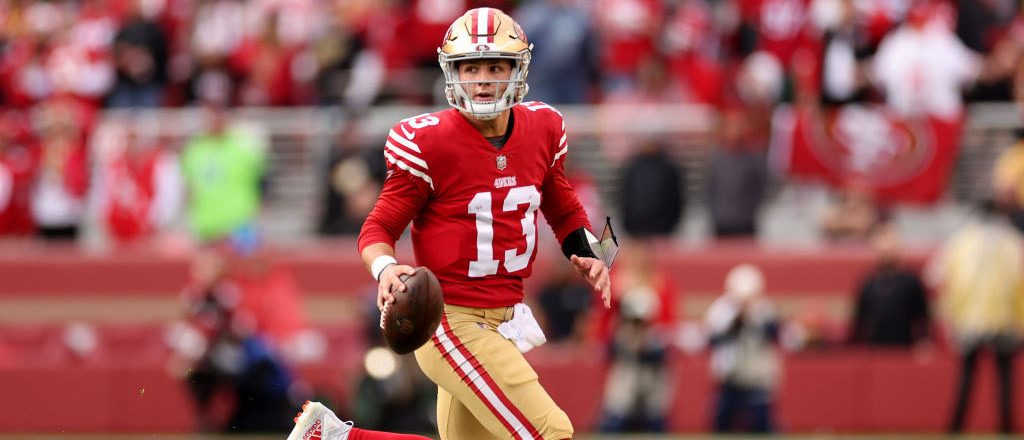 This past week, the folks at EA Sports steadily unveiled this year's player ratings for Madden 24, as the game is now three weeks away from its August 15 release date. Player ratings are always a source of debate, but they do provide at least a decent look at each team's strengths and weaknesses, with the understanding that preseason ratings can never account for any major leaps players could potentially make in an offseason.
The 49ers season a year ago was cursed when it came to quarterback health, as they saw Trey Lance (71 OVR), Jimmy Garoppolo, and Brock Purdy (73 OVR) all suffer season-ending injuries, leading to a dismal NFC title game loss to the Eagles in which they had no quarterbacks to play. Purdy emerged as a surprising star and enters this season as the presumptive starter, but quarterback is still the question hanging over the Niners when it comes to their hopes of being a contender. There are stars all over, with Christian McCaffrey (96 OVR) and Deebo Samuel (89 OVR) headlining on offense, while Nick Bosa (98 OVR) and Fred Warner (96 OVR) lead the defense. The expectation is they will, again, be one of the league's best on that side, even with DeMeco Ryans off coaching in Houston, but there are questions on the offensive line aside from Trent Williams (98 OVR) and the aforementioned curiosity as to whether Purdy can recapture the magic from last year. If so, this is a contender, but they will not be among the absolute favorites due to the lack of a QB with pedigree.
Here is the full Madden 24 depth chart for the 49ers, broken down by position with each player's overall rating.
QB
Brock Purdy: 73
Sam Darnold: 71
Trey Lance: 71
Brandon Allen: 54
RB
Christian McCaffrey: 96
Elijah Mitchell: 80
Jordan Mason: 69
Tyrion Davis-Price: 69
Khalan Laborn: 64
FB
Kyle Juszczyk: 87
George Odum: 71
Avery Young: 65
WR
Deebo Samuel: 89
Brandon Aiyuk: 86
Jauan Jennings: 74
Ray-Ray McCloud III: 73
Willie Snead IV: 71
Danny Gray: 70
Chris Conley: 68
Dazz Newsome: 66
Ronnie Bell: 65
TE
George Kittle: 96
Cameron Latu: 65
Charlie Woerner: 65
Ross Dwelley: 64
Brayden Willis: 63
Troy Fumagalli: 62
Taybor Pepper: 27
LT
Trent Williams: 98
Matt Pryor: 65
RT
Colton McKivitz: 64
Jaylon Moore: 62
LG
Aaron Banks: 74
Jason Poe: 62
RG
Spencer Burford: 72
Nick Zakelj: 63
C
Jake Bendel: 74
Jon Feliciano: 72
Keith Ismael: 61
DT
Javon Hargrave: 84
Arik Armstead: 82
Kevin Givens: 70
Javon Kinlaw: 70
Marlon Davidson: 69
T.Y. McGill Jr: 65
Kalia Davis: 64
LE
Drake Jackson: 72
Austin Bryant: 68
Alex Barrett: 62
RE
Nick Bosa: 98
Clelin Ferrell: 74
Kerry Hyder Jr.: 72
Robert Beal Jr.: 63
LOLB
Oren Burks: 68
Dee Winters: 65
MLB
Fred Warner: 96
Jalen Graham: 64
Curtis Robinson: 58
ROLB
Dre Greenlaw: 86
Demetrius Flannigan-Fowles: 63
CB
Charvarius Ward: 87
Isaiah Oliver: 76
Deommodore Lenoir: 75
Ambry Thomas: 71
Samuel Womack III: 70
Darrell Luter Jr.: 68
AJ Parker: 65
SS
Talanoa Hufanga: 86
Ji'Ayir Brown: 70
FS
Tashaun Gipson Sr.: 79
Myles Hartsfield: 69
K
Jake Moody: 75
Zane Gonzalez: 73
P
Mitch Wishnowsky: 78