Is there another flavor of… really anything on earth that provides as rich, indulgent, and satisfying an experience as a perfect scoop of chocolate ice cream? We don't think so. Vanilla is floral and delicate and the more inventive options certainly have their merits. But chocolate is iconic.
Straight-up delicious. A tried and true classic that never gets old. Especially on a scorching hot summer's day.
We've already blind taste-tested chocolate ice creams, but that list was short (and sweet). This year, we decided to widen the net in order to make sure we have the stone-cold champ. You're going to need at least one of these stocked in your freezer all summer long, here are our favorites from least essential to most.
15. Halo Top — Chocolate
Price: $5.49 (Pint)
Tasting Notes:
A flat chocolate taste that comes across as natural and bitter, but not very sweet. The consistency is a bit too slushy, Halo Top has made attempts to make its ice cream creamier, but I think it still needs a bit more work. It lacks that luxurious creaminess you expect out of, you know, ice cream.
Halo Top is a health-conscious ice cream, an entire pint is only 300 calories and the brand has something like 63% less sugar than your typical pint with 18 grams of protein. If you're watching your calories and cutting your sugar you might be tempted to grab a pint of this but… maybe think about not doing that though unless you like being disappointed. Just have less regular ice cream instead.
The Bottom Line:
It's a chocolate ice cream that sacrifices flavor for a lower calorie count and less sugar. And trust us, you taste the compromise.
14. Kroger Deluxe — Chocolate Paradise
Price: $2.50 (Quart)
Tasting Notes:
Icey and watery, lacking a strong chocolate flavor. The cocoa is there but it comes across as super diluted.
In my blind taste test of chocolate ice creams two years ago, I was a bit too harsh on this brand, writing "Chocolate Paradise? More like Chocolate Sh*t." I, for the record, don't think this taste like chocolate sh*t. That said, it's the sort of chocolate ice cream that might lead you to believe the flavor is boring and unimaginative.
The Bottom Line:
A fine but unremarkable chocolate ice cream that isn't nearly as chocolatey as something called "chocolate paradise" ought to be.
13. Nubocha — Chocolate Arriba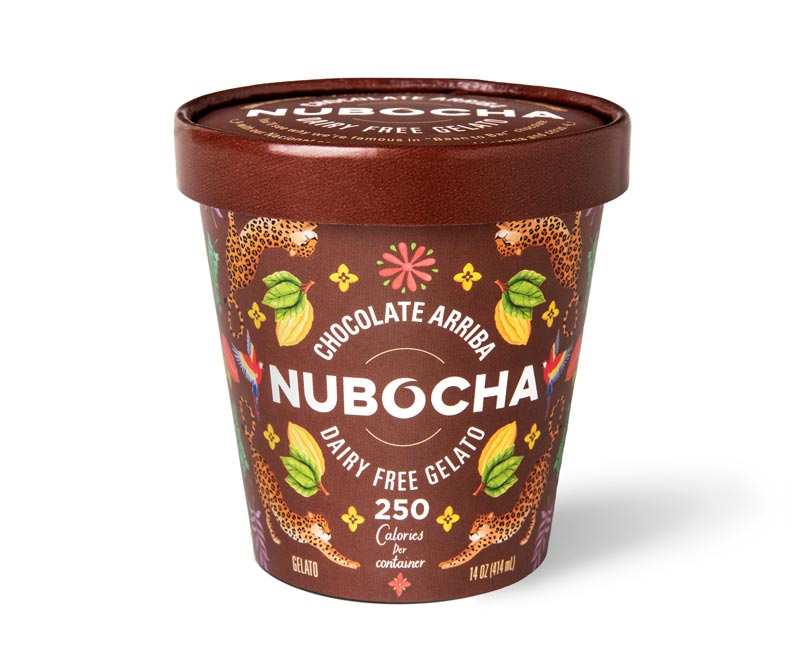 Price: $12 (Pint)
Tasting Notes:
Here is my issue with Halo Top, it takes a beloved well-established flavor (chocolate) and tries to make it health-conscious, which is why it can't live up to expectations. Nubocha is also a health-conscious ice cream at 250 calories per pint, low in sugar, and dairy-free, but it approaches chocolate from a different lane. And it works!
It has a distinct earthy Mexican chocolate flavor to it with hints of banana and citrus — offering a fruity and tropical spin on chocolate.
The Bottom Line:
A low-calorie dairy-free gelato that doesn't taste like a compromise but be warned, this isn't straight chocolate either. It has a tropical and fruity quality that tastes unlike anything else on the market.
12. So Delicious — Dairy Free Dark Chocolate Truffle Cashewmilk
Price: $4.99 (Pint)
Tasting Notes:
A mix of rich cacao and nutty cashew flavors with small granules of chocolate similar to the texture of vanilla bean ice cream. I'm not the main audience for Dairy-Free ice cream, I love dairy, but So Delicious delivers an ice cream that doesn't feel like it's compromising, despite its lack of milk.
The Bottom Line:
A great ice cream with a wonderful flavor and a nice creamy texture that just happens to be dairy free.
11. Blue Bunny — Chocolate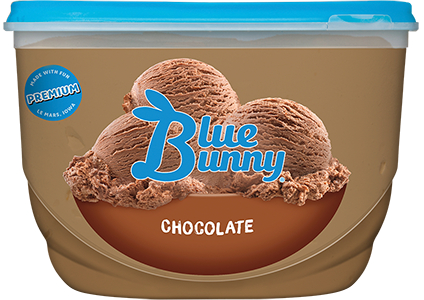 Price: $3.97 (Quart)
Tasting Notes:
There is something muted about Blue Bunny. The chocolate notes are there but I feel like the flavor takes a bit too long to actually read as chocolate on my palate and there is a certain oily quality to it that sort of mutes the creamy flavors. Just generally a "lab-created" vibe to the proceedings.
The consistency is very soft, which is nice, but it strikes me as cheap ice cream masquerading as something more premium thanks to its branding. The ingredients include dairy product solids, coconut oil, corn syrup, high fructose corn syrup, and a whole bunch of gums. I don't know for a fact that's why it tastes diluted and oily, but something about the flavors made me check the nutrition facts in the first place, so… that's not great!
The Bottom Line:
It looks nicer, scoops better, and has a soft consistency that might lead you to believe it's better than it is, but the flavor just isn't there. And the chemicals are.
10. Whole Foods 365 — Organic Chocolate Ice Cream
Price: $4.79 (Pint)
Tasting Notes:
A sweet and creamy milk chocolate flavor that is similar to what you'd find in a standard chocolate bar (higher than Hershey quality of course). It's focused and simple, but a bit icier than I want it to be.
It lacks rich creaminess, but the flavor is on point if you like milkier less cacao-focused chocolate.
The Bottom Line:
A good solid mid-tier ice cream brand for those who like the flavor of milk chocolate.
9. Dreyers/Edy's — Chocolate
Price: $3.50 (Quart)
Tasting Notes:
Don't overlook Dreyer's (or Edy's if you're an East coaster). I know it's cheaper than more popular brands like Breyers of Blue Bunny, but this chocolate ice cream is simple and delicious. There is a pleasant sweet chocolate flavor here with a nice thick creamy consistency.
The recipe is solid, just skim milk, cream, sugar, and cocoa, meaning it doesn't rely on corn syrup to get its sweetness like some of the other affordable brands.
The Bottom Line:
One of the best budget ice creams out there — Dreyer's punches above its weight.
8. Favorite Day — Chocolate Ice Cream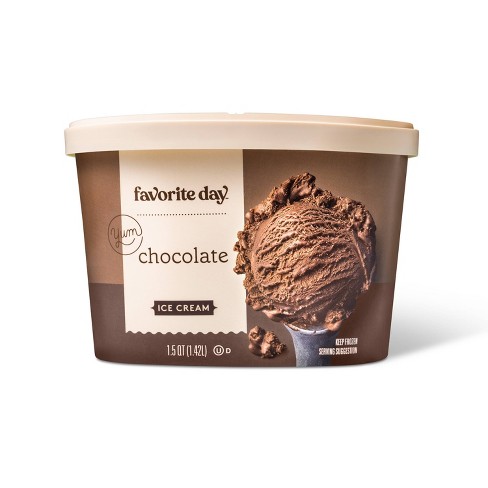 Price: $3.59 (Quart)
Tasting Notes:
A light cocoa flavor dominates here, a bit like milk chocolate with a weirdly chalky — but pleasant — consistency. I love the flavor, but it tends to stain the palate longer than I'd like. If it didn't have that lingering aftertaste, I'd rank this one higher.
Favorite Day is Target's in-store brand which might lead you to write this ice cream off as lesser than the more expensive brands. That would be a mistake.
The Bottom Line:
Milk chocolate flavors with a chalky consistency.
7. Tillamook Chocolate Ice Cream
Price: Quart
Tasting Notes:
This one was a bit hard for me to rank because I absolutely love Tillamook's Rocky Road and Mudslide flavors, which are technically chocolate but elevated with other ingredients, so including them felt like we were cheating.
That made this ice cream come across like it was missing something. The base chocolate flavor is really good, with strong cocoa flavors leaning a bit on the darker side with just a hint of creamy milk flavors. It's deeper than milk chocolate, but not quite dark chocolate.
The Bottom Line:
A rich and indulgent chocolate ice cream. It's delicious, but Tillamook makes a few other alternatives that utilize the chocolate flavor a bit better. We recommend those.
6. Turkey Hill — Belgian Style Chocolate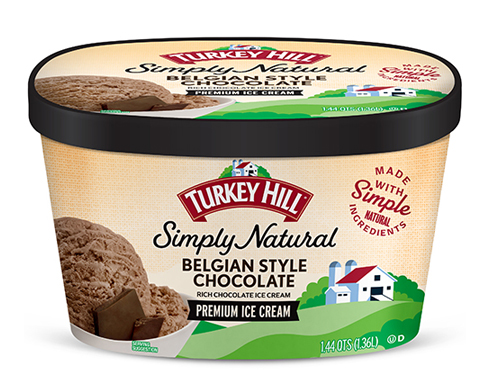 Price: $6.64 (Quart)
Tasting Notes:
There is something gourmet about the way Turkey Hill's Belgian Style Chocolate ice cream tastes. It's rich and velvety with a deep natural cocoa flavor and a nice slightly bitter coffee-like aftertaste.
Turkey Hill's strength is in its ingredient sourcing, the milk in this ice cream is from cows local to Turkey Hill's Conestoga, PA facility and follows a simple recipe of milk, cream, sugar, cocoa, and real Belgian chocolate.
The Bottom Line:
A chocolate ice cream that tastes distinctively different from the competition. It's very rich and has that heavy fudge flavor that is typical of Belgian chocolate.
5. VanLeeuwen — Chocolate
Price: $10.80 (Pint)
Tasting Notes:
VanLeeuwen is one of the only brands we sampled that truly captures the dark fruit qualities of actual chocolate, and for that, we love the brand. This simple Chocolate ice cream is rich, fruity, and has a deep dark chocolate flavor that frankly, isn't for everyone.
If you like milk chocolate, this brand may come across as too intense.
The Bottom Line:
Great texture, and rich and subtle fruity flavors, VanLeeuwen is a brand for people who want their chocolate ice cream to lean heavier on the natural chocolate side than the cream.
4. Breyers — Chocolate
Price: $5.22 (Quart)
Tasting Notes:
A balance of slightly earthy bitter chocolate notes and sweet milky cream. This ice cream has a great soft texture that melts into the tongue with rich milky flavors. You've no doubt seen Breyers in your freezer aisle, this is one of the most prominent ice cream brands in the grocery store, and that's for good reason.
It is a bit pricier than some of the other cartons out there, but you get nothing but quality here — from the ingredients to the flavor.
The Bottom Line:
Breyers might not be as romantic a choice as some of the more obscure high-end brands, but it holds its own against the best of 'em. It might not be your favorite, but you won't be disappointed with Breyers.
3. Häagen-Dazs — Chocolate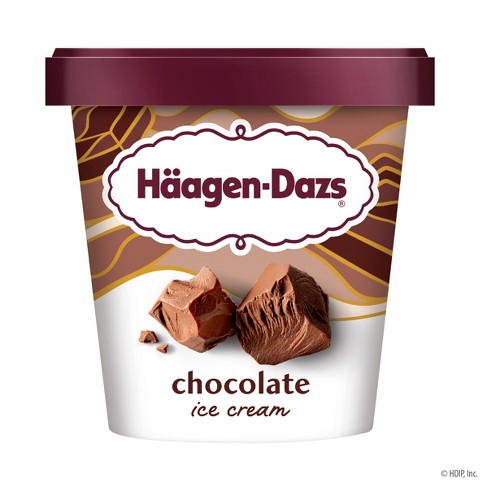 Price: $4.49 (Pint)
Tasting Notes:
Very rich, dense, and creamy. The cocoa flavors here are very prominent and hit you right away. It doesn't have that natural slightly bitter or fruity flavor you get from real chocolate, but it has an addicting fudgy sweetness to it.
Häagen-Dazs lives up to the hype but it's not just the flavor that's a winner, the consistency is super dense, a single scoop of this stuff somehow feels like more ice cream than most of the competition.
The Bottom Line:
Truly one of the greatest straight chocolate ice creams you will ever eat. Especially if you're a milk chocolate fan.
2. Jeni's — Darkest Chocolate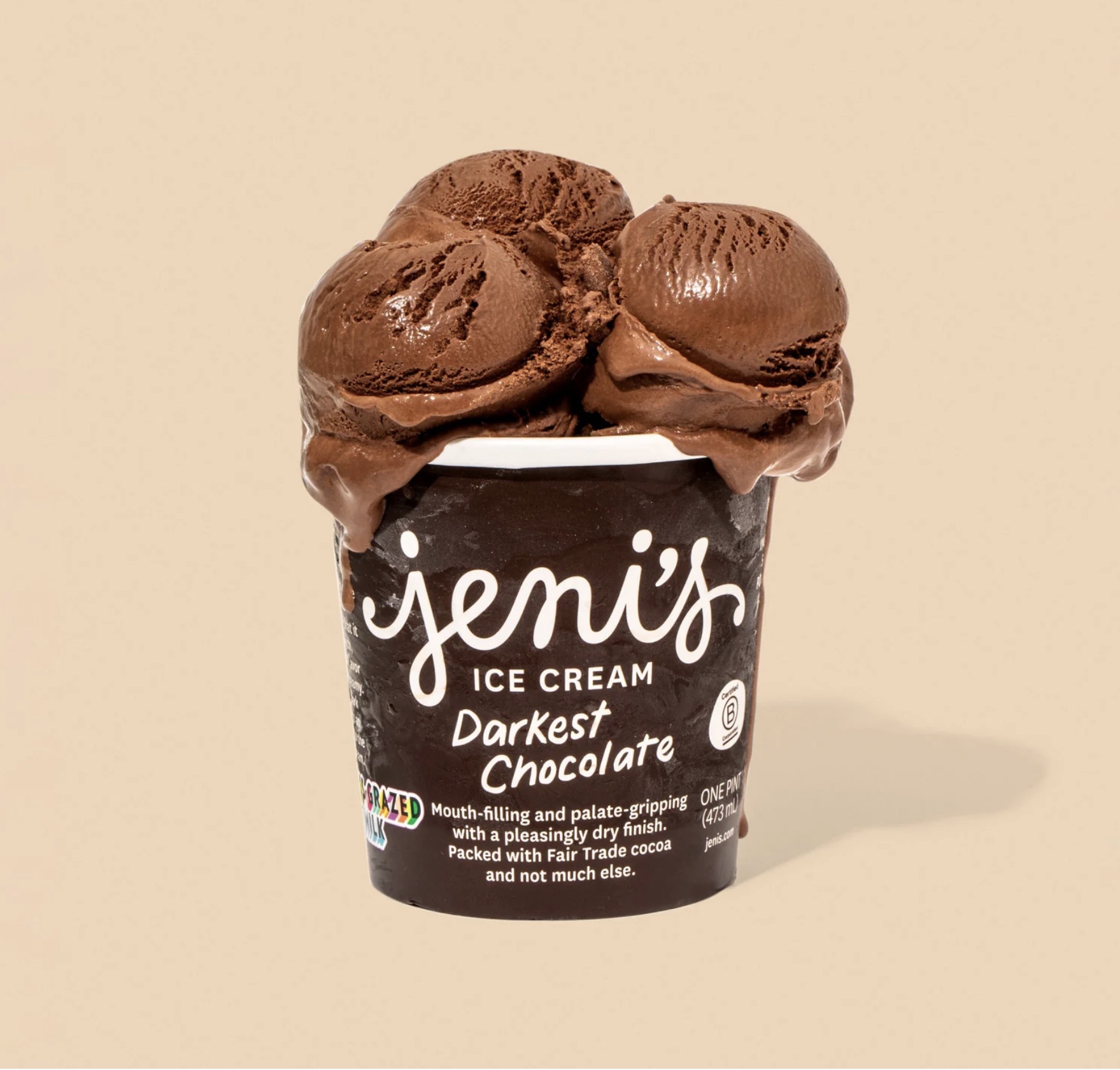 Price: $8.99 (Pint)
Tasting Notes:
I mentioned that VanLeeuwen's Chocolate might come across as too intense for people who are more into milk chocolate than dark chocolate, but that's because the brand advertises the flavor as simply "chocolate." If you're actually looking for an ice cream that provides deep dark chocolate flavors, Jeni's Darkest Chocolate is the perfect choice.
This ice cream has a super indulgent strong fudge flavor, with a smooth texture that is a true joy to let melt against your tongue. There is a lot to savor in every spoonful and it stands as one of the best chocolate ice creams I've ever had, scoop shops included.
The Bottom Line:
Deep, dark, and super fudge-heavy. This is an ice cream for true chocolate lovers, if you prefer milk chocolate, this will taste far too intense for you.
1. McConnell's — Chocolate Chocolate Chocolate
Price: $6.98 (Pint)
Tasting Notes:
Absolute ecstasy on the tongue. McConnell's Chocolate Chocolate Chocolate isn't just the best-tasting chocolate ice cream I've ever had, it's the most chocolatey. The flavor hits you in waves, first with an intense bitter-sweet natural chocolate flavor, once you get a sense of the flavor it quickly shifts gears into a rich fudge before finishing milky with subtle notes of vanilla and coffee.
It's a true journey of flavors that once you have a spoonful of you'll instantly love, whether you're a milk chocolate or dark chocolate fan. That name isn't an obscure Brady Bunch reference either — checking the ingredients, McConnell's actually uses three different forms of chocolate, Guittard baking Cocoa, a melted chocolate chip swirl, and Guittard bittersweet chocolate.
The Bottom Line:
Simply the best chocolate ice cream on the market today. It's so far in first that it actually makes our top five feel like a disappointment in comparison. Be warned, once you have McConnell's, chocolate ice cream will never taste the same.